After a 2-month hiatus, I'm so happy to be welcoming you all back to the blog! Molly, Dan, and Kurt arrived a week ago, with full bags and full hearts. Their enthusiasm has been inspiring, as it's already evident that they're bringing their whole selves to this community and are willing to dive into whatever needs the parish and diocese may have.
Their enthusiasm also helped to energize me, as my feet were dragging a bit after the wonderful-but-exhausting experience of World Youth Day in Madrid. I had the privilege of being able to join the pilgrimage group from the Diocese of Ferns, helping with the music for our group's liturgies and offering the little bit of Spanish I remember after four years away from it. Madrid was hot and crowded, and we had a thunderstorm the night we slept outside with over a million other pilgrims (a pretty strange and terrifying experience for the Irish, who are well used to rain but almost never see thunder!). These little discomforts, though, were offered up in prayer by every individual present, and it was amazing to be part of a crowd that was in it together. Even though other people could easily be seen as inconveniences (they are, after all, what's keeping you in a line for the bathrooms for nearly an hour), they were seen as fellow pilgrims, united by a common love for Christ and the Church.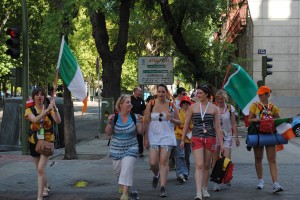 It was also great for me to get a chance to connect with some Irish young adults. Since we've struggled to connect with the demographic of our own age group, I have high hopes that these local, faith-driven young adults can become a base of friends for the House of Brigid, both present and future.
One particularly wonderful moment for me on this pilgrimage was visiting Avila, home of St. Teresa. I read a couple of her books over the summer, and visiting the town where she spent nearly her whole life was in itself an inspiring pilgrimage for me. In the Convent of the Incarnation, where Teresa became a nun and spent over 20 years before moving on to found her own monastery, there is a tiny adoration chapel, so tiny I almost missed it. Above the tabernacle are the words "Te adoro con devoción, mi Dios escondido" — "I adore you with devotion, my hidden God." This has become a constant prayer for me as I return to Ireland, where God is hidden, but truly present, in the daily ups and downs of community living and parish collaboration, just as God is hidden, but truly present, in the Eucharist.
This week has already seen this new community's first visit to Ballyvaloo, where we had a wonderful two days of orientation. Fr. Martin and Sr. Mary guided us through discussions of our hopes and expectations, our gifts and anticipated challenges. We talked about what community means to us and how communities are meant to be facing outward, at the service of something larger. We talked about some of the concrete goals we have for the year, and established steps to begin achieving those goals.
We're now in the office for our second "regular" day of work. We're working on organizing a liturgy for new secondary school students, setting up new powerpoints to aid with the transition to the new translation of the Roman Missal, and brainstorming ideas for some of our new outreaches this year. Stay tuned on the blog to hear more about what we're up to, and thanks for your support as we begin this new year!