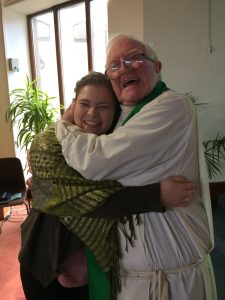 The feast of St. Brigid was last Thursday, February 1. St. Brigid was born in Faughart, Co. Louth and is one of Ireland's patron saints, so she holds a special place in the hearts of our parishioners. She also happens to be the namesake of our program, the House of Brigid. While I had heard a bit about St. Brigid, I didn't know how much I had been missing. I got my fair share of St. Brigid over the past month since we were preparing for the parish Brigid Service, the school Brigid Service, and teaching about Brigid in our weekly Catechism lessons. We were incredibly lucky to enlist the help of Caitlin from House of Brigid Dublin. Caitlin came down for the weekend and was able to assist with behind-the-scenes work as well as grace us with her beautiful voice during both the parish and the school services.
In preparation for the service, we collected holy water from St. Brigid's Well in Terrerath, cut Brat Bhríde (healing cloths that represented Brigid's cloak), and made Brigid crosses. We made SO MANY Brigid crosses. The story goes that St. Brigid was trying to teach a dying man about the Catholic faith. She didn't have any materials with her, so she resourcefully used rushes that she found on the ground of the man's hut and wove them into a cross. We set out to make crosses of our own, which means we needed to pick rushes. The first field we tried was so bad that Maureen's boots were practically coming off her feet with each step in the mud. There were huge puddles everywhere and it turns out the rushes in that field were mostly brown. There was also a flock of sheep that stopped dead in their tracks and stared us down the whole time. After an unsuccessful first attempt, we found another field with rushes that were much better quality. We then had the task of making about 500 Brigid crosses. Luckily, we had the help of Sr. Mary Dwyer, some Tea Ladies, and other kind-hearted individuals who volunteered to help us make crosses. In one afternoon, we made about 400 Brigid crosses! That left only 100 more for Teach Bhríde to make on our own. Many nights last week, Bernadette, Maureen, Jim, and I picked a movie or TV show to watch while we made cross after cross.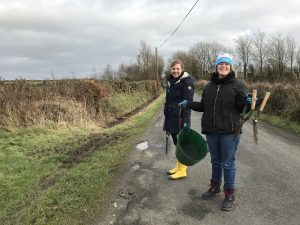 St. Brigid had a strong affinity for nature and is often depicted with the four elements: fire, water, air, and earth. The altar in Clonard's main church was transformed into a tribute to St. Brigid, which included a fire pit where a big fire was lit, a fountain of water, ribbons blowing in the breeze, and fruits of the earth displayed all over. The service was centered around these 4 elements, which brought a grounding to all we did. While we all had a hand in planning the evening, Bernadette really took the lead and put an incredible amount of thought and time into the flow of the service. The result was a beautiful, peaceful, uplifting tribute that included joyous song, poetry, and prayers. One of my favorite parts of the evening was a poem called "When I think of Brigid" by Padraig J. Daly that summarizes the essence of St. Brigid and what she stood for as a person.
I have developed a deep appreciation for St. Brigid over the past month. It is clear from what we know of the Irish saint, she was always thinking of others and of God. In addition to caring for the environment, Brigid was a teacher of the faith, and was always looking out for the marginalized. She was a wonderfully holy woman and we can learn so much from her. I now better understand why Brigid was chosen as the patroness of our program and I am grateful for the guidance she will provide for the duration of my year here in Clonard.
To finish my blog post, I would like to leave you with the above-mentioned poem by Padraig J. Daly.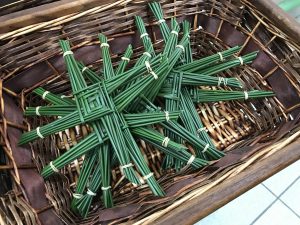 When I think of Brigid
I think of milk and the slosh of milk between buckets,
Of milk churned quietly into butter,
Of generous milk poured for the wayfarer;
I think of oatcakes and griddlecakes readied for the stranger;
I think of oatgroves
And a chapel rising from the forest;
I think of green rushes plaited into crosses;
Of fragrant turf and a fire kept long-burning;
A sword melted and its opals sold to feed the hungry;
I think of the generations looking upward from their troubles
And a sheltering cloak spread warmly over the world.
St. Brigid, patroness of the hearth and of the forge, pray for us.
St. Brigid, Mary of the Gael, humble and pure of heart, pray for us.
St. Brigid, patroness of poets and scholars, pray for us.
P.S. Happy Birthday to Kelly, our amazing house director of Teach Bhríde Dublin!