"On this mountain the Lord Almighty will prepare a feast of rich food for all peoples, a banquet of aged wine—the best meats and the finest of wines. On this mountain he will destroy the shroud that enfolds all peoples, the sheet that covers all nations; he will swallow up death forever. The Sovereign Lord will wipe away the tears from all faces; he will remove his people's disgrace from all the earth. The Lord has spoken."
Isaiah 25: 6-8
The last few weeks have been busy for House of Brigid Dublin. We celebrated the official Opening of the Notre Dame-Newman Centre for Faith and Reason, Thanksgiving, and the Feast of Christ the King all in the same week. We also participated in the Dublin Council of Churches ecumenical event Walk of Light. Suffice to say we were not lacking for activities.
The lead up to Launch Week (as we so named it) was long and at times it felt like we would never reach Thanksgiving. Little problems popped up here and there and it seemed like our to do list was never-ending: we had programs to run, liturgies to plan, pews to move, and a Church to clean, among other things. I was relieved when it came time to sing at the Thanksgiving Mass we celebrated in University Church. It was the turning point of the week.
After Thanksgiving, we had two glorious days off before we reconvened for the Feast of Christ the King and Walk of Light. The Walk of Light was not something that had really been on my radar. It was just another activity we had to make programs for and get through before we went back to business as usual at University Church. When it came time to sing for the prayer service, I was exhausted. I must confess I did not pay as close attention as I should have during the service. It was not until this past weekend when I really thought about Walk of Light as something other than just another box to check on the list of responsibilities at the Church.
This weekend Jim, Caitlin and I drove out to the eastern shore of Donegal to spend time with friends. On Saturday we had the distinct pleasure of hiking part of Sliabh Liag, one of the highest cliff walks in Europe. When we arrived at the starting point, a rainbow greeted us.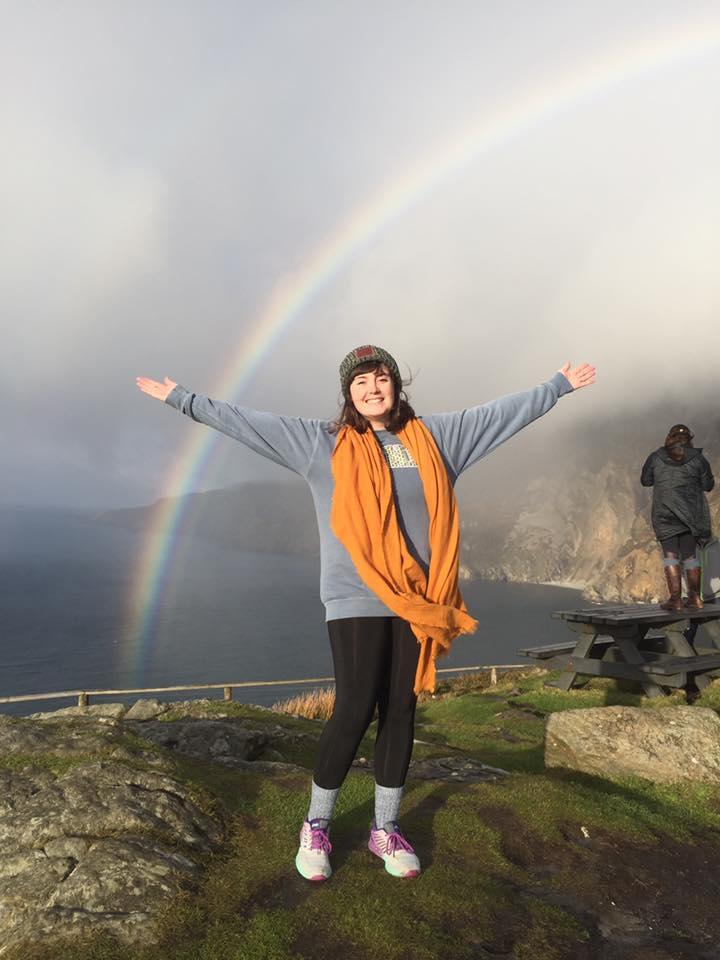 The marvelous rainbow that awaited our eager eyes at the beginning of the hike.
The hike was picturesque, but not quite as easy-going as expected. The area experienced rain the night before and as a result, the path was muddy to say the least. There were parts of the hike when we were trudging through heather in an attempt to circumvent slogging through deep mud puddles. Undaunted by the difficulties, our group persisted. It was during this hike of beautiful sights and battles with the ground to maintain stable footing that I reflected more on Walk of Light.
The theme this year was "To the Mountain: A Reflection on Isaiah 25." The Scripture, which I've partially quoted above, discusses the holy mountain of God and God's ultimate triumph. It took me actually going to a mountain to truly grapple with the Scripture. It praises God for all the marvelous things He does for His people, remarking how God has been a refuge and shelter. He is a source of strength and comfort for those who put their faith in Him. Though we sometimes suffer greatly in life, God is there to help us up when we stumble, a sure hand to guide us when we lose our way. In leaving everything behind for a weekend, I finally understood a little more deeply what we prayed for during the Walk of Light.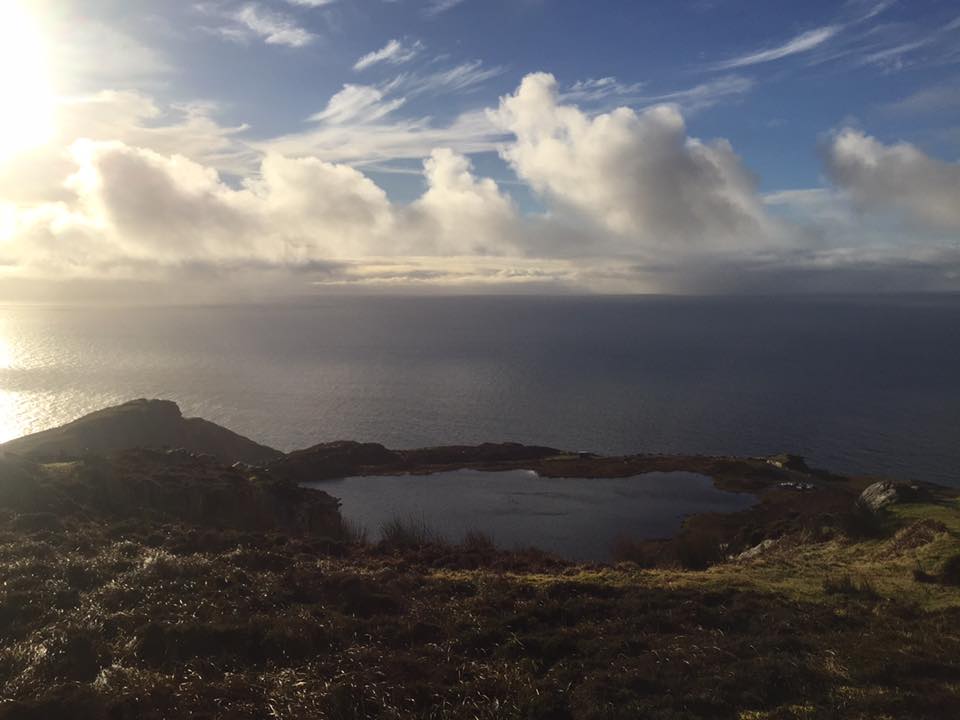 The view from one of our moments of rest.
I have stumbled along my way these last few months. While some falters were greater than others, I never despaired. God was with me, walking beside me on my journey. He still is. Thanks to my time on the mountain, I am even more aware of it.