"Finding God in Dehydration" is, admittedly, an extremely cliché title and the rest of the post, you'll find, follows suit. The thing is, that's what my life has felt like for the past few weeks. Coming to Wexford for House of Brigid, I thought I knew fairly well what I was getting myself into because I knew the country from studying abroad in Maynooth, Ireland for six months. Maynooth is very different from Wexford and going to college there was very different than living in community and working for a parish. I thought I was going to feel immediately at home coming back to Ireland. Sure, I had some fears —all of us did— but I did not think that I would struggle to adjust.
After a week or so, I realized that I was getting sick. I was really dehydrated which led to a lot of other issues. Without getting into detail, I had to miss working at the church for a few days to try and figure out what was wrong with me. For some reason, I still decided not to drink a lot of water (because it tastes bad in Wexford).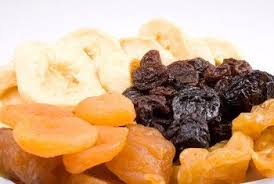 Accurate representation of me this week (dehydrated)
It culminated this weekend when the parish team started getting fairly concerned and asked repeatedly if I needed to see a doctor. As the stubborn person that I am, not willing to spend money on a doctor when I knew that I was just dehydrated, I declined. I at least wanted to wait until Monday to see if it got better and I could go to the closer doctor in Clonard. I figured that it would all be fine eventually.
I thought each night that I would be fine the next morning. Each morning, I apologized that I could not go to work or had to miss part of the day because I was still sick. I missed the parish and the routine that I had set for myself. It was the little things, like saying hi to people on the way in, and the big things, like the often-chaotic tea ladies.
*Before I forget, I have made a twitter account to document the hilarious things that the Tea Ladies say each morning. In case you don't know who these fantastic women are, they're the group of older women that meet for tea after 10 AM mass. They're hysterical, hold nothing back, and are the backbone of the parish. You won't regret it. @WexTeaLadies Alright, now I can go on.*
Being sick culminated on Monday when things got really bad and the debate was whether to go to the hospital or to the doctor. Sister Mary, Knower of All Things and also a nurse, took me to the doctor and by the end of the day on Monday I was sort of back to normal. The rest of this week has been a whole lot of drinking tap water, finding purified water, and learning what I can eat again.
This whole experience taught me many things, which make me glad to have gone through it (sort of). It was a wake up call about the importance of taking care of myself. More importantly, it showed me the support system that I have here in Clonard. For almost a whole week, one of the priests or Sister Mary would send me a text or try to find out from one of the community members how I was feeling. My fellow community members constantly asked if they could help in any way and were there to hear about often-unnecessary details that I told them. Besides the system I have here, I was able to clearly recognize how my support system from home would work out. Although waiting for everyone to wake up in America is really hard, I realized my support system there had never left. I was still talking to people about as often as I would if I were home. I may have missed two Notre Dame Band, oh wait I meant football, weekends, but that means I only have five more weekends to feel like I'm missing out.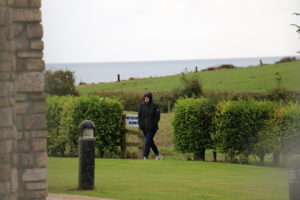 Also an accurate description of my week, trying to walk to see the #greatviews but getting poured and then retreating (Thanks, Sara for catching me at my most glamorous moments)
All of these things I would have figured out at some point, but I think I needed to be made aware of them in a fairly harsh fashion. As I sit in my bed still recovering days later, thinking about all of the healthy food I will be eating along with the water I will continuously be drinking, I suffer from a mild stomach-ache and a knowledge that I am where I need to be.
~Maureen