Hello there from Dublin, friends!
It's been a little while since we have last checked in with you all, but I assure you that this is with good reason! Rikki, Susanna, and myself have been fairly swamped with all of the ministries and responsibilities of the Parish and O'Connell House as of late, including First Communion Masses, 1916 Proclamation ceremonies at the schools, ACE Gatherings, ramping up for Holy Week, and of course, all of the wonderful festivities involved in the celebration of St. Patrick's Day in the city (which was a real treat for all of us).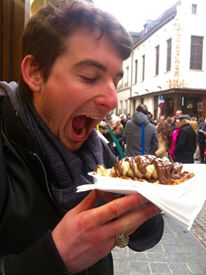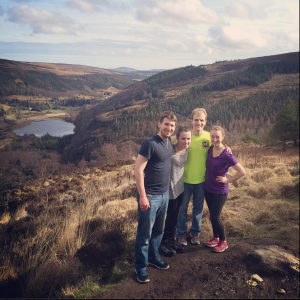 Despite the busyness that comes with performing our regular duties, there has also been a great opportunity for prayer and reflection during this solemn season of Lent. One thing that I have felt particularly called to focus and reflect on lately has been the mystery of God's great mercy,  in keeping with Pope Francis' proclamation of the Jubilee Year of Mercy. I was recently asked to deliver the post-communion reflection that occurs at the monthly ACE Gathering masses. Specifically, I was encouraged to focus on this divine mystery of mercy, and how it relates to my work in a parish. I'd like to include an excerpt from the reflection that I wrote, as a way of sharing some of the insights into mercy that I have glimpsed during my time at Harold's Cross thus far:
Pope Francis has a lot of things to say about mercy. In an interview he gave last July to a Vatican reporter, Francis was quoted as saying that "Mercy is God's most powerful message." His most powerful message. In this world, I'm not sure people associate the notions of mercy and power all too often, but that is exactly what Francis seeks to do with his proclamation of this Jubilee Year of Mercy. He wants to say, unambiguously, that the great Mercy of God is the key "piece of the puzzle," if you will. It is not only the means by which the Father reconciles us to Himself through Christ, but it in fact constitutes the very essence of the Father Himself. It tells us something important about Him, about "the way He operates." "The name of God is Mercy," declares Pope Francis. This is a bold statement, and one that deserves some attention from each one of us.
At the last ACE gathering, Meadhbh gave an excellent articulation of what it is like to experience and channel this extraordinary gift of mercy within the educational milieu. And her words and anecdotes got me to thinking, more and more, about just how rich, diverse, and multi-faceted the mystery of Mercy really is, at bottom. Like love, it is one of those 10,000-layer mysteries, capable of many different articulations and definitions. It strikes me as peculiar that Francis would make such an unequivocal statement about God through a conversation about something as ambiguous and indefinable as mercy. Francis himself agrees, "God's mercy is an abyss beyond our comprehension, and something difficult to understand."
Because mercy, if you think about it, doesn't always take the same form. It comes, I believe, in many different shapes and sizes. Mercy can be gentle at times, or it can be severe. It can be subtle in some situations, blatantly obvious in others. It may manifest as a kind word; a brief glance of commiseration; a blunt, difficult, conversation; a shoulder to sob on; even the relief of suffering brought about through death. Mercy has the ability to confuse, move, comfort, inspire, surprise, soften, brighten, calm, or motivate even the hardest of hearts. We ourselves often struggle to accept or seek the mercy of others, and we run from it in shame. Yet at other times, it is all we truly long for from another. Mercy is not a mere "feeling sorry for," and it does not blunt the difference between what is right and wrong. It is a deliberate choice, away from judgment, and toward authentic understanding, real empathy with another. Sometimes mercy looks and feels like a motherly caress, though sometimes it instead takes the shape of the cross. In any case, it is the embodiment of patience, forgiveness, healing, and tenderness on God's part. It is the grammar and disposition of Jesus, par excellence. It is the love of God, fully incarnate and tangible to us.
I realize that these are a few disjointed musings, but as you can see, far from being straightforward or univocal, the notion of mercy is teeming with endless manifestations and interpretations, contexts and expressions. It is assuredly a complex and beautiful mystery. In my experience, though, what is so unique about mercy is its ability to permeate and transform just about every situation imaginable. In any moment, there is always the possibility for mercy to enter in, for hearts to be changed or alleviated through it. I've seen this fact exemplified in concrete ways, even in just the last week in the parish.
I saw mercy when the older women who sit in the front pews at daily mass helped a physically disabled friend of theirs (a 97 year old, 4 and a half foot tall woman) stand from her chair to go up and receive the Eucharist. Their hands were so gentle and confident in guiding her to her walker. Their eyes were so merciful, so full of mercy. Not pity, not condescension, just pure eagerness and joy in helping.
I tasted mercy when Margaret from the choir had just been passed over yet again by our music director on soloing for the psalm on the 20th anniversary of her mother's death. She was so heartbroken by this, although the director had no idea how much it hurt her to be passed up like that, since he was unaware of the anniversary. But I just remember hearing, as she sat in front of me in the loft during mass, between quiet little sobs, her saying under her breath, "it's alright, he doesn't know. It's not his fault." That's mercy, unadulterated.
And I was seized with mercy, when I saw my coworkers, just days ago, comforting two dear friends of the parish, a mother and her daughter, when they learned of the tragic news of a close family friend's passing away unexpectedly the night before. With comforting scratches on the back, and calm voices, Rikki and Susanna brought mercy to this grieving family, and they probably didn't even realize it. I just sat and watched from a distance, moved by how merciful God was being through them in that hard moment.
I could keep going, but I think these few little instances suffice to show that mercy is an unavoidable reality in my work at Harold's Cross. Anywhere that there is attentiveness, relationship, vulnerability, or human weakness (which, let me tell you, is most places on earth), there is an opportunity to glimpse the unquenchable, incomprehensible mercy of God being shown. 
For the last week, when I've been at mass each day, I've counted how many times the word "mercy" is spoken by the priest or congregation in the liturgy. It was said an average of 12 times each mass, which is quite a bit. I think Pope Francis wants us to start listening to that word, understanding its meaning and reality a bit more fully each day in our lives. I think he wants us to talk about it, to think about it, and most importantly, to incarnate it in a cold world that is in need of some warmth and justice. Because, like most of the other mysteries that we Catholics love so much, a clearer understanding of mercy is only possible through an experience of it. I encourage each of you to re-examine, and re-encounter where God is being merciful in your life. Question how you can refract that very mercy back into the lives of others. Only in that endeavor will we truly glimpse the "invisible face of the Father," through His Son and the Church, and come to exclaim, with Francis, "the name of God is mercy!"
My prayer for you, dear readers, is that you encounter God's mercy anew this Lent. And, as Holy Week nears, and we remember that fateful hour on the cross, may that same mercy inspire in you the hope and joy that comes with Easter.
Yours always,
Geoff