One commonly heard phrase in poem and song here in Ireland is that St. Brigid "brings the Spring." She brings Spring weather (more rain….some sunshine…more rain), a season of washing away what was and of new life springing forth, but I like to think that this year, St. Brigid brings a special type of Spring cleaning: a renewal of peoples' hearts and minds, and a turn towards mercy. The Year of Mercy blends well with the many stories that people have shared with us about St. Brigid. One such story tells us that the religious sisters that followed St. Brigid asked her which Beatitude she was especially devoted to, to which she answered, "Blessed are the merciful: for they shall obtain mercy." We have heard countless stories about Brigid giving clothing to the naked, feeding the hungry, visiting the sick, instructing the ignorant, and always working to settle disputes and upholding the rights of hard-working Irish people.
There's one classic Brigid story in which she taught a pagan chieftain about Christ on the Cross by picking rushes off the ground and weaving her famous Cros Bhríde. Teach Bhríde had the opportunity to learn this skill of Brigid Cross-making, and about 400 crosses were distributed at our St. Brigid prayer service.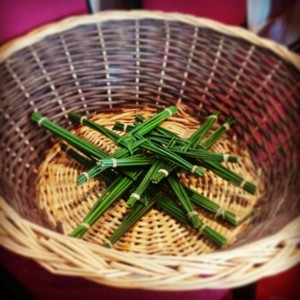 Our service for the parish on the eve of St. Brigid's Feast was very prayerful and focused on working for justice and peace in today's world. We had some  talented traditional Irish musicians supplying in-between airs, our lovely Vigil Choir leading hymns for each element of Creation, readings and prayers from Laudato Si, and specifically justice/St. Brigid-themed intercessions. It was both a wonderful reflection on the life of St. Brigid, as well as a time of prayer for peace, justice, and mercy.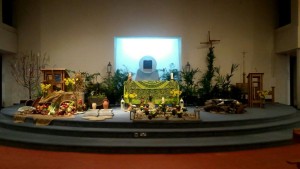 On St. Brigid's Feast Day, we held a prayer service for our primary schools; they were able to take a peek at the done-up altar, explore the elements of Creation, hear stories about the life of St. Brigid, and get Brigid crosses that they made in school blessed. Once again, a group of traditional Irish musicians (teachers from Scoil Mhuire) set a Celtic tone for the service.
Aside from celebrations of St. Brigid, we have been keeping busy preparing for the Spring sacraments of Confession, First Holy Communion, and Confirmation. Lent begins next week, and a lot of musical preparation is in the works for that. Brendan and I are particularly excited for the 40 days of Lent to pass by quickly because our families will be visiting for Easter!
We wish all of our family, friends, and other blog readers back home a very prayerful and fruitful Lent!
Peace,
Jena