A hearty hello and Nollaig Shona Duit from Dublin! Geoff here- last you heard from us in Dublin, Susanna was remarking on some of our post-Thanksgiving and pre-Christmas dealings in O'Connell House and Harold's Cross, and now (hard as it is to believe), we are already through Christmas Day and entering into our 2 weeks of vacation time.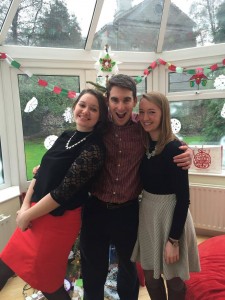 Now that I look back over the past 5 or so weeks of work, I find it quite remarkable just how many blessings and challenges (which are often one in the same) we have encountered amidst the hustle and bustle of the Holiday season. From partaking in the annual Carol Service at Harold's Cross to singing even more carols outside the General Post Office with Notre Dame students as a part of a community service fundraiser, we have been busy lifting our voices and hearts in preparation for the coming of our Lord. In just a few jam-packed weeks- which have included CBL closing reflection sessions, Advent and Christmas masses, more catechesis lessons with our Confirmation and First Communion candidates, Christmas pageants at the schools, a closing dinner and send-off to the ND students at O'Connell House, and numerous rehearsals for the children's Nativity play at Harold's Cross- we have accomplished, engaged in, and learned so much from our responsibilities here. I think it is safe to say, having survived the gauntlet of Christmas festivities, that Rikki, Susanna, and I are feeling much more "tried and true" in our ministries here, though there is always more to learn and improve on.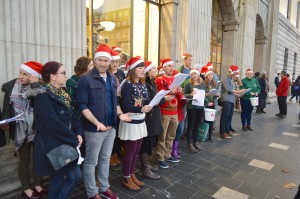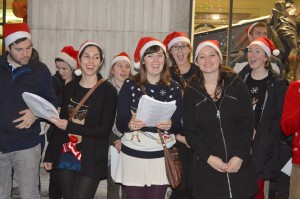 It's an undeniable fact that the last few weeks in Dublin have demonstrated to me the great extent to which we are cared about and loved by the wonderful people in our communities (the number of Cadbury chocolate boxes that we have received as gifts from parishioners and friends could feed a small nation…). People here are so incredibly generous with their time and attention, and it would be impossible to experience what we have this month without getting the sense that we are abundantly blessed and loved in this place. It's precisely this show of kindness and care that propels me to continue giving the parish and OCH communities all that I have to offer of myself, as a small return for all that I have received, from them and from God.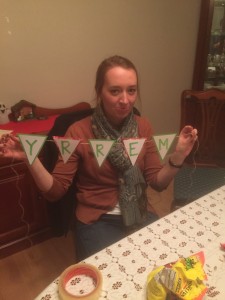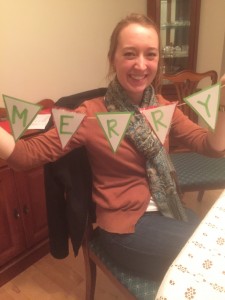 These little motivators are important, because the truth is, given of the kind of ministries that we are involved in, it has been increasingly difficult to avoid becoming overwhelmed by the hecticness of our work, and the temptation to submit to a complacent, "box-checking" mentality is ever prevalent. Ironically, during the season of Advent, when we are invited to enter into the silence and pensiveness of waiting and repentance, I have noticed that it is exactly during this time that our jobs and obligations swell to an unrelenting busyness, so that I find myself hardly able to go on a run, make a meal, have a thought, or sit in prayer for any extended period of time. Don't get me wrong, it's not all because of the work we do; many of these busywork tasks are self-imposed. This year, I have (somewhat lamentably) followed the recent cultural trend, treating the coming of Christmas as a time for increased activity, for doing, rather than waiting.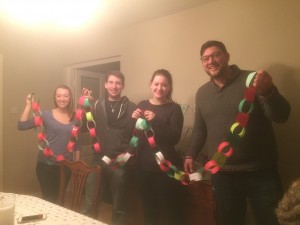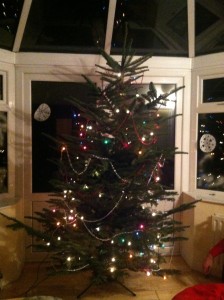 I only slowed down enough to realize this fact when I was finally able to sit, unhindered by work or worry, and immersed in silent prayer, at the 9am liturgy on Christmas Day at Harold's Cross. It is apparently tradition here for the congregation to join in a solemn singing of "Silent Night" after the liturgy of the Eucharist, since this is what happened during all 4 masses that day. As I sat, contemplating the lyrics of that sweet hymn, I thought of Mary, who was said to have "pondered these things in her heart" on the night of Christ's birth. Mary, as an example for us all, chose to "take it all in" on the night of her Holy son's birth, and she was that much better for it.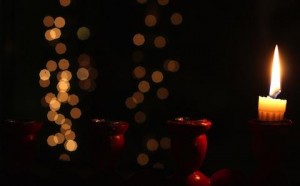 Sure, on Christmas, we celebrate the exuberant aspect of that night, recounting the throngs of angels praising God with their exultant "Hosanna's." We, too, hearken with them during this season. But I think what we are less good at paying attention to recently, both as a society and as individuals, is the profound silence and subtlety that is associated with the Word becoming Flesh; that deep, pervasive joy that is better expressed with quietude than with rapturous strains. I'll be the first to say that my December was engrossed by an inner and outer noisiness that perhaps did not properly reverence the "Silent Night" to which we pay tribute with the song of the same title. The busyness of our job at the House of Brigid is a great gift indeed, and something that deserves a wholesome word of thanks to God. But learning to supplement this busyness with a silence, in which God can cultivate prayer and longing in us, is perhaps the bigger challenge, and the call to growth contained within this year of service. It is my prayer that our first Christmas spent away from home, a Christmas celebrated at a new home in Harold's Cross, can inspire us to a new contemplation and silence alongside the busyness and blessedness of our work. It is assuredly in the earnest combination of the two that we will encounter the newborn Christ in our midst.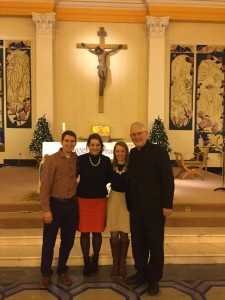 Until next time, slán, beannachtaí, agus bliain nua sásta!
Mother of God, pray for us! Saint Brigid, pray for us!
-Geoff