Happy Christmas Everyone!
This past Sunday the fourth candle on the advent wreath was lit signaling the end of the preparations, and the beginning of Christmas. Although the month of December seems to have flown by, this Advent season has truly been one of waiting, expecting, and hoping for the coming of Christ.
In the last few weeks the Wexford crew has been very involved with the two schools, Kennedy Park and Scoil Mhuire. Each school had two reconciliation services ensuring that those who wished were able to receive the sacrament. Scoil Mhuire had the second teaching Mass of the year regarding the Liturgy of the Word, and lastly, the accumulation of Teach Bhríde's hard work with various classes resulted in two successfully put on Carol Services at Clonard Parish.
Furthermore, Teach Bhríde has been very active in continuing to provide liturgical music for the parish. In addition to our involvement with music at daily mass and for weekend liturgies, Teach Bhríde provided music for the Feast of the Immaculate Conception Masses, sang for a very beloved parishioner's funeral, and provided music for the parish's reconciliation service.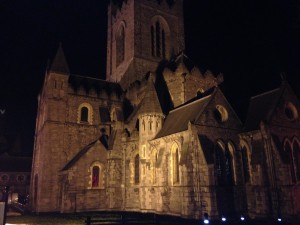 While we have enjoyed the buzz and excitement within the bits and pieces of our work, we also thoroughly take to heart the practice of self-care. Thus, Teach Bhríde Wexford recently enjoyed a day off in Dublin and shared lunch with Rikki, Susanna, and Geoff! While in Dublin the Wexford crew had the opportunity to see Handel's Messiah at the beautiful Christ Church Cathedral. We all had a great time enjoying one another's company, and getting into the true spirit of Christmas.
This week Jena's fiancé Andrew will be coming to Wexford to join us in celebrating Christmas at Clonard Parish! Teach Bhríde + Andrew will be responsible for providing music for the 5pm and Vigil Mass with the Vigil Choir on Christmas Eve. On Christmas Day we will also provide music at the 10am Mass and will join the Folk Group at half elven. We are very proud of all the hard work that the Vigil Choir has put into learning unfamiliar music, and we are happy to announce that we will be doing pieces such as Gaudete, Christmas Lullaby, and the Glendalough Mass parts in company with a few of the more traditional Christmas Hymns.
After Christmas Teach Bhríde Wexford will be parting ways for a bit. Jena and Andrew will be headed to Rome, Laura will be going to the States to be with her family, and Brendan and I will be on our way to the UK. Since we will be out of touch for a little while, we would like to thank everyone for their support of Teach Bhríde – we wish you a very Merry Christma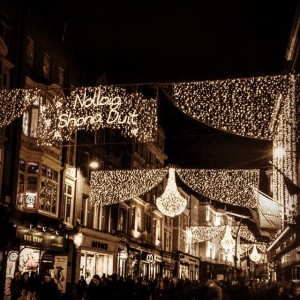 s, and will provide more updates in the New Year!
Slaínte!
-Kristen