Hello, friends! The buzz and excitement of the Wexford Opera Festival has been replaced with a sense of avid preparation – here in Clonard, we are focusing on preparation for Thanksgiving, Advent (!!!), Sacraments with the schools, and preparing Christmas music.
With the school year in full swing, our time is getting quite filled with Sacramental Preparation, Carol Services, and upcoming school Masses. The first First Communion Teaching Mass for Scoil Mhuire happened last Tuesday, and seems to have been a success! Kristen and I had a fantastic time doing some of the teaching alongside Father Barry as we explored the Gathering Rites of the Mass. Seeing some of the students really "get it" and excitedly answering our questions made for a great night. Kennedy Park's Teaching Mass is coming up on Tuesday, and is sure to be a success as well!
Our Confirmation Enrolment Masses happened this weekend, and it was a joy for us to see students and parents from both schools confidently enter into this period of preparation for the Sacrament. We are sure to be working with the 6th classes more in the upcoming months.
With Advent just around the corner, Brendan has been hard at work on an Advent/Christmastime Daily Mass Hymnal, to be debuted in just a few weeks! We are all eagerly anticipating this hymnal, and Advent music in general – Advent is one of my personal favorite seasons, both liturgically and musically, and I am excited to experience this season with the Clonard community.
One of Teach Bhríde's many ministries includes Sunday reflections on CMT radio, usually in the months of November and during Lent. For November, each of us has taken a Sunday and prepared a Taize Prayer service which we record for these Sunday evening reflections. It has been such a blessing to pray and make some beautiful music as a community, and we have each enjoyed the opportunity to select music, prepare a service, and reflect more deeply on the Sunday Gospel readings. We do these recordings in the Day Chapel, often in the morning before rosary and daily Mass, and seeing the Chapel in the peaceful beauty of the sunrise has been one of the highlights of my time here in Wexford.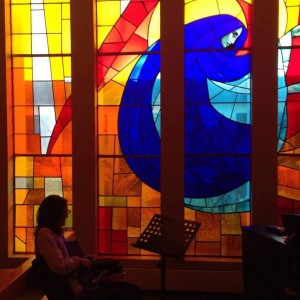 Last Friday, Laura and I travelled North to Dublin for the November ACE Mass. We teamed up with the Dublin crew and our chaplain friends from Cork to provide music, and I had the opportunity to play piano in public for the first time, accompanying our opening song The Summons. My hands were a little shaky, and it was not a perfect rendition, but I was so happy to have the chance to step outside of my comfort zone and get behind the piano. Hopefully, with more hard work and practice, my skills will continue to develop this year and I can try accompanying for other Masses!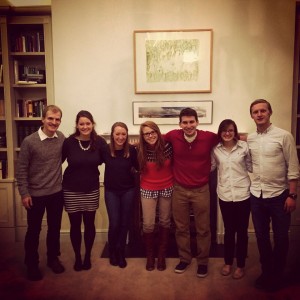 Teach Bhríde Wexford is preparing for a few visits in the coming month: the week of Thanksgiving, Steve and Michele Warner will be visiting and attending our Wexford Thanksgiving gathering, and preparations for this are well under way. My fiancé, Andrew, is visiting for the week of Christmas and part of the break, and we are counting down the weeks (only 5 more to go)!
In the midst of our many ministries, much excitement, and joyful anticipation, it is very easy to feel a little overwhelmed. Before approaching each task, big or small, I like to pray a small prayer that a friend once recommended, placing all of my worries into God's hands and calling out for guidance: "Come, Holy Spirit!"
Peace and blessings,
Jena