As Mary communicated in her last blog, our Thanksgiving celebrations over the past week were amplified by the surprise visit of Steve and Michele Warner to Wexford. We were ecstatic just to be in their presence and enjoy their company, but they were also of immeasurable help as we prepared and hosted a Thanksgiving dinner for some of the Clonard community on Tuesday night at Father Denis' home. There was a ton of cooking, cleaning, and set-up work to be done on the day of the meal, and I don't know how we would have managed to get everything ready if they had not been so graciously helping us along the way. We enjoyed a filling (to put it lightly) meal and then finished the night off with a session of entertainment that saw everyone contributing forms of music, comedy, and poetry. It was a great end to the night that had everyone singing and laughing. Our only regret of the evening was that we couldn't host all of our friends who have been so gracious and kind to us since our arrival in Wexford.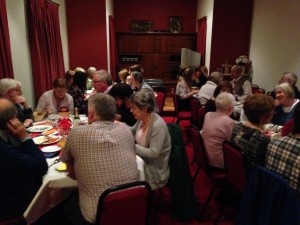 Our Thanksgiving didn't stop there, however, as we were off to Dublin on Thursday to celebrate the day with the Notre Dame community and study abroad students there. Along with Steve and Michele, we helped provide the musical liturgy for a wonderful mass at Newman Church on St. Stephen's Green. The mass was followed by an amazing dinner at the Merrion Hotel, and the dinner was concluded with a round of entertainment put on by the Notre Dame students studying abroad in Dublin. Teach Bhríde, accompanied by Steve and Michele, performed an arrangement of "The Lion Sleeps Tonight" that Cameron put together, and the evening was concluded with everyone singing "Notre Dame, Our Mother" and the Victory March. It was great being able to visit with the Notre Dame students, alumni, administrators, and friends of the Dublin community, and we want to thank them for their tremendous generosity in allowing us to be a part of their Thanksgiving festivities!
We hope everyone enjoyed a wonderful Thanksgiving with friends and family, and we hope everyone has a great start to Advent and the new liturgical year! May peace and God's blessings be with you all!