It's time to write another blog again?  Already?!  Where have the last two weeks gone?  Even though the pace of life here is so different from when I was at Saint Mary's, I now truly understand that a life in ministry is an always-on-call position.  Even with four of us, it seems there's always something that needs our attention in some way.  But, I'm not complaining!  Not even in the slightest!  I love the work we do here, and I think the other three would wholeheartedly agree with me.
A question I've been getting a lot from friends and family back home is, "So, what DO you do all day long?"  I thought for my post this week, I'd compile for you a fun "Week in the Life of Joy" that shows a rough sketch of what I "do" here.  Keep in mind that no two weeks have been exactly the same, and that this list really only pertains to me since we all have such different schedules!
Monday
9:25am – Leave the house to walk to the parish.
9:45am – Arrive at the parish!
10:00am – Daily Mass with Adoration following.
10:45am – Tea with the Tea Ladies!
11:15am – Time to start getting some work done!  On the agenda first thing is to check that Cameron has everything in order for Scoil Mhuire's First Communion informational meeting tonight.
12:30pm – Leave the parish to walk to Pettitt's SuperValu to do the weekly grocery shopping.
12:40pm – Arrive at Pettitt's.  Must. Check. Everything. Off. Of. The. List!
2:00pm – Leave Pettitt's to walk home.
2:30pm – Arrive at home.  Work on organizing the grocery receipt to figure out how much everyone owes and to make sure I didn't forget anything!
3:00pm – Our groceries get delivered!  Time to label all of the food with which night it's being used and to put it all away.  Eat some lunch while doing this.
4:30pm – The others are home!  Cameron's staying at the office to set up for the First Communion meeting, so I'm taking his place for supper tonight.  I work with Mary to get as much prepped as we can so we can eat right after the meeting.
5:55pm – Leave the house to walk to the parish.
6:15pm – Arrive at the parish and help Cameron with last-minute preparations.
6:45pm – The meeting has started.  So many First Communicants!  Yay!
7:15pm – Meeting adjourned, time to help parents fill out forms!
7:45pm – Receive a lift home from Fr. James.  In the spirit of beginning Teach Bhríde hospitality, we ask him to stay for supper.  He heartily obliges!
9:00pm – Bid Fr. James a good night and begin to unwind for the day.
10:00pm – Time for prayer!  Tonight is Ben's turn to lead.
11:30pm – Find ourselves still talking post-prayer, but we need to go to bed.  Goodnight!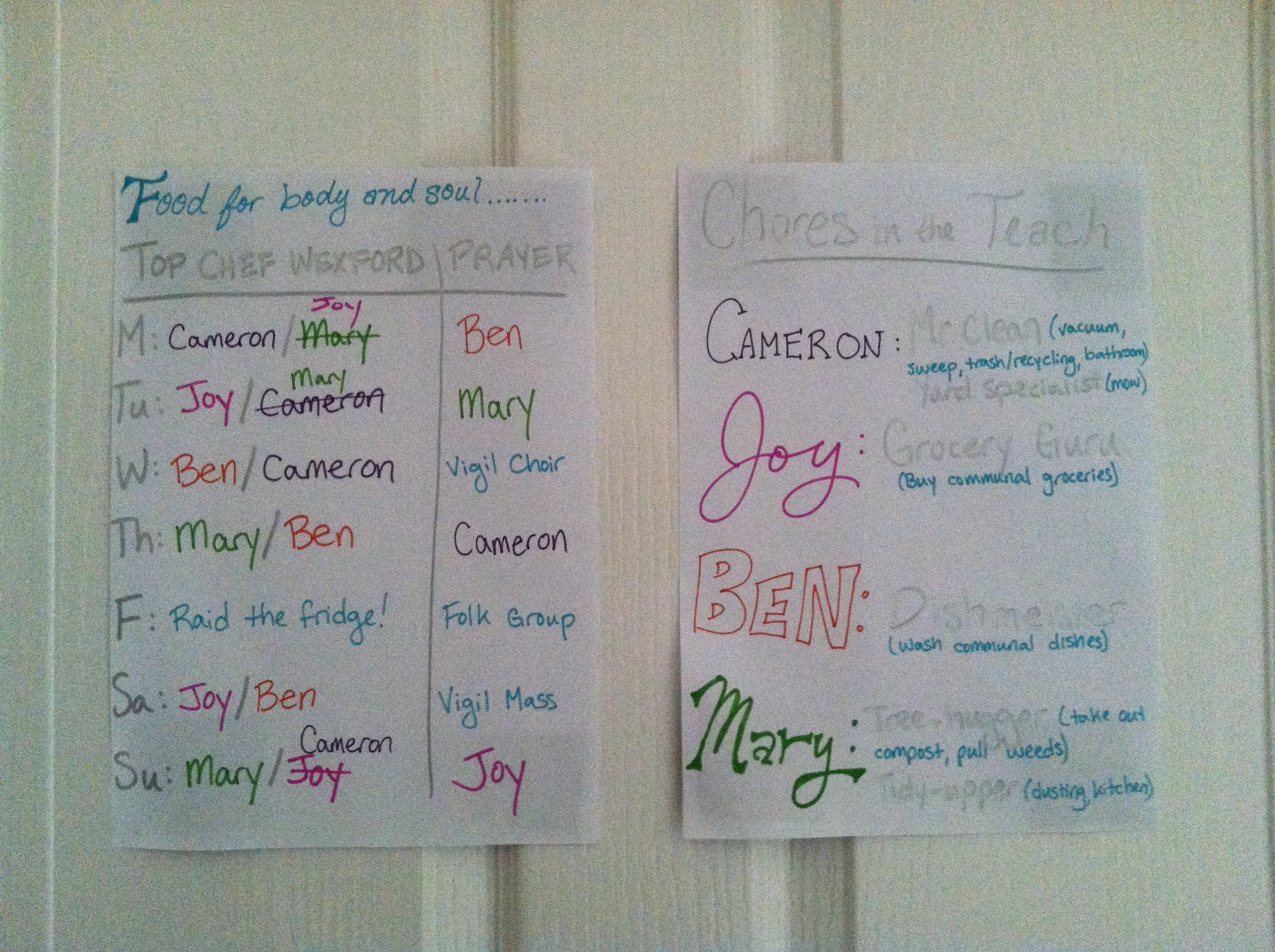 Tuesday
10:00am – Daily Mass!  I'm subbing for the reader today.
10:30am – It's Mary and Ben's day off, and Cameron's at a conference, so I'm enjoying an extra-long tea with the Tea Ladies!
11:15am – Put last weekend's music away from our binders and stuff them again for this weekend.
12:00pm – Eat lunch!  It's soup, bread, and cheese today!
12:15pm – With no one else in the office, it's a quieter day than usual.  I'm working on arranging Laurie Klein's "I Love You, Lord" for Youth Choir to have as a prayer song.
3:30pm – Where did the afternoon go?!  At least the song's arranged!  Time to call it a day and go home.
4:00pm – Arrive at home!
4:30pm – I'm sous chef tonight!  Time to help Cameron in the kitchen.
6:00pm – Mmm, dinnertime!
8:00pm – Oh man, we're still sitting at the table.  Boy do we like to talk!
8:30pm – Prayer time!  Mary is leading us tonight.
9:00pm – We got a box of music from our wonderful friends at WLP at the beginning of the year, so we're sitting around the piano playing through a few of them.
11:00pm – Bedtime!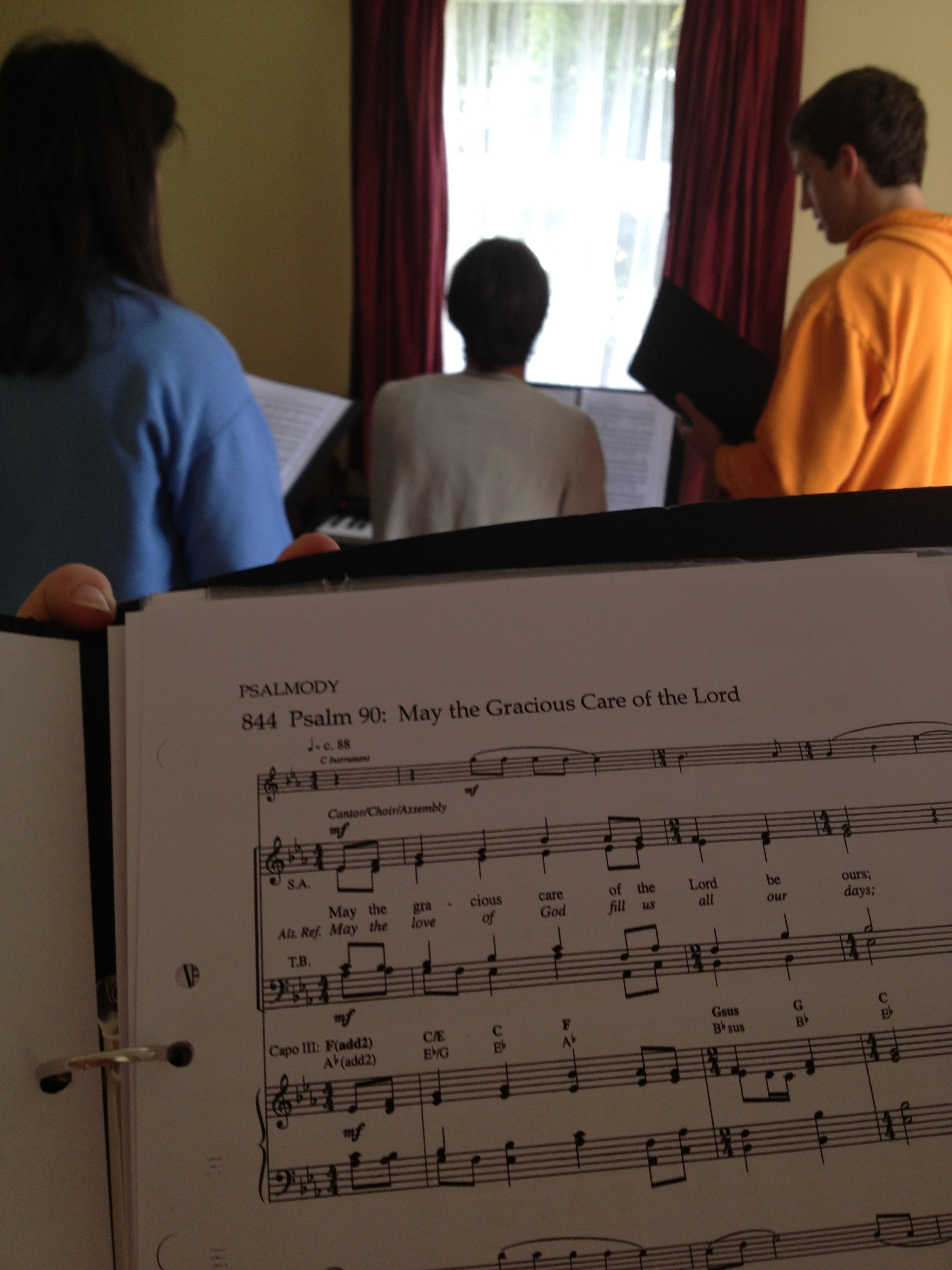 Wednesday
10:00am – Daily Mass!  We lead music on Wednesdays and Fridays.
10:30am – Alright, just ONE cup of tea!
11:15am – We're all in the office!  Yahoo!  Mary and Ben are working on Class Mass stuff for Scoil Mhuire, Cameron's run off to take care of some business at Kennedy Park, and I'm making us dividers for our music binders.  (We are juggling three to four choirs and class masses, after all!)
12:30pm – I think we're all eating lunch by now…can't forget to do that!
1:00pm – Liturgy planning!  Probably the most time-consuming job in any given week.  We're working on the weekend of October 12th/13th and finishing up selections for the weekend of October 19th/20th.
3:00pm – Time to plan rehearsal for Youth Choir tonight!
3:30pm – Go through music with Cameron for rehearsal.
4:00pm – Walk home!
4:20pm – Arrive at home. Working on my Notre Dame STEP course in order to get my theology assignment in on time for its Thursday morning deadline.
6:00pm – Eat dinner!
6:40pm – Mary and Ben leave for Family Liturgy Group rehearsal.  Cameron plays piano while I FaceTime a friend from home.
7:30pm – Cameron and I leave for the parish.
7:50pm – Arrive at the parish and set up for Youth Choir!
8:00pm – Youth Choir rehearsal!  We're working on music for our next mass on October 19th.  (Cameron and I's birthday, by the way!)
8:45pm – Send the kids on their way and let Mary begin Vigil Choir rehearsal.
9:15pm – Rehearsal's done!  Time to pack up and chat with people as they leave.
9:30pm – Ruairi's the best – he's giving us a lift home!
9:40pm – Home!  Whew, what a long day!  Time to call it an early night.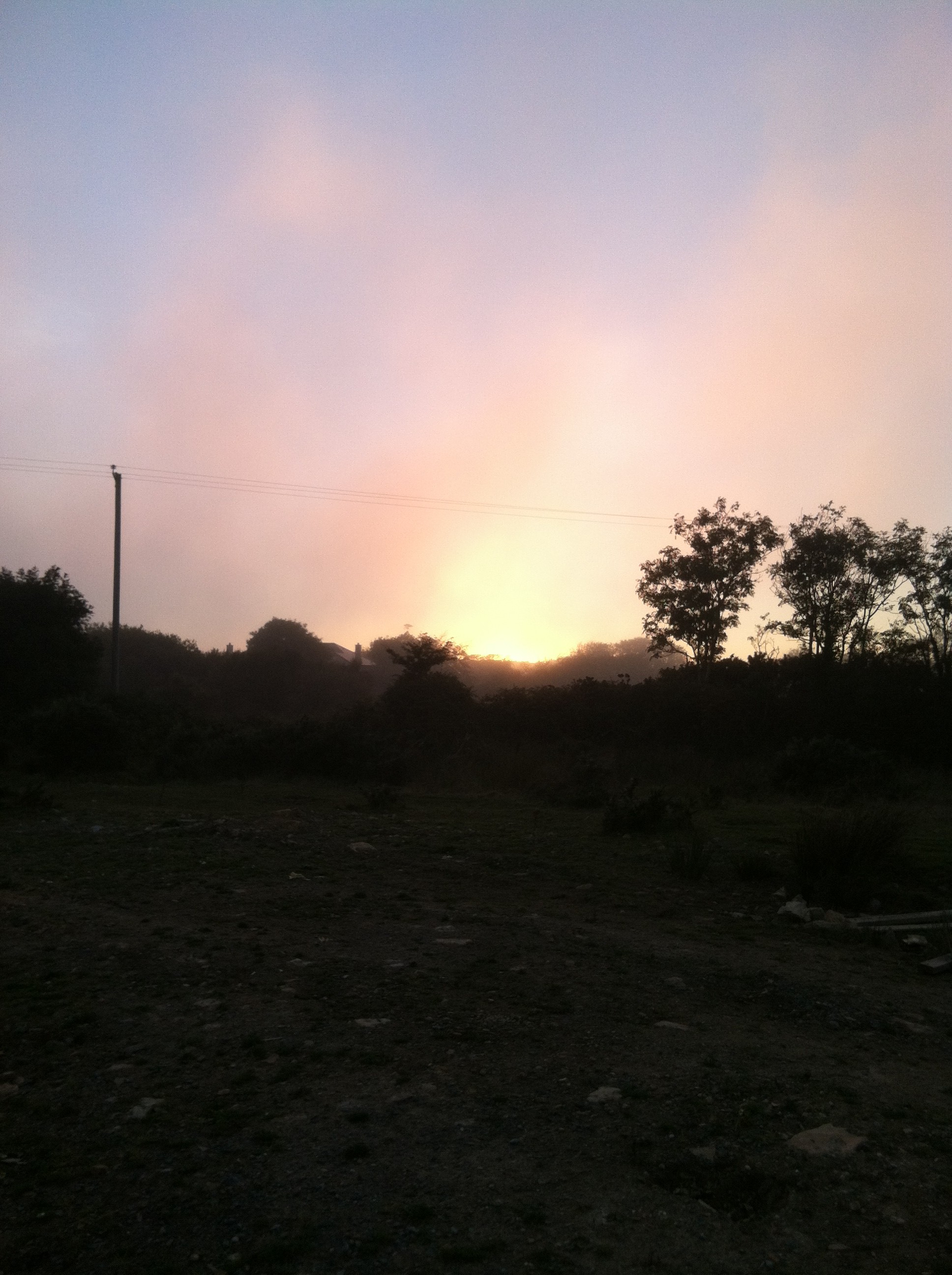 Thursday
10:00am – It's my day off!  I got to sleep in a bit, and now it's time to leave to walk to Marketa's house for my voice lesson.
11:00am – Voice lesson at Marketa's!  I'm working on a Pergolesi oratorio this week.
12:00pm – What a great lesson!  Time to walk to Sue's house for my piano lesson.
12:30pm – Arrive at Sue's house.  I'm tackling a Bach minuet right now!
1:00pm – Lesson over!  It's pouring, so Sue offers to give me a lift home.
1:15pm – Home!  It's Cameron's day off, too, so we pull our personal groceries together and make some lunch.
2:00pm – We have company tonight!  Cameron and I work on tidying up the house a bit.
4:00pm – Our guest has arrived!  Dominic from Daily Mass is a huge lover of Teach Bhríde.  (We're big fans of his, as well!)
5:30pm – Mary and Ben have made a scrumptious dinner, and we are rather enjoying Dom's company!
7:00pm – Dominic departs.  Ben and Cameron decide to play some music, and Mary and I chat in the kitchen while we enjoy listening to the guys jam on guitar and piano.
9:00pm – Time for a family meeting to discuss some upcoming house events and have evening prayer!  (It's Cameron's night.)
11:30pm – Bedtime!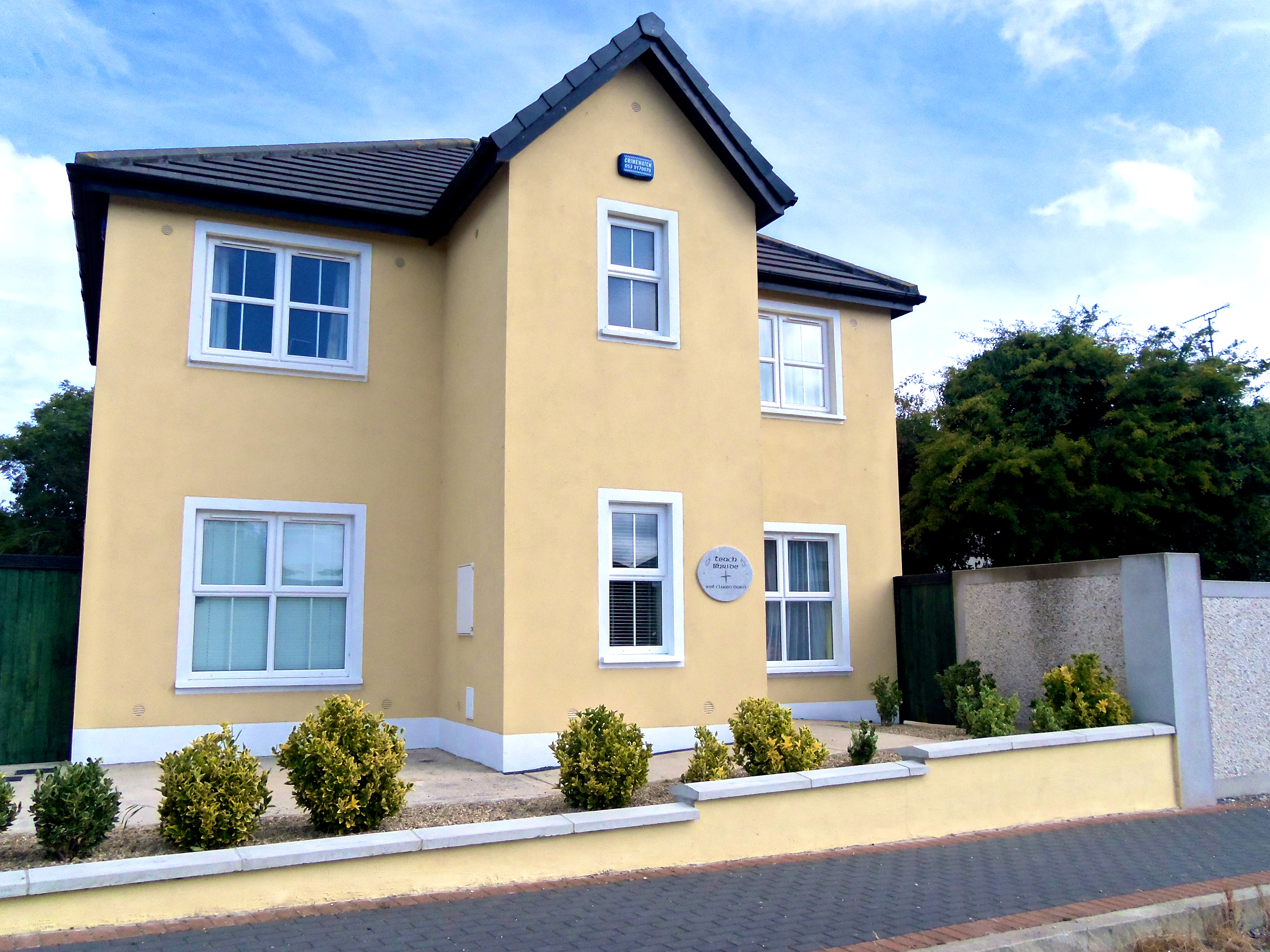 Friday
10:00am – Morning mass at the Friary to celebrate the Feast of St. Francis of Assisi!
11:30am – Meet up with Mary, who stayed at Clonard to do music for Daily Mass, and walk into Wexford Town for lunch.
11:45am – Lunch at Westgate!  Who knew this quaint design shop had a café on its lower level?
1:30pm – We're back in the office!  Time to plan for a parish workshop we're hosting in December.  (We need to order the music up to six weeks in advance to make sure it gets here in time!)
3:30pm – Leave for home so I can start dinner.  Usually Friday is leftover night, but since Saturday's our commissioning mass, we're enjoying supper at Fr. Denis' house afterward to celebrate.  Therefore, I'm making Saturday's meal tonight.
5:45pm – Dinnertime!
6:10pm – We're helping Ruairi and Stasia plan Folk Group masses, so we head over to the parish for a meeting with them.
6:30pm – Meeting starts.
7:30pm – Ben and Cameron go off for a Folk Group instrumental rehearsal.  Mary and I get a few things done in the office.
8:00pm – Folk Group rehearsal begins!  Ruairi has been letting me teach a new song to the group, so I get to work on that with them tonight.
9:00pm – Rehearsal's over, but everyone sticks around to chat for a bit.
9:20pm – Jim kindly offers to give us a lift home so we don't have to walk in the dark!
9:30pm – Arrive home.  It's a clear night!  We decide to stargaze for a bit.  You can see the Milky Way from here!
10:00pm – Skype Mary's baby sister for her birthday tomorrow.  We make up some awesome songs about cows and sunflowers to sing with her.  I miss my nieces!
11:00pm – Stargaze for a little while longer.  It's really a beautiful night!
11:30pm – Time to journal for a bit, and then lights out!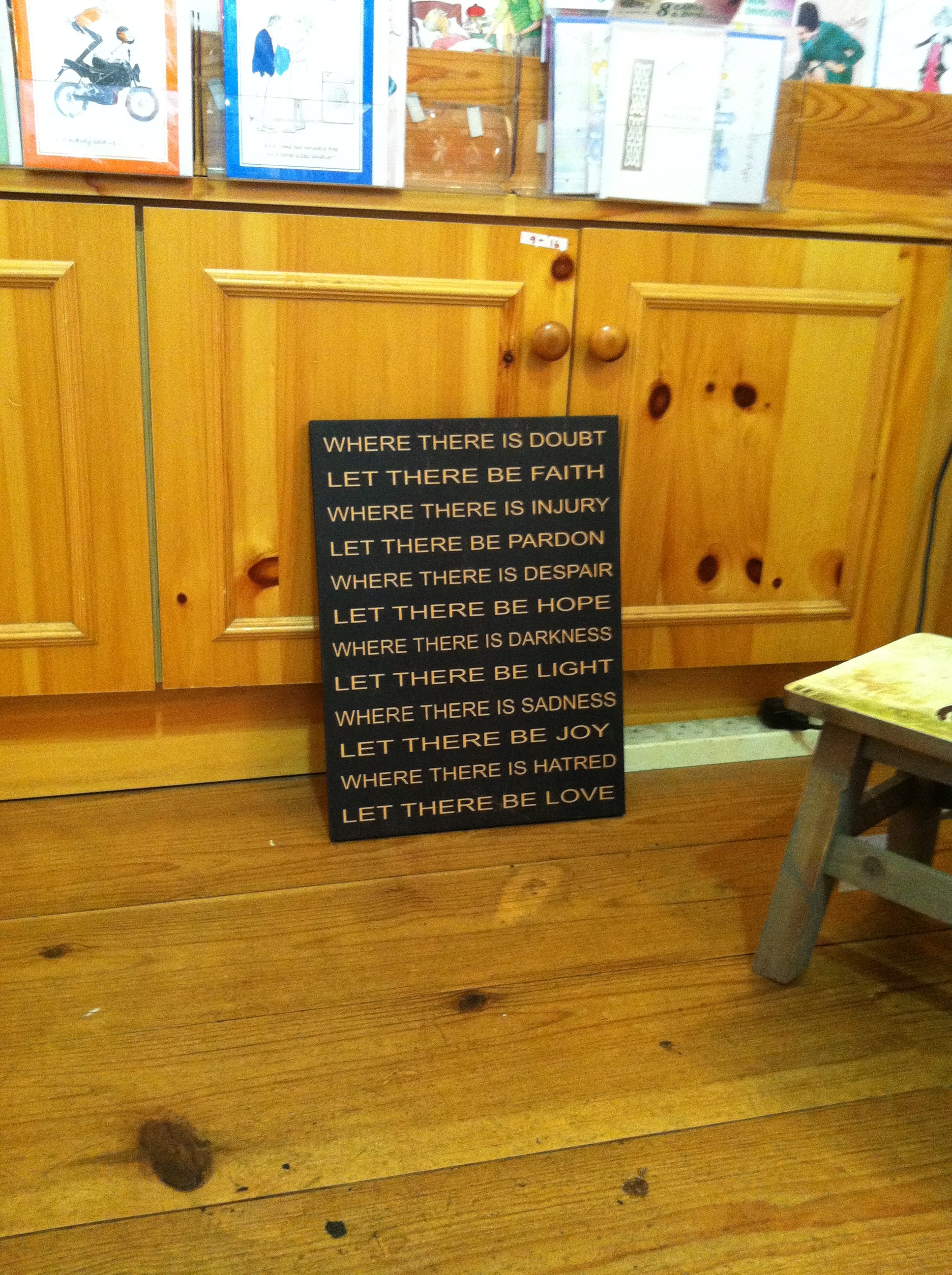 Saturday
9:00am – Can't I even sleep in on a weekend?  My body just won't let me anymore!
10:00am – Coffee, breakfast, laundry, and lots of chatting makes for a quiet Saturday morning at home!
1:00pm – More of the same.  Aren't Saturday's awesome?!
4:00pm – Time to get ready for Vigil Mass!
4:45pm – Leave for the parish.
5:05pm – Arrive at the parish and set up for Vigil Mass.
5:15pm – The choir is here!  Rehearsing with them until mass starts.
6:00pm – Vigil Mass.  Bishop Denis is commissioning us for our service year tonight!
6:45pm – Mass is over, and it's time to take down and put away all of the equipment.
7:00pm – Supper at Fr. Denis' house to celebrate.
9:30pm – Home!  It's another relaxing evening in the Teach.
11:00pm – Bedtime!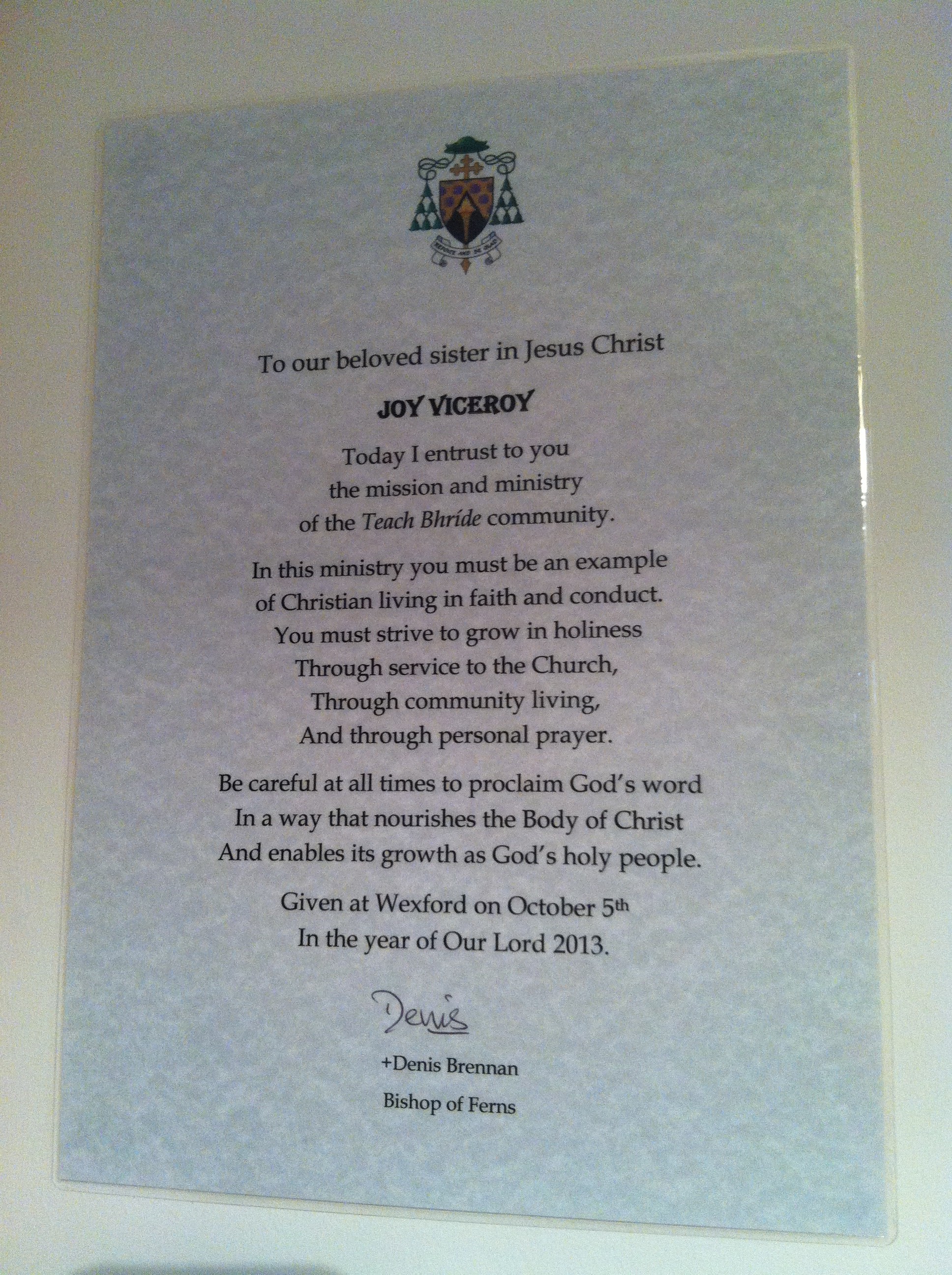 Sunday
9:30am – Mary and Ben leave the house for the 10:00am Family Liturgy Group Mass.
10:25am – Cameron and I leave the house for Folk Group Mass rehearsal.
10:45am – Rehearsal and setup!
11:30am – Folk Group Mass.
12:15pm – Mass is over.  We put away all of the equipment and politely decline all of the offers for a lift home.  It's a beautiful day, so we want to walk!
12:35pm – Arrive at home.  Today we'll cook up whatever eggs we have left in the fridge and have a hearty lunch of omelets!
2:00pm – Sundays are great, just like Saturdays!  Maybe I'll even take a nap!
4:00pm – One-Eye is back!  He's our resident kitty cat that's been visiting Teach Bhríde since Season I!
6:00pm – Dinnertime!
8:00pm – Prayer!  Tonight is my night to lead.
8:15pm – Family meeting!  (And, let's be real, more chatting!)
11:00pm – Bedtime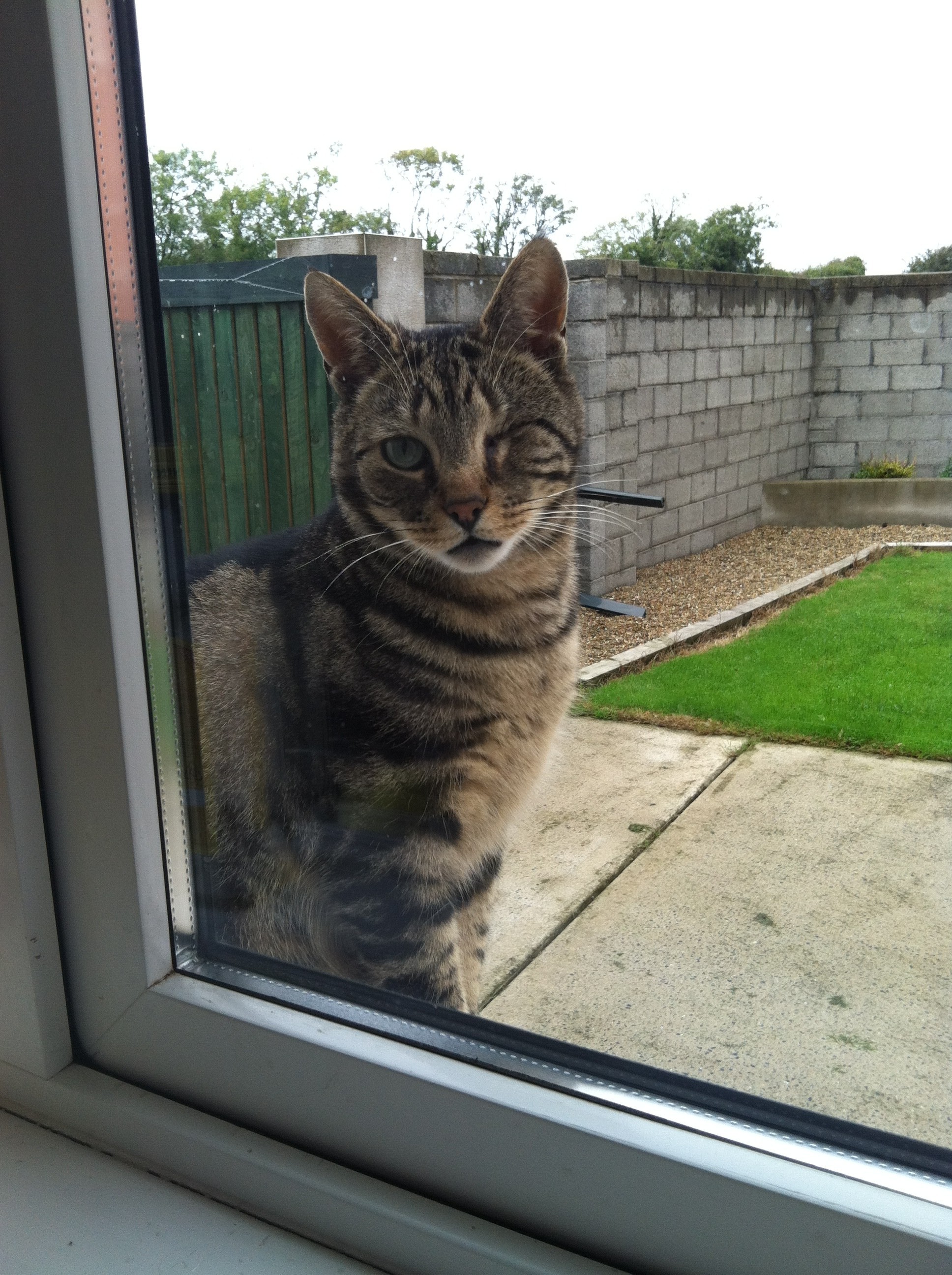 Forgive me for the length of this post, but, as you can see, it's never a dull day around the Teach.  This list doesn't include every single detail, but I hope it does give a little insight as to what a week in the life of one of us looks like!
Until next time!
Peace,
–Joy.