You guessed it: St. Brigid's feast day is coming up this Friday, and Clonard Parish's St. Brigid celebration will take place on Sunday night! That means, this week, our living room looks a bit like a field: rushes all over the floor, gradually being shaped into crosses, and our Christmas tree still up in the corner. (After all, the real end-date for Christmas decor is February 2, Candlemas, right? Right.) We're also getting the music and readings ready for the service and prepping some party pieces for the session afterwards in the parish hall. St. Brigid's Day also means the beginning of springtime here, and I for one am appreciating the sun and mild weather today after a week of wind and rain!
As we enter spring, the "You Shall Be My Witnesses" Confirmation program is off to a great start. Scoil Mhuire parent leaders and children met for the first time on Monday, and the feedback continues to be positive. Nicole and I helped get the ball rolling for retreats at the diocesan retreat team meeting on Monday, too. We'll be praying "Come, Holy Spirit," for the next few months.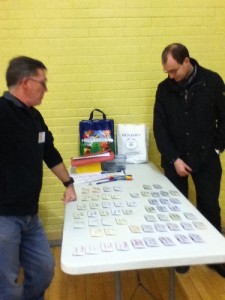 This past weekend, we hosted a diocesan music workshop for the parish musicians. 32 musicians from the diocese of Ferns attended to sing a variety of music donated by our friends at World Library Publications. We chose music based on the Year of Faith, so the concepts of teaching through music, music for important points in life (sacraments), music that moves us to act, and music that matches the liturgical year came up. One of my favorite songs of the afternoon included the line, "I believe in God, even when He is silent." It reminds me that living a life of faith is not only for when we feel God near us, but for those times when we feel His absence, too. The group sang everything from chant to contemporary gospel-style music, so there was a little something for everyone there!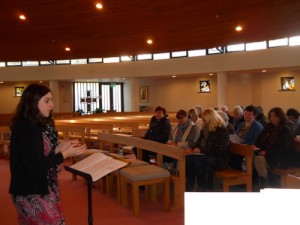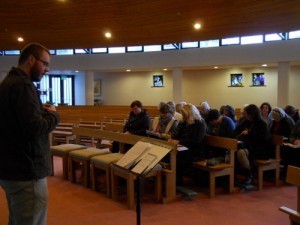 On Saturday, Emily held auditions for the upcoming Passion Play. About 25 people came in over the course of the afternoon, so stay tuned to follow that exciting endeavor!