As some of you know, the day after Thanksgiving we went on pilgrimage to Fátima, Portugal. After a long day/night of cooking and eating and singing, we hopped on the 5:00 am bus to Dublin to catch our flight to Lisbon. We arrived in Lisbon around lunch time and took a cab to the bus station and then we took a bus to Santarém, which was our first destination. After figuring out where we were on the map we found some pizza and espresso and we were ready to go! And by the way, delicious espresso in Portugal is only 50 cents! How about that!?! 
Santarém is the home of one of the most famous Eucharistic miracles. It happened in 1247 when a desperate woman sought out a sorceress to try and cure her husband of his adulterous ways. The sorceress asked for a Consecrated host for payment, so the woman went straight to the Church of Saint Stephen to receive Communion.  Instead of consuming the Host she removed the Host from her mouth, tying it in a knot in her head veil. The Host began to bleed and the people in the streets noticed and tried to help her. She ran home and put the host in her trunk, locking it and telling no one. That night, a brilliant light illuminated the house and the Host was lifted from the trunk by angels. The woman and her husband began to pray and immediately confessed the woman's crime to the parish priest, who took the Host back in procession to the Church. It was sealed in a ball of wax to stop the bleeding. Later they found another miracle had occurred when the wax broke off the Host and it was found to be in a crystal ampoule. In 1997, 750 years after the miracle, a scientific investigation concluded that the event was of supernatural origin. The crystal-encased Host is now in a bulletproof case above the Tabernacle in the former St. Stephen's Church which is now called the Church of the Holy Miracle.
After looking around the Church for the miracle, the woman working in the sacristy took us behind the Sanctuary where we took a small set of stairs up to the Tabernacle holding the Host. After each of us took some time in front of the miracle in prayer, we looked around the little museum containing many different artifacts left from people who have received healings or graces attributed to the miracle. It was very powerful to be in a place with such a long history of devotion to the Eucharist. The Eucharist, the source and summit of our faith, is a miracle that we get to encounter every day in the Mass. What an incredible gift! Here is a prayer from a card that we got in the Church.
Lord, our God and Father,
in many and various ways
You make known the mysteries of Your will.
In the plenitude of times,
You sent Your Son Jesus Christ,
Sacrament of Salvation for all humanity.
By the grace of the Holy Ghost,
You continue the work of Your love,
in places where we may encounter, as a friend encounters another friend.
Therefore, we ask You,
that in the midst of the difficulties of our life, guided by Your word,
strengthed with the nourishment of the Most Holy Miracle in the Eucharist,
we may know to discern the signs of Your Goodness,
in order to always be witnesses of Your Charity,
loving one another, as You have commanded us through Your Son,
and participating with greater solicitude in the mystery of Your life,
with fidelity to the vocation that You have called us to.
Through Our Lord Jesus Christ, Your Son
who is God with You in union with the Holy Ghost.
Amen
We walked around Santarém for an hour and saw some more beautiful Churches while we waited for Mass in the Church of the Holy Miracle. There was some really amazing tilework and beautiful stained glass, but when we returned to Church of the Holy Miracle there was no Mass! So we said the Rosary and then got kicked out of the Church. (Not because we were saying the rosary, but because it was late and the people working there probably wanted to go home and go to bed) Speaking of bed, our beds were in a hotel in Alcanena, which was a short bus ride from Santarém. After arriving in Alcanena, we got comfortable and then prayed some prayers and went to bed ready for a long day of walking! Our plan was to walk from Alcanena to Fátima, which is about 30 kilometers, a sort of mini-Camino to Fátima that has become popular in recent years. But that didn't happen….
We woke up to pouring rain and decided not to walk. The hotel desk worker told us about a museum that Alcanena was known for, but advised us to try and head to Torres Novas to see more. So after discussion with a nice man at the bus station, we discovered that there were no buses to Torres Novas and none to Tomar, which was another town we wanted to stop in. So, we took a cab to Torres Novas and decided to make plans from there. We walked around the town and tried to break into a few different churches and a castle. Everything was closed, and there were no buses to Tomar or Fátima. But we did see some nice scenery…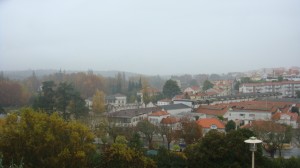 So we took a cab back to Alcanena to check out the museum before heading to Fatima. There were signs all over the town for the museum, so it wasn't hard to find. When approaching the museum, we saw that there was an image of a baby on the doors. I was worried that it was a museum for children or that we were just at the baby entrance, but it turns out that this baby was actually a doll. We were at a doll museum! Nick decided to sit this one out, but Emily and Molly and I paid the admission price of 1.65 Euro to see the 200-some dolls on display. The collection ranged from Victorian porcelain dolls to Twilight Barbies. It was a private collection and we learned that owner actually has over 7,500 dolls! She let us peek in her storage room which had rows of ceiling-high shelves full of different dolls of varying degrees of creepiness. (Not a room I would want to be trapped in at night time) This was definitely unexpected, but we had a good time! And the owner told us to tell our friends to come visit! So…go visit if you're ever in Alcanena on a rainy day!
Here is a picture of the doctors in the doll hospital…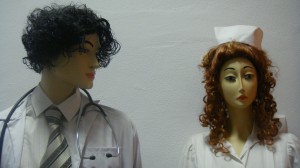 And here Emily and I joined in a lovely picnic…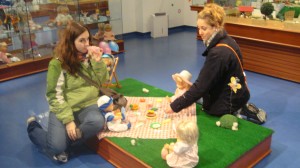 After a long day of traveling and planning and replanning and speaking Portugenglish, we took a short bus ride and finally made it to Fátima! We could see the cross on the top of the Basilica and the huge crucifix in the square on our way to the station. I was so excited to finally be in Fátima! We walked through the shrine to get from the bus station to our hostel, so we got to experience a little preview of the next day. After making it to our hostel, we were greeted by Armando and given all sorts of maps and advice on where to eat and what to see. We went to a little restaurant in a building which also housed a wax museum of the life of Christ! The museum was closed, but we did get dinner and a little bit of chocolate birthday cake for Molly! We went back to the hostel, changed into dry clothes, put about 82 blankets on our beds, and prayed together with a reflection out of My Life with the Saints. Praying together as a community is probably my favorite thing that we do together…it's either that or that time we went to a football game in Dublin where Notre Dame won its first game of an undefeated season. GO Irish! Also, I think we can thank Our Lady of Fátima for a victory against USC which occurred during our time in Fátima. Someone may have prayed for a victory…not sure who…but someone may have…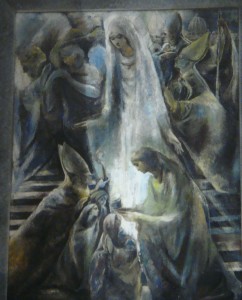 For me, Fátima was a beautiful time of prayer and reflection and peace. I felt so loved by Our Lady and so in love with her. So many blessings! I will let Nick talk about our day in Fátima and our journey back, but feel free to ask me about my experience and I'll tell you all about it! I'll leave you with two more prayers! These were given to the little shepherds in Fátima…
O My God, I believe, I adore, I trust, and I love you! I beg pardon for those who do not believe, do not adore, do not trust, and do not love you.
Most Holy Trinity, Father, Son, and Holy Spirit, I adore you profoundly and offer you the most precious Body, Blood, Soul and Divinity of Jesus Christ present in all the tabernacles of the world, in reparation for the outrages, sacrileges, and indifferences with which he is offended. And through the infinite merits of his most Sacred Heart and the Immaculate Heart of Mary, I beg of you the conversion of poor sinners.
 Amen!