Well friends, the hustle and bustle of our first two weeks has finished, and the humming activity of normal parish work has begun for the year. But before we got started on that, we took it easy this weekend. (In other words, this post is going to be a bit shorter than the first few.)
On Friday we enjoyed our first lunch at Fr. Denis Lennon's home. Fr. Denis has always shown Teach Bhríde great hospitality, and one of the ways he does this is by inviting us to a weekly lunch with the parish team. I am particularly enjoying his presence with our community this fall – we didn't even realize how much we missed him when he was recovering last year at this time!
Saturday saw us each exploring town a little better, whether by running or walking. Then we sang, played, and tech-ed (the official term for working the slideshow and mixer) at the Vigil Mass. Our choir had the week off, but this weekend gave us an opportunity see how everything works before we jump in with all the choirs next week. We finished the evening in style after Mass: Chinese takeout with our friend Ruaíri!
Sunday afternoon, we set out to watch the All-Ireland hurling final, Galway vs. Kilkenny. It was supposed to be last week, traditionally, but I guess there was some American football game going on in Dublin, so they moved it back. What a close match! In fact, it was so close that we'll have to watch the rematch in a few weeks. The evening held a special experience for us: the closing of the pilgrimage season Mass at Our Lady's Island. Luckily, the weather held out enough to have the Mass outside and to process around the island. There is something about hundreds of people walking in the twilight-to-darkness with candles, praying the rosary and singing, that just can't help but be powerful.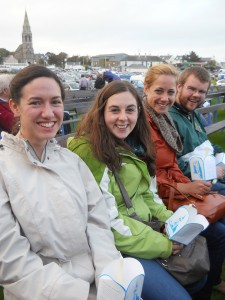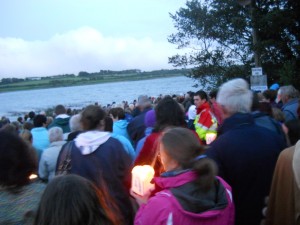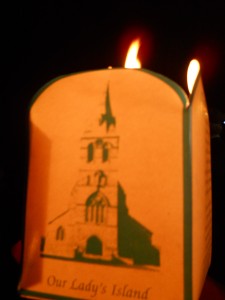 The community at Our Lady's Island shares quite a lot of repertoire with the Notre Dame Folk Choir; you may remember that the choir sang a Mass there when they visited in May, as is their tradition when they visit Ireland. Fr. Brendan Nolan even recognized the choir and Teach Bhríde in the acknowledgements at the end of the procession, thanking us for all we have shared with Our Lady's Island. I have to admit, I was caught completely off guard and humbled by that! We stopped by the choir loft at the end of the evening to say hello to all our friends there.
Those of you who know the slower pace of life in Ireland might be thinking that the humming activity I mentioned won't be very busy now – but you'd be mistaken! Check back on Friday to read Emily's first post.