Good Morning!
"Wait, don't you do church and music stuff too?!"
This question encapsulates a good deal of who I am and what I have tried to be a witness to during my all-too-soon-coming-to-an-end time here in Clonard. The question was posed to me by a young member of the Menapians Athletics Club, who also happens to be a pupil in one of the primary schools in the parish. It came during the Menapian's annual attempt on the marathon world record, as I was standing with a group of children awaiting their turn with the relay baton, teaching them how to do a proper hand-off (though with some cultural track differences coming with the pronunciation of "baton," as well as the spoken command to pass said baton).
It caught me a little off-guard – in the midst of trying to explain which hand to use when receiving the baton and how soon to start running, I was definitely not expecting any questions other than the oft-repeated, "Please say 'AWESOME' again?!" My answer was not very eloquent, to say the least, but I replied, "Yep, they're all part of who I am, and what I enjoy."
I hope that I have conveyed some of that joy through everything that I have been involved in here, whether athletics, music, or partaking in the Eucharist at Mass. I am extremely grateful for the presence of all of them in my life.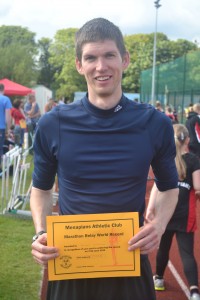 I hope that you have a wonderful Monday, and God Bless!
Kurt
P.S. For all those interested, Dan's second reflection on the IEC can be found here.