Since our St. Brigid liturgy is on Sunday night, I suspect we're near the end of posts with titles that are puns on the enormous piles of rushes in our living room that are gradually becoming crosses of St. Brigid. But this post rings true (that's a pun, too! as you'll see) for our past week, which has been chock full of stuff to keep us unusually busy.
Monday, Kurt and Jess continued working with their latest class of Scoil Mhuire students on preparing a class mass. Then at night, Jess and I completed our second and final training night for the adult volunteer leaders for the parish Confirmation program. The parents seemed increasingly comfortable and lively as this second night went on, and if their conversations that continued after we finished the session are any indication, they should do a fine job with the students from our schools.
Tuesday afternoon, the Eucharistic Congress Bell arrived in Clonard. The bell has travelled all around Ireland to every diocese (it has come to Ferns last), touring many different parishes and calling people to prayer in awareness of the upcoming congress in Dublin this June. To begin the 24 hours it spent in Clonard, it was welcomed by the 5th- and 6th-classes of Kennedy Park and Scoil Mhuire in a simple liturgy of prayer and reflection. Fr. Martin invited the children to ring the bell with the thought of someone they'd like to pray for in their hearts.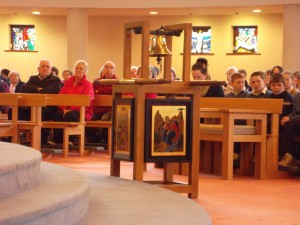 We couldn't stay on for the evening liturgy at the parish because of a long-standing arrangement to travel to the parish of Ferns for its confirmation program's evening of reflection. One of their priests enlisted our help months ago, so we prepared a unique program to fit his request. Molly and I worked with the adults in one room while Kurt and Jess had the kids in another room, and we ended with a short group prayer service. We had to conquer some logistical challenges involved with travelling off-site to a new place, but the content went over well. We received mostly positive comments in the evaluations they filled out, and the spirit in the conversation of the adults and the enthusiasm of the kids, especially for the songs Kurt and Jess taught them, was solid. This parish is an example of very simple, sparse programming just starting to grow as the community tries to reestablish itself. I think we brought a good infusion of ideas and faith into the night, and I imagine the priests will strongly consider inviting next year's group back for another round.
Wednesday afternoon, Molly and I continued with our new fourth-class, building toward our mass for the Holy Trinity in two weeks. I headed home that afternoon to get in a run – Kurt and I begin our respective 12-week training programs on Monday for the Wexford Half-Marathon in late April – and leave plenty of time to prepare dinner for six people, as Sr. Mary and Fr. Martin joined us in the Teach. We enjoyed the company and conversation, the usual mix of chatter and business. Our choir will have to take on an adjusted strategy as our attempt to evangelize through our music receives a mixed reaction – some people go out of their way to compliment us for our energy and the songs we introduce (such as You Walk Along our Shoreline to accompany Jesus' call of the disciples last weekend) while others come to the priests to express their desire more familiar songs rather than new ones they don't already know. We'll be placing our cantor at the ambo to increase visibility, and the cantor will lead the choir in teaching a song to everyone as well as making a specific announcement to invite congregational singing before the mass. We'll also make our choice of opening and sending forth songs from a pool of better-known pieces to ensure the people have a familiar tune to join in on for the start and end of mass. We continue to learn about how the outreach has to go as we try to be part of the renewal here.
After a long Tuesday and Wednesday, we decided to spend some time making progress in our cross-weaving, talking about the year so far (January 25 was 5 months for Teach Bhride Season III), and sipping a glass of wine. I pronounced the evening activity as "onesies and wine," and it was a pleasant chance for us to chill out and bond while we wove these gifts for the people who will come to worship with us for the feast of our patron.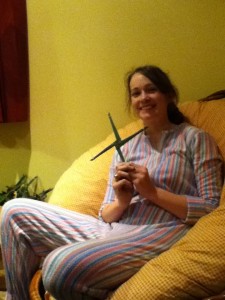 On Thursday, the only day anyone could take as their day off this week, we made a community trip to Kildare town, the home of our patroness. We walked to the Curragh, the field that Brigid's cloak miraculously stretched out to cover. She desired land to establish a monastery, so after healing a wound for the King of Leinster, he agreed to give her the land that her cloak could cover – as she laid down her cloak and her companions stretched it, the cloak grew to cover an immense field, which endures today as public grazing land and a place for jockeys to train their horses. We continued on to visit two wells – small nature shrines off the road – the parish church of St. Brigid, and the church named for Brigid from the 12th century.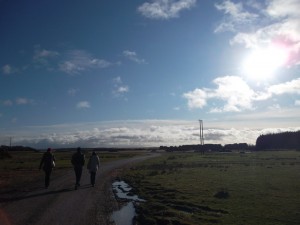 We have had our weekly lunch with the priests and Sr. Mary, which today included a guest from the technical school near the church. We will start a dialogue with her to see if we can provide some pastoral, liturgical, or music support to the community of young adults there. We also have some new furniture for the bedrooms, thanks to Mary L. and the parish, so Kurt and I have set up a few new pieces upstairs. The rest of our weekend goes to masses and much more cross-weaving. May Brigid pray for all of you who support us and the community here as we move into the second half of our year!