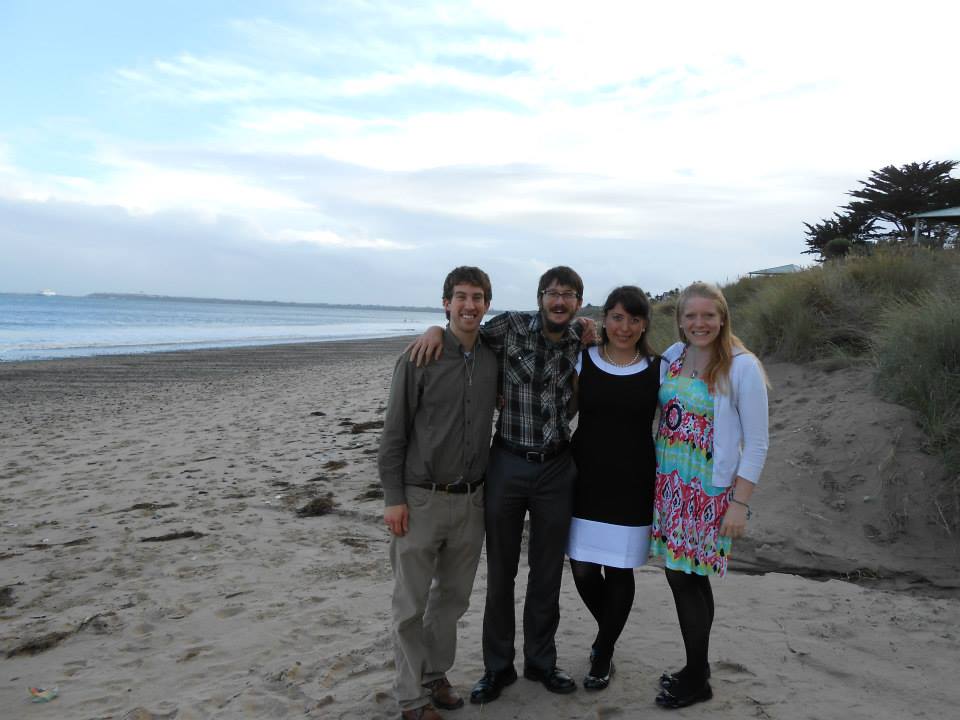 Mary Atwood hails from the small town of Woodstock, Connecticut, but spent five years at Notre Dame before moving to Wexford. In 2012, she graduated with a degree in Theology and a minor in Peace Studies, and then for a year she worked as the Campus Ministry music intern (like Teach Bhríde IV's Emily Puscas and Teach Bhríde II & III's Jessica Mannen before her)! Mary has worked with such diverse musical groups as the Notre Dame Folk Choir, the parish choirs of San Juan del Hospital in Valencia, Spain, and San Antonio Abad in Cusco, Peru, the ND Vision band, a Christian a Capella group, and as a four-year member and two-year director of Coro Primavera de Nuestra Señora, Notre Dame's Spanish choir. She is looking forward to returning to the rich Irish musical tradition that her mother and grandmother made a cherished part of her childhood.
Joy Viceroy graduated from Saint Mary's College in May 2013 with B.A.'s in Music and Theatre, and a minor in French.  She served as a Pastoral Music Leader for two years through her position as Campus Ministry Intern, and was also a proud four-year member of the internationally acclaimed Women's Choir.  Originally from the suburbs of Cleveland, Ohio, her liturgical music experience began at the age of nine, where she was a founding member of the music ministry at St. Bartholomew's Church.  Her extensive work with children has ranged from tutoring in Title I schools to teaching for Vacation Bible School programs.  Joy spent a total immersion semester in Dijon, France during the spring of 2012, and is absolutely thrilled to be returning to Europe for what is sure to be a reflective time full of spiritual growth.
Cameron Cortens and comes from the proud city of Boise, Idaho. In May 2013, he finished a bachelor's degree in philosophy and theology at the University of Notre Dame, although the finishing of a degree by no means marks an end to his time spent basking in either of these studies; he plans to continue to seek to integrate both modes of thinking with each other and with his practical life, in order to deepen his faith and enrich his ability to articulate it to others. He is very passionate about music, and loves singing, songwriting, and playing piano and guitar. Theatre is another favorite pastime from which he derives great pleasure, both as a spectator and as a performer. He's terribly excited and tremendously grateful to God for the opportunity to join the volunteer group at the House of Brigid this coming fall, and hopes to meet whatever joys, challenges, and surprises arise during his time there with an open heart ready to give and receive in the spirit of Christ's charity.
Ben Zelmer is thrilled to have the opportunity to serve with the House of Brigid this year. He graduated from the University of Notre Dame in May 2013 with a degree in American Studies, and he is originally from Granger, Indiana, not too far from the Notre Dame campus. During his time at Notre Dame, he was a resident of Stanford Hall and a member of the Notre Dame marching, concert, and jazz bands. The roles of music and faith in his life have grown and evolved tremendously through his studies and activities, and he is excited to help foster growth in love of music and faith as a part of the House of Brigid. He's looking forward to developing many incredible relationships and sharing many wonderful experiences with the Wexford community this year!