Yesterday marked our monthiversary of moving to Clonard. It's hard to believe we've been here a whole month already! It is one of those phenomena where the days go slowly but the weeks go quickly.
This week, Dan and I helped with our first Kennedy Park event: the opening of the school year Mass! The colorful slideshow Kurt mentioned on Monday did indeed work well: it accompanied a reading about the colors of the rainbow and how they all work best together. All of the readers and gift-bearers carried out their ministries wonderfully. The children had been learning the new Mass responses in class, and it paid off, because this Mass represents the most unified I have heard any group say "And with your spirit." They were so well behaved that Father Martin gave them the night off from homework, which resulted in a resounding cheer.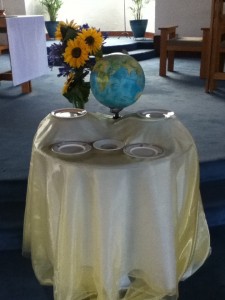 We spent the rest of the week planning. Jess met with the parents of this year's First Communicants; we planned music for future Masses; we brainstormed and began to organize our October workshop; we looked at a workbook for teaching the new translation to children; Dan and Jess prepared to meet with the Confirmation group; and crafts appeared to feature in Scoil Muire's opening Mass.
In non-ministry news, this has been a week of historical excursions. Kurt and I walked to Johnstown Castle and explored the grounds yesterday, including the Irish Agricultural Museum. (I find it difficult to believe anyone could consume as many potatoes in one day as the exhibit said they did.) Today we head into town for Culture Night in Wexford, where we will get a free tour of Selskar Abbey. It's not usually open to the public, so this is pretty exciting. Tomorrow we welcome our friend Ryan, an ND visitor studying in Dublin, and venture out to the Irish National Heritage Park. After this week, we may actually have to get a lift to new touristy places!
Don't forget to tune into our second radio program on the new translation of the Roman Missal! Click here to listen live on Sunday, 8:30pm GMT / 3:30pm EST.