Buona sera from Roma!
As I write this, I'm in my room at the Villa Irlanda, a converted convent (that was fun to write) on the grounds of the Irish College in Rome. I know. I just got back from the epic trip to Northern Ireland, so why the second holiday? Fr. Denis invited me to be part of a group from Clonard attending the ordination to the deaconate of Patrick Duffy (sic). This is NOT my fellow community member who confused a movie starring Queen Latifah with a movie starring Kate Winslet in his last blog post. Different last name entirely, ergo, different person entirely. Logic.
Who is Patrick Duffy? Patrick Duffy, or Pat as he's called (yet another difference between him and the other Patrick), is one of the first people I met when I moved to Wexford in August 2009 with Chris and Martha. At the time, he was completing his parish placement at Clonard as part of his seminary formation. Like the members of Teach Bhríde, he was new to the parish, and together, the four of us navigated our way around the endearing craziness that is life at the Clonard Parish Centre. Chris, Martha, and I shared many a meal around Fr. Denis's table with Pat, and for the several weeks that he was there, he was a genteel presence with a quietly wry humour–someone we really enjoyed being around and getting to know, and someone who greatly eased our transition into life at Clonard both as individuals and as a community. And now, he's a deacon! Congratulations!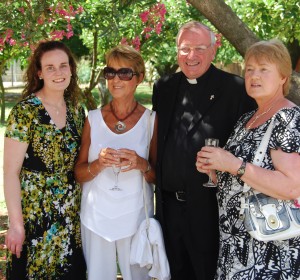 I have to say, there have been several strange connections on this trip, which have made it feel like a completion in a lot of ways. First, the chapel here at the Irish College features mosaics by the same artist whose work graces the Chapel of the Holy Spirit at Sacred Heart University in Fairfield, CT, where Teach Bhríde season 2's Commissioning Mass was held back in August. A print of one of his mosaics from the Irish College Chapel is hanging in my room here.
It's St. Brigid.*
Second, during the last days of my time in Ireland, I was able to witness the ordination of someone I met during my first days in Ireland.
Finally, as I looked around today at the group of parishioners I traveled with, I realized that the first time I had met many of them was in June 2009 when all of us were staying at the hotel near Dublin Airport: I was preparing to fly back to America after one last Wexford fact-finding trip prior to the launch of Teach Bhríde; they were preparing to fly to… Rome.
Maybe it's me reading too much into things (like many artsy-ish, sensitive people, I tend to do that), but it feels like things are just coming full circle, for me as well as for the rest of the crew: tonight, back in Wexford, Jess, Patrick, and Clarisa will go to hear The Wild Turkeys perform their amazing Irish trad music at Simon's one last time. I plan to google "How to Bilocate" immediately after posting this.
At any rate, all of those people who have been so supportive before, during, and since the launch of Teach Bhríde were certainly on my mind and in my prayers as I witnessed Deacon Pat's ordination at St. Paul's Outside the Walls today. I thought of Martha, who was with me on part of that trip in June 2009, and of Chris, who has now begun his own seminary training with the Congregation of Holy Cross. I wondered where Clarisa, Patrick, and I will be a year from now, as well as Jessica, Molly, Kurt, and Dan. I wondered what the future holds for our growing Teach Bhríde community. Brigid's cloak continues to unfurl, and with people like Pat, Des, Esther, Laura, Maura, Fr. Denis, Sr. Mary, and the countless others at Clonard to support us in our service (not to mention those back home in America), we will, with the grace of God, continue to grow.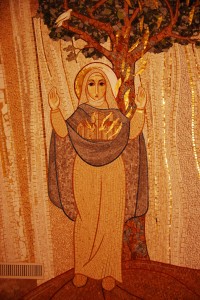 *I may or may have said, "Really?" out loud in disbelief when I walked into my room and saw her picture hanging on my wall.