For those of you who don't know, my last name sounds like, and is spelled like, the colorful word that is thrown around by the Irish when someone is being annoying, but has not warranted a full-on expletive. This fact has led to many, many conversations about my last name, especially among the Tea Ladies. I have decided that in the future, I will be adopting Jim's last name, Corcoran, since it is of Wexford origin and is not mistaken as a mild obscenity. Jokes about my last name aside, names seem to be very important to people at Clonard parish.  Everyone uses your name to address you. Hearing my name that often makes me feel very welcome. This mirrors the way I feel God is calling me to ministry here, calling me by name.
I was struck by the Gospel last week about Mary and Martha. When Jesus comes to visit the home of these two women, Martha busies herself serving Jesus while Mary sits at his feet listening to him speak. When asked about the behavior of the two sisters, Jesus says, "There is need of only one thing. Mary has chosen the better part and it will not be taken from her" (Luke 10:42). I am definitely a Martha. As my roommates can attest, I tend to put emphasis on things such as organization and scheduling, even when other more important things could use my attention. It is important to be on the ball with tasks, but it is even more important to make time to get to know people and grow in relationship with Jesus, as is illustrated in this Gospel.
The Clonard parish team has told us from the very beginning that we will not be remembered in the parish by the quality of our musicianship or our ability to complete office tasks. We will be remembered for the times when we sat with someone to hear their story and hear how their day is going. The thing that I have found most challenging so far is switching out of the American mindset of productivity and efficiency. The pace of life in Ireland is slower than in America, significantly slower than the chaos of a college campus. I constantly have to fight the urge to check things off my to-do list, but it is well worth the effort. It has been so fulfilling to sit and have genuine conversations with people at the parish. I have especially loved getting to know the women who have tea together after daily mass. Most, if not all, of them have been through many hardships in their lives, yet you wouldn't guess it by the way they live day-to-day. These women are a testament to the resilience of human beings and it is beautiful to witness the support they give each other.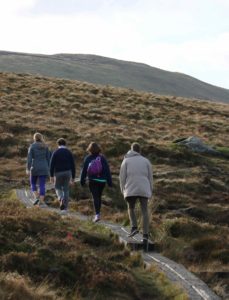 This week, I was given two different opportunities to relax and tune into what God is calling me to do in Ireland. TB Wexford and Dublin met up in Glendalough for 2 days earlier in the week. We ate long meals, shared stories, and went on a beautiful 3-hour hike in the mountains. I absolutely loved the chance to be in nature and see God in the beauty.
Then today, Teach Bhríde Wexford went to the Ballyvaloo Retreat Center with 35 other ministers from Clonard for a day of reflection and conversation. We spent time thinking about our own experiences with ministry and how we can help others to feel involved in the community. It provided a great space for some personal reflection. I am happy to share that in addition to being a music minister, I became a minister of the Eucharist a few weeks ago. The first person to whom I gave Communion was my Dad, who happened to be vising at that time.
These retreats have reminded me that I have gifts to offer the community here in Wexford. In addition to giving of myself, I feel that God is calling me to grow personally in faith and in my relationships. Through the invitation of others, I am being asked to slow down and appreciate the beauty of everything around me. God calls me by name.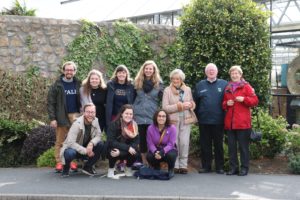 ~Sara