It's Biz here with one last post from House of Brigid Dublin this year!
Emma and Geoff have both left the house and so it's me going solo for the next few weeks in Harolds Cross. The past few weeks have been filled with teary goodbyes to them and to our lovely little home and community here in Dublin.
I wear my heart on my sleeve when it comes to goodbyes so I've shed quite a lot of tears watching each of us leave one by one. And the fact that I have to say goodbye myself in just a few weeks breaks my heart.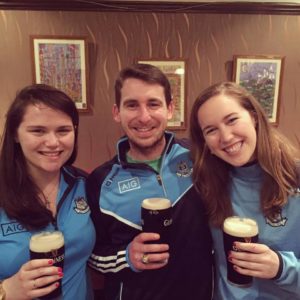 But what I've come to realize is that it's not a "goodbye." It's a "see you later." It's a "goodbye for now," which translates into one of my favorite Irish phrases I've learned this year, "Slán go fóill!" I love it because it reminds me that even though these goodbyes are painful and sad, it's only a goodbye for the time being. I'll always have the friendships and relationships from this year in Ireland. And I'll always be able to call Harolds Cross my home. I know I'll be back to visit soon enough and who knows, maybe I'll be lucky enough to live in Ireland again!
I just wanted to take a moment to thank each one of you who has prayed for and supported us this year both in the States and in Ireland.  It's been such a spectacular year full of laughs, adventures, prayer, and growth. I'm so grateful that I was given this amazing opportunity to make a home here in Ireland. Thank you from the bottom of my heart.  Know that you will be in my prayers always.
Slán agus beannacht,
Biz