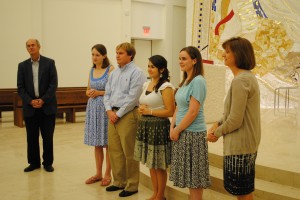 Tonight marked the first official event of Teach Bhríde II. We celebrated a beautiful send-off Mass at the Chapel of the Holy Spirit on the Sacred Heart University campus in Fairfield, Connecticut. The liturgy was attended by friends of the community, and several alumni of the University of Notre Dame. Jessica, Clarisa, and Patrick were presented with Brigid Cross pins, and the four of us received a blessing for our journey and our work.
The readings for the day were particularly apt, and the presider, Fr. Jerry, took the Gospel passage beginning at Luke 4:16 and recast it in the second person, reminding us that God is calling each of us to proclaim the Good News in Ireland, saying that the Lord has "sent you to bring glad tidings … to proclaim a year acceptable to the Lord"  — this year. All in all, it was an incredible evening of prayer and of song in an extraordinarily beautiful chapel, and a profound manifestation of the support that goes with us as we leave tomorrow. Heartfelt thanks to our Board, the staff at Sacred Heart University, everyone who helped us pray so well this evening, and everyone who supports us with prayer that we may never even know about.
Pray for safe journeys for us and for all of the friends who traveled to see us off, and pray that we will continue to find a warm welcome from the Wexford friends we are rejoining, as well as those friends we will be meeting for the first time this year. Next time you hear from Teach Bhríde it'll be from across the pond. Slán, America!