"Whoever wants to be great among you must be your servant, and whoever wants to be first must be your slave, just as the Son of Man did not come to be served, but to serve, and to give his life as a ransom for many."

-Matthew 20:26-28
During a routine daily mass sometime last week, Fr. Gerry committed a slight slip of the tongue that, as it would so happen, has been on my mind ever since. While preaching on Jesus' exhortation to his disciples to be humble servants of one another, Fr. Gerry quipped, "those who humble themselves will be exhausted." Exhausted? Quickly realizing his somewhat Freudian mistake, he immediately corrected himself: "exalted, I mean!" but the damage had been done; the word was spoken, and its truth unfurled in my mind for the rest of the mass, and indeed the rest of the week, as well.
Fr. Gerry and I exchanged a smirk with each other after mass, remarking wryly on the unintentional profundity that he had spoken. For although we in no way doubt the veracity of this great Christian paradox regarding humility and exaltation, is it not equally true that the one who continually humbles himself will find, more often than not, that he returns home each day utterly exhausted?
Initially, I had the vague notion that this inevitable tiredness was something to feel guilty for, as if the wariness incurred by my ministries somehow conveyed a lack of love, joy, or appreciation for the people that I had the privilege of working with and for in the parish.  Perhaps the romanticized notions I carried of "being filled" with the joy of my ministry led me to the inference that feeling drained somehow betrayed my ingratitude or insolence towards those that I attempted to serve.
Of course, experience in the parish has gradually taught me that this is not the case. Far from being  a mark of infidelity to Jesus' exhortation to be humble, I am seeing more and more how the tiredness that comes from emptying ourselves is in fact an indication of our total oblation of self to the Lord and His people. That tiredness, too, is a gift if we allow God to transform it into one.
Truthfully, it is impossible to deny that I sometimes feel very tired after a long day of teaching, listening, singing, conversing, and nodding my head in sympathy, or condolence, or even just politeness. But in a funny and circular way, this very tiredness I feel is an added reminder for me to remain humble;  I am limited, and therefore not able to successfully "be all things for all people" as St. Paul so nobly describes (1 Cor. 9:22). Yet I am also reminded, in the same breath, that if "I do all of this for the sake of the Gospel, I may share in its blessings" (9:23).
During this season of Lent, as my housemates and I balance the constant stream of lessons and masses, sacramental preparations and house guests, festivities  and communal meals, and the maelstrom of everything else that comes our way, I remember in a poignant way Christ's own fatigue arising from his temptation and fasting in the desert, and later, from his Passion and Cross.  That he came "to serve and not to be served" is my own fuel for the journey, for he reminds me through his own perfect example of love that those who humble themselves as he did will, in the end, be exalted (and exhausted, of course).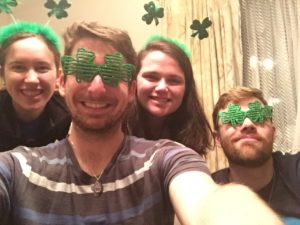 Yours,
Geoff