Hi readers!
Happy Last Minute-Post Office Lineup-Present Wrapping-ABC Family Movie Marathon-Christmas Extravaganza Week [otherwise known as the 4th week of Advent]! I know Christmas preparations have been in full swing for a while now. Here in Wexford, we're preparing through reconciliation services, as well as Christmas Carol services for the local schools, extra choir rehearsals, and everything in between. It can seem nearly impossible to take time for stillness and prayer amidst the chaotic schedule, but I've luckily found a way around it in my own day-to-day-routine.
Each morning, I begin my day with a 20 minute walk to work and end my work day in a similar pattern. Although this could easily come across as an insignificant part of my day, it has turned out to be an important exercise. It forces me literally slow down my pace of life. Many steps allow for a few things: time, prayer, deep thinking, planning, preparing. These steps to/from work have created a new pattern in how I process my day. On the way to work, I prepare, on the way back, I reflect.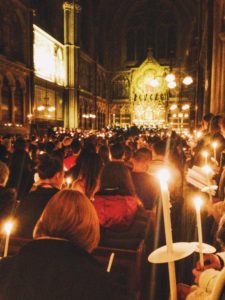 This Advent, I've been using this time as a way to slow down my racing mind to a walking pace. Even though my calendar has been filled with travel, rehearsals, meetings, service preparation, and wonderful Christmas parties, the walk to work has become a good way to prepare the way for the day, as well as prepare the way for Christ to enter my day. I have found this has provided an abundance of grace, mostly because I have begun to acknowledge God's presence amidst the chaos by slowing down my steps.
This pace of life has allowed me to gaze at the Wexford sunsets, to look back on my day and try to see little blessings that flowed through it, as well as the space to lift a prayer or two. God gives me His time, and in return, I'm trying to give it back to Him by preparing my path, making room for Him to enter the all too normal days of life.
There is something else I've gained from these small, patterned steps: time has allowed me to fully process this season of Advent. Until this year, I rushed through every Advent as if I was sprinting to the finish line (as most of us do). I hardly made any room for prayer, and God forbid I would put off my shopping list for moments of silence. Granted, it's nearly impossible to slow down as a college student at the end of term, but it's also difficult when you're mind is constantly preoccupied by our consumer-driven society. In walking, there isn't room to rush, but there is an invitation to silence  my heart and mind.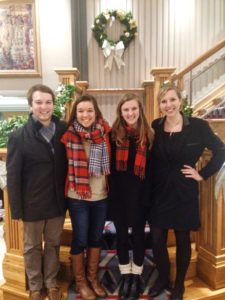 I like what Ann Voskamp says about rushing through time: 
"Being in a hurry. Getting to the next thing without fully entering the thing in front of me. I cannot think of a single advantage I've ever gained from being in a hurry. But a thousand broken and missed things, tens of thousands, lie in the wake of all the rushing…. Through all that haste I thought I was making up time. It turns out I was throwing it away." -Ann Voskamp: One Thousand Gifts
I've learned there is no point in rushing through my days if I  miss the small moments of peace within the stillness that my heart ultimately longs for. My daily steps to and from work remind me that I'm not wasting time, but gaining it.
Whether it's taking time for silent reflection, waking up earlier, walking to work, or sitting in front of the Blessed Sacrament, let's give our time to the God who gives time, shutting out the background noise, and inviting God's gentle presence to enter our days leading up to His birth. Without rushing, let's walk through this week in hope of what Christ will bring. Happy Christmas, my friends!
With love,
Madeline