Deciding to accept a position with House of Brigid was one of the happiest moments of my last semester at Notre Dame. I was so happy to finally have plans for after graduation, especially plans that involved moving to a new country and combining my love for teaching and music. However, accepting the position meant embarking on a new task of telling people what I was doing next year. While students involved with choirs at Notre Dame usually knew what it was, most others didn't. "Um, I'm like moving to Ireland and helping a church with a choir and teaching religion at a school," I would manage. It was hard at that point to understand everything that House of Brigid is.
It's a question that I'm still getting asked. Turns out, in a small Irish town, an American accent invites curiosity. People at pubs, the girl at the salon, the old lady sitting next to me at the bus stop- "Why are you in Wexford? What are you doing?"
And the truth is, I'm not really getting any better at explaining it.
"Are you a musician?" Asks the lady sitting next to me at the opera.
"Yeah, I am actually," I reply.
Okay, so she was probably asking if I was a musician in the Opera Festival. But well, musician seems a good enough title. Between singing at four or more masses a week, helping to lead the children's choir, and rehearsing with two different groups in our parish- a huge part of my life seems revolve around music. While I've been in choir for as long as I can remember, my training hasn't been extensive as my housemates. Despite this, I've had many opportunities to cantor and lead psalms for our church. The more time I spend here, the more I've watched myself grow in confidence of my musical abilities and the more willing I am to share these gifts with others.
So, yeah, I guess I'm a musician.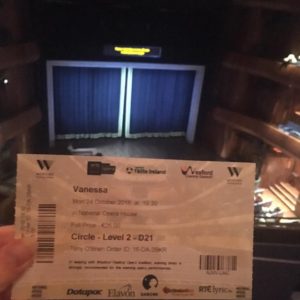 "What brings you to Wexford?" Asks this guy with the cutest puppy I've ever seen.
I gotta keep this guy talking so I can keep petting his puppy for as long as possible, "Um, well I'm kinda doing this internship with Clonard Church, helping with their choir and then teaching at Scoil Mhuire," I rattle off.
"Oh so you are a teacher," The guy surmises.
"Yeah, exactly," I exclaim.
Teacher is a title that definitely feels comfortable. In fact, I think I've been waiting my whole life to finally be called a teacher. With an education minor, years of teaching catechism, experience subbing- teaching is part of my blood. I treasure each moment in the classroom, feeling most alive when I teach. Teach Bhrìde (despite the fact that the Teach in Teach Bhrìde means house) had provided me plenty of opportunities to teach, whether it's Thursday mornings with my second or sixth class students or Sunday mornings with Educate Together religious ed and family liturgy. All of it is perfect practice for next year, when I'll likely have a classroom of my own.
So, yeah, I'm definitely a teacher.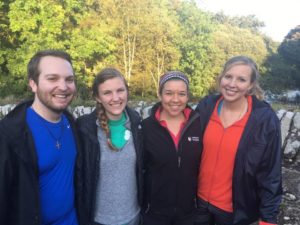 "Why are you here again?" Asks the familiar bartender at a pub we frequent. She's Canadian and we've talked a bit before, "You're some sort of missionary right?"
"Um, well that sounds like super churchy and preachy," I mumble, "I'm really just a normal human."
She says the word missionary with a bit of snarl. And I get it. I really do. Nowadays there can be stigma to the word: a connotation of building relationships for the sole purpose of evangelization, a connotation of helping others for personal fulfillment over actual aid, a connotation of insincerity and intense judgment. And truly there couldn't be something more different than the type of person of faith that I identify as, that I aspire to be.
But in the back of my mind, I think of St Patrick's Day Mass last spring in the Sacred Heart Basilica. The homily was, actually, entirely focused on this topic. Father Tom O'Hara discussed how House of Brigid echoes the missionary spirit of St. Patrick. After all, it does take courage to leave your home and move to a new country. It does take courage to identify as a person a faith, to share your spiritual side with others.
And well, there is a lot of faith sharing that happens. There are long chats over tea with parishioners, listening to stories and the way God works in their lives. There is evening prayer, as we share our deepest hopes with members of the house. There are radio show reflections, advent prayer sessions, and blog posts for us to share our unique perspectives of faith. I genuinely hope that each encounter my parishioners have with me see a little bit of God's love. All of these unexpected moments of ministry render us (and perhaps me rather reluctantly) missionary-like.
While I still find myself shying away from that title, I think there is some truth in it.
So, yeah, I am an echo of a missionary.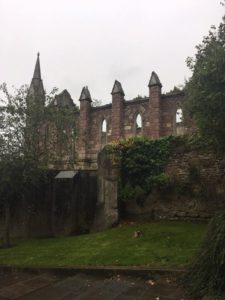 It's hard to sum up what House of Brigid is. It's living life selflessly. It's making music with your new, best friends. It's daily mass and teatime chats. It's hugs from tiny children when you visit their class. It's wandering around Wexford's winding streets. It's the Sky and the Ground on a Saturday night. It's constant patience and generosity. It's challenging. It's beautiful.
I still don't have the answer to "Who are you? What are you doing?"
I'm a musician, a teacher, a normal person, a reluctant missionary.
I'm not sure what I'm doing, but it's a good life.