A few weeks ago, our 6th graders took an Awareness Test. In an effort to convey the importance of awareness in our faith, this video prompts viewers to reflect on this idea: It's easy to miss something you're not looking for.
Throughout the last two months, looking for and finding God have been a seemingly easy task. Being in a new city, in a new job, in a new house had trained my eyes to see every moment with awareness. A sacristan that is ready for a hug every morning. A pastor who brings Scripture to life at 10am each day. Community members who make me laugh so hard I often find myself trying not to choke on my water at dinner. City streets that slowly become more and more familiar. Converting the metric system to my more familiar cups and grams while experimenting with dinner recipes. Taking runs down the canal, trips out to Mayo, or walks to the park nearby where I behold God's beauty in nature. Catechizing curious minds and gentle hearts. I have been alert in the newness of it all.
When my mom and godfather visited after finding an Aer Lingus deal, I realized that my awareness aided my learning of the world around me. I could tell them the new phrases I had been hearing. I taught them which streets to go down to get to St. Stephen's Green. I showed where the kitchen utensils were or how to turn on the hot water for a shower. However, when such a familiar (familial) piece of my heart came into my new picture, I was faced with the task of becoming aware of how I had begun to change. And where I still needed to grow.
Having a family member come and observe my new world, I was reminded of my life back in America. I was reminded of my long-distance relationship with Dinkel's Bakery, Mr. Clean Magic Erasers, and Hidden Valley Ranch: a few treasures amongst a 49.5 lb suitcase full of goodies from the greatest mom. I was reminded of the distance between my old familiar and new life. I was reminded of the ways in which my internal growth was just starting. My mom, someone who knows me better than I know myself, recognized the seed of love, peace, and passion in my heart and saw the sprouts of its growth. But, that's just it…the seed has only just sprouted.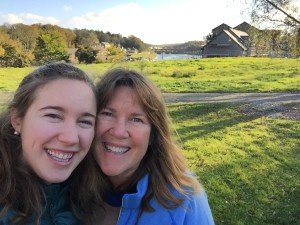 One morning, as my mom stood in the doorway of our kitchen, she said, "Wow, you guys really have this down to a science. It's almost like a dance." Observing the manner in which Biz, Geoff, and I prepared breakfast, she acknowledged the beauty of this routine. In August, I prayed for this moment to come. Not even on the plane, I was anxious to rid myself of the newness of my future home. I actually remember saying, "I just want it to be October already and to know everything." As my mom made this observation, I both accepted the beauty of making Harold's Cross my home and the challenge of finding God in this normalcy. Not an impossible task by any means, but definitely not an easy one.
These last few months have shown me the importance of training my eyes to be aware. To notice, to behold, my world as a gift. The journey of forming myself into the person God has called me to be requires patience. It requires awareness. It requires intentionality. It's easy to form ourselves in response to the demands and joys of the environments we are around. It's harder to become aware of the unique, beautiful consistent qualities of our beings. Regardless of whether I am in LaFun on Notre Dame's campus or on Rathmines in Dublin, I know a hot chocolate from Starbucks is my perfect pick me up. As a community member, I have seen my patience, compassion, and understanding grow with each dish washed, dinner made, YouTube clip quoted, and commute to school walked. I spend more time on my phone than I'd like. I only start to enjoy running after the first 20 minutes of jog-walking. I infuse sweet potatoes into most of my meals. I prefer lamps and candles to overhead lighting. This is what makes me Emma. Inspired by the visit of my mother, by the video shown to our 6th graders, by my community, this is the type of awareness that begins a lifetime of finding God in my heart and channeling my actions in response to the passions of this heart. It's easy to miss something you're not looking for…what might you have been missing?