Hello everyone,
We hope all of you had a wonderful Christmas, and a very happy New Year! Your House of Brigid communities worked very hard in the days and weeks leading up to Christmas, and we had some well-deserved time off for a couple weeks for our Christmas break. We all had great adventures, with many pictures and stories to share with each other upon our returns last week! Brendan and Kristen went to Northern Ireland, Scotland, and London:
Jena traveled to Rome with her fiancé, Andrew:
and I went home to join all my cousins in surprising my grandfather for his 80th birthday, and spent some quality time with my family in Texas!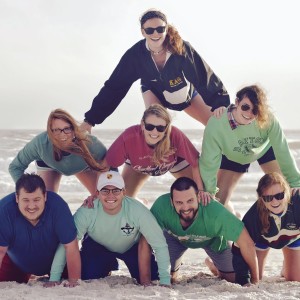 Upon returning to Ireland after our adventures over the Christmas holidays, the Wexford community went on retreat for a few days with our friends, the sisters of the Benedictine Abbey of St. Scholastika in Dinklage, Germany. It was a very special liturgical, musical, and spiritual experience for the four of us, and really energized us for the months ahead!
Now we are back to the grind in Wexford, preparing catechesis lessons, First Communion teaching Masses, and Confirmation program meetings, as well as working with our choirs to provide music for Clonard's daily and weekend liturgies. We're also gearing up for our concert with the University of Notre Dame Folk Choir at the National Opera House here in Wexford at the end of May–a huge and unprecedented endeavor, but a challenge we relish!
The next big event we're preparing for here in Wexford is Clonard's St. Brigid Celebration, which will occur at 7pm on Sunday, 31 January. Thanks to Jena's hard work and creativity, it is sure to be a wonderful, prayerful evening of music and reflection about this great saint and patroness of Ireland!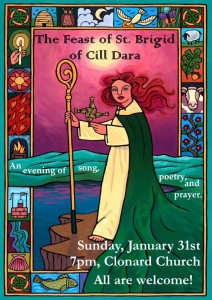 Now that we're halfway through our year in Ireland(!), it is so exciting to think of who will take our places next year! Interviews are coming up next month, and we pray for all applicants who are discerning this special program. If you are a college senior or recent college graduate and musician interested in a year of service with the Church in Ireland and haven't applied yet, the application is due Monday, February 1 (St. Brigid's feast day!).
We hope you are all having a blessed start to the new year, and please stay tuned for more updates from Wexford and Dublin as we move into these last few months of service here in Ireland!
Tschüss!
Laura