Thanksgiving came at a good time this year. Exactly three months to the day that the House of Brigid fellows arrived in Ireland, we were all together again celebrating America's beloved holiday which focuses on family, relationships, and all the things in our lives for which we are grateful. As many of the previous blog posts have shown, there is a lot to give thanks for this year.
If Teach Bhríde Dublin thought October was a busy month with a steady stream of visitors and pilgrimages, we had something coming for us when November hit! Despite its busyness, as I reflect back on all that November held, I am struck not only by the success of what we have started and accomplished here in Dublin, but also by the grace that was present in each moment, especially when things were not going smoothly and stress levels were high. Through our work thus far this year, the greatest thing I have learned and am continuing to grasp is the inability for any of us to do everything on our own. We live in a society that instructs us to do things by and for ourselves. Egoism and selfishness fuel this desire to act independently of other people, suggesting that collaboration on things makes one look weak or inadequate for the task at hand. However, this year, I am realizing the great wealth I have when I ask other people for help, as I throw myself into work I may not always feel well equipped to do. Collaboration and incorporating many people's ideas has been our greatest success so far.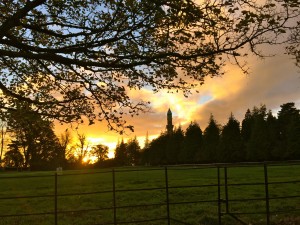 Sunset in Phoenix Park
Aside from putting our time and effort into ACE, Dublin Domer, and Bereavement masses, as well as another First Communion Mass with an Advent wreath making activity, HOB Dublin was very much focused this November on our big Thanksgiving celebration hosted by the Naughton Family for the study abroad students at the Merrion Hotel.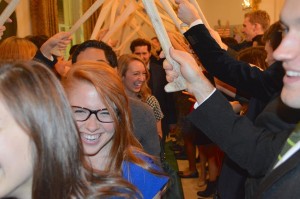 Through the hurls!
Our celebration began with Thanksgiving Mass in the Newman Chapel on St. Stephen's Green, where Teach Bhríde Wexford joined Teach Bhríde Dublin in providing music for a beautiful liturgy centered on what it means to be thankful. After mass, all the guests proceeded to the Merrion Hotel for a champagne reception in the Cellar Bar followed by a fantastic Thanksgiving dinner complete with pumpkin soup, turkey, stuffing and many other American favorites. One of the evening's highlights was presenting the Naughtons with a gift from the study abroad program, which was a scrapbook in which each student and staff member showed through pictures, poems, and stories some of their favorite memories from Ireland.
Another highlight was the entertainment put on by the study abroad students under Teach Bhríde Dublin's direction. Through a creative monologue about arriving in Dublin, a rendition of "Favorite Things" with Irish lyrics, tunes on a fiddle, duets, a country song, creative poems, and an entire room of people singing in Irish the song from the Eir commercial, the students wowed the dinner guests by showcasing their amazing talents through a spectacular performance. As a coordinator of the entertainment, I was so pleased to see all of the students' hard work pay off and to see how much everyone enjoyed the spontaneity of the selections and running order. The evening ended, of course, with the Alma Mater and a rousing rendition of the Notre Dame Fight Song.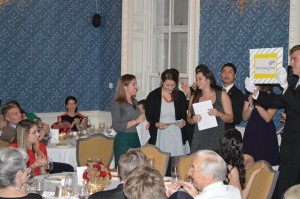 Singing "For Good"
The final November highlight occurred the day after Thanksgiving, when Geoff, Rikki, and I hosted our first Friendsgiving. With the help of Fr. Gerry and "Mr. Google," Rikki and I successfully cooked a 12 lb. turkey! Our friends helped us out by bringing a lot of the traditional American side dishes including stuffing, green bean casserole, mashed potatoes, sweet potatoes, rolls, salad, and desserts such as apple and pumpkin pie. The night was a huge hit and we had a blast celebrating one of our favorite holidays with both American and Irish friends. Looking around at our table of 20, people from all parts of the world and different walks of life, who have become an important part of my life this year, was one of those pure moments of happiness where gratitude for the gift of being in Ireland filled me.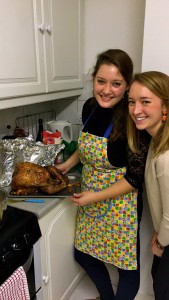 We made a turkey!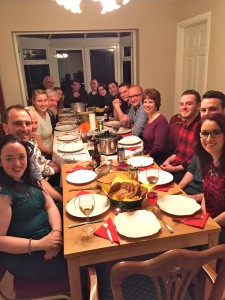 x
Susanna