Hello from dear old Dublin to all our Teach Bhríde followers! Somehow it is already October 9, 2015 and Teach Bhríde Dublin is certainly in the swing of things and navigating a very busy, but exciting schedule. Interesting things coming up for us include playing music for our first ACE mass in Dublin this Friday, running our first pilgrimage to Glendalough with some of the Notre Dame students on Saturday, having our first Mass at Our Lady of the Rosary for the Confirmation candidates on Sunday, and preparing for Notre Dame's Campus Ministry pilgrimage to Ireland at the end of October! We are certainly being kept on our toes over here in Dublin, but are simultaneously grateful for the amazing opportunities we get the chance to be a part of and experience through our various ministries as Teach Bhríde.
This past weekend, I was able to accompany and chaperone the Notre Dame study abroad students' trip to Northern Ireland, visiting Belfast, the Giant's Causeway and Derry. Gathering behind our fearless leaders Kevin Whelan and Jonathan Whitcomb, we had two very full, formative, and eye-opening days up North. We learned not only about violence and sectarianism during the Troubles in Northern Ireland, but also about peace, healing and the importance of remembering, portrayed through the city's famous murals.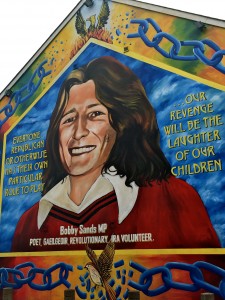 Our time spent wandering the different sections of West Belfast raised many questions for me. How did this all begin? Why was there division, hatred and tragedy? It was quite eerie to walk around the Catholic neighborhood and visit the Memorial Garden on Bombay Street, which witnessed a Loyalist attack in 1969 and the subsequent burning of dozens of Catholic homes. The imposing wall that still divides the Catholic Falls Road area from the Protestant Shankill Road neighborhood was also striking. This wall brought back images of barbed wire fencing that I saw on my visit to Auschwitz in 2013. A heaviness that rested on the grounds of Auschwitz was also palpable when surveying this divisive wall, where so much pain existed and still exists on each side. In visiting both the Catholic and the Protestant, the Nationalist and the Unionist sections, it was clear to me that the Troubles were not just a simple matter of religious or political differences, but rather that all the hurt and pain is a result of a complicated layering of dissent, pride and the hardness of human hearts unable to exercise compassion or understanding. Fighting in the name of nationalism or loyalism veiled the truth of the tragedies and horrible acts that were being committed.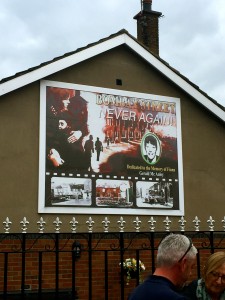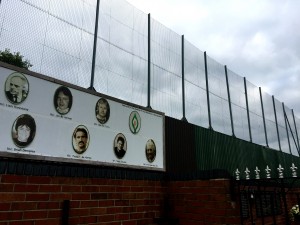 A sign of hope amidst the darkness of these stories was the peace wall that we visited just on the other side of the wall from Bombay Street. The use of art to break down barriers and tension was beautiful to see, as it reminds us of what truly matters in life. As staff and students, we each preserved our own messages of peace by contributing to the writing on the walls. An intermingling of murals and graffiti, the peace wall attempts to turn the divisive and dangerous nature of the wall between the Catholic and Protestant areas into something that all can access, no matter what you believe or profess. Visitors are invited to write their own message or create a sign of what peace, love, and humanity means to them. It was amazing to see the students' thoughtful looks as they wrote on this wall and became a part of Belfast's story in 2015.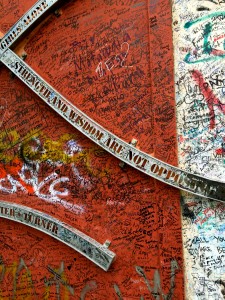 On Sunday, our trip up North took us to one of the seven wonders of the natural world – the Giant's Causeway. We were granted an unbelievably beautiful day to walk, hike, take loads of pictures and reflect as we engaged with the beauty of Antrim's coastline. Hearing the waves crash on the shore, watching the water retreat into the sea, and breathing in the crisp cold air was one of the most peaceful moments I have had since being in Ireland. There is something so amazing about nature's ability to bring us back to God and remind us, through hexagonal basalt columns formed by volcanic ash, dramatic green cliffs, and the rush of the sea, of all that we have to be grateful for. The views were breathtaking!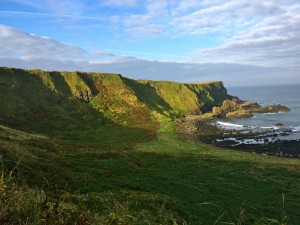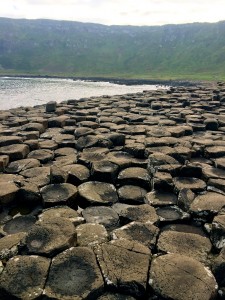 From Giant's Causeway we headed to Derry where we visited and walked around the city's famous 17th century walls, learning more about conflict between Nationalists and Loyalists, peace, and how life has moved on since then. All in all it was a wonderful trip packed with history, camaraderie, and even a singsong on the top of a cliff!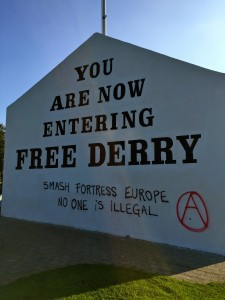 It is hard to believe we are already six weeks in to life in Ireland, but at the same time I feel a deep sense of accomplishment and gratitude to God for all that we have already been able to do, be a part of, and lead throughout our various ministries. Simply put, I cannot imagine myself doing anything else this year and there is an enormous amount of peace and happiness that comes from being able to say that confidently!
Love and prayers from the Emerald Isle,
Susanna
P.S. Brigid's Cross in Belfast!