Dear Friends of the House of Brigid,
Your 2015-2016 House of Brigid Fellows hit the ground running upon landing in Ireland last Wednesday, just over a full week ago! We had such a wonderful time together at our orientation, retreat, and send-off at the University of Notre Dame last week, and we are so grateful for the awe-inspiring amount of work that went into creating the warm and comfortable atmosphere in which we prayerfully gathered to prepare for the year ahead.
The Wexford crew immediately started exploring Ireland's "Sunny Southeast" with a trip to the Irish National Heritage Park, a glorious first meal at Cistin Eile (a beloved lunch spot for Teach Bhríde, and the whole of Wexford, really!), and getting acquainted with our local pubs, of course.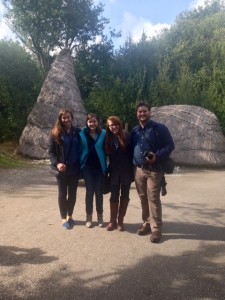 In addition to all our fun and community bonding, we just finished our annual two-day orientation at Ballyvaloo with the Clonard parish team; it was a lovely opportunity to get to know each other and the team better, and enjoy the spectacular natural beauty of the Wexford coast. Tonight, we will be assisting with the Rosary Procession and Mass for Clonard's night out at Our Lady's Island, Co. Wexford's ancient Marian pilgrimage site. Already we are steeping ourselves deep into the Celtic spirituality from which Teach Bhríde draws its inspiration, and we are looking forward to continuing to do so as we accompany Clonard's parish pilgrimage to Knock Shrine in County Mayo this Monday!
Reflecting upon our time at Notre Dame, and this first week in Ireland, I have been so amazed by the intentional ways that Brendan, Jena, Kristen, Geoff, Rikki, and Susanna have embraced the House of Brigid program's unique charisms of self-giving love, openness, and community living. I have quietly observed within each of our Fellows this year the spirit of adventure and hospitality that fundamentally animates our ministry in Teach Bhríde, and will serve us well throughout our year together—both in our individual communities in Dublin and Wexford, and as a united team of seven.
There will certainly be many stories to share with you all as we settle in to our various ministries here in Ireland, so please be on the lookout for more updates soon!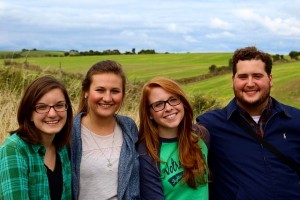 Cheers from Wexford!
-Laura