It's not an uncommon thing for someone to ask us if we're homesick over the course of our ten months in Ireland.  While I definitely miss my family, (thank goodness for Skype,) I most certainly don't miss below-0 temperatures, snow, or rush hour traffic.  But, every so often I find something that reminds me of home hidden within the day-to-day life of Wexford Town.  For instance, I discovered a pair of sweatpants in Dunnes Stores just after Christmas that had "OHIO" written down the leg.  I was a bit surprised, since many people here have a hard time even picturing where Ohio is on a map of the United States.  For a minute there, I could've been standing in any Target or Walmart back in Cleveland looking at Ohio State apparel.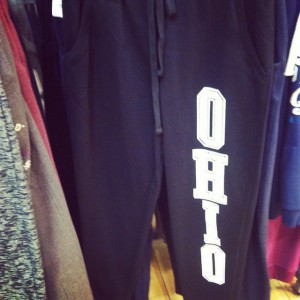 During masses, there are brief moments when I swear I must be standing in the choir loft at St. Bartholomew's and not actually tucked away near the organ at Clonard.  This is especially when we're singing songs that I would've first learned back home.  If I close my eyes and allow myself to listen to the voices and the instruments, I actually do forget where I am.  It's at these times that I can totally surrender to the spiritual experience of being a music minister and be completely tuned into my prayers.  (Despite the fact that I'm standing amongst any number of fellow musicians!)
There's one song in particular that really pulls me deep into this.  "Lead Me, Lord," by John D. Becker, was one of the first songs I remember singing in the Cappella Children's Choir at St. Bart's back when I joined at the age of nine.  It's a wonderful contemporary setting of the Beatitudes, which I find to be very appropriate to pray with throughout the Liturgical Year.  As I grew up and transitioned into the adult choirs, I eventually learned the ins-and-outs of the piece, including the amazing counter-melody Becker wrote against it.
Last year, upon discovering that Cameron knew the song, too, we made an effort to introduce it to the Youth Choir and to the students at Kennedy Park.  Pretty soon, I found myself suggesting the piece to Folk Group, who were very happy to take it on.  Fast-forward over a year later, and it's now a standard, (and arguably a favorite,) in Folk Group's repertoire.
Sometimes when I don't close my eyes during the song to allow myself to get lost in prayer, I take a look at the congregation instead.  Last weekend, my heart was nothing but full to the brim when I realized that nearly everyone was singing "Lead Me, Lord" with us.  My favorites to watch were the children, especially the ones who were dancing along to the music.  However, the overall cuteness award goes to the boy who was using his little brother's head to imitate Ben on the bongo drums.
(Here's a not-so-sneaky recording of the Folk Group singing "Lead Me, Lord" at Sunday mass this weekend!)
Homesickness hits us each in our own ways at the most unpredictable times.  Fortunately for me, all I have to do to abate homesickness is go to church, close my eyes, and get lost in God's gift that is music.  This serves as a gentle reminder to me that, at mass, I will always find my true home.
Peace,
–Joy.