Much like our friends in Wexford, Angie and I have had a lot going on here in Dublin over the past couple of weeks. At one point last week when we had four visitors in town from ND and no breaks for 48 hours in the go-go-go pace of meetings with them, Angie made the observation that we were basically speed dating our various supervisors.
Accurate! The days when our visitors overlapped were pretty thoroughly insane, but there was lots of fun sprinkled in throughout our time with them.
We had some particularly rewarding time with Rosie McDowell from Notre Dame's Center for Social Concerns and with the students participating in the Dublin Programme's community-based learning (CBL) course. Rosie coordinates the CBL programs for Notre Dame's international programs from back on campus, and she was instrumental in teaching us the pedagogy and methods of CBL in our training this summer. Angie and I read the journal submissions of our CBL students and lead them in reflective sessions on their experience serving the needs of Dublin City, and Angie, the students, and I all benefited enormously from having Rosie's CBL expertise in our midst last week. Plus, the lunches we had with her and our CBL students were a great excuse for catering from our favorite sandwiches-and-salads provider, KC Peaches.
In fact, food was (as always) a pretty important theme of our time with our visitors. Chuck from the Office for Mission Engagement took Angie and I out for a lovely Italian dinner on his first night here to talk about how things are going, and, while that normally wouldn't necessarily merit a mention on the blog, I had scallops with hollandaise sauce served to me at this dinner in literal seashells filled with mashed potatoes, and that always merits a mention. The way to the hearts of the House of Brigid Dublin ladies is clearly through dinner.
The true highlight of our supervisor speed dating days, though, was the liturgical music workshop that Steve Warner hosted at Harold's Cross on Monday night. We had been advertising this workshop in our parish and around the deanery and diocese for a few weeks before Steve's visit, but we really weren't sure what to expect. By the time Monday night rolled around, we were so exhausted from our trip to Wexford for the commissioning mass, two masses at Harold's Cross on Sunday, dinner meeting on Sunday night, breakfast with CBL site partners on Monday morning, brunch with the Warners and Chuck, lunch with Rosie and the students, afternoon full of check-in meetings, and coffee hour with the students, that I was just happy we'd even gotten ourselves to the church, let alone anyone in the congregation. As it turned out, though, almost forty people from around the diocese came out to attend the workshop. We were thrilled!
Steve led us all in singing a number of compositions from his repertoire, from psalms to choral anthems, and led a lively discussion about best practices in liturgical music in Ireland and at Notre Dame. The evening also saw the debut of the new packet Steve will be using in future workshops, which contains partial scores of a whole host of songs, background on the compositions and their uses at ND and beyond, and, of course, pictures of the Folk Choir. My personal favorite page was this one, which combines one of my favorite Folk Choir classics with one of my favorite pictures of my dear friends from the class of 2014.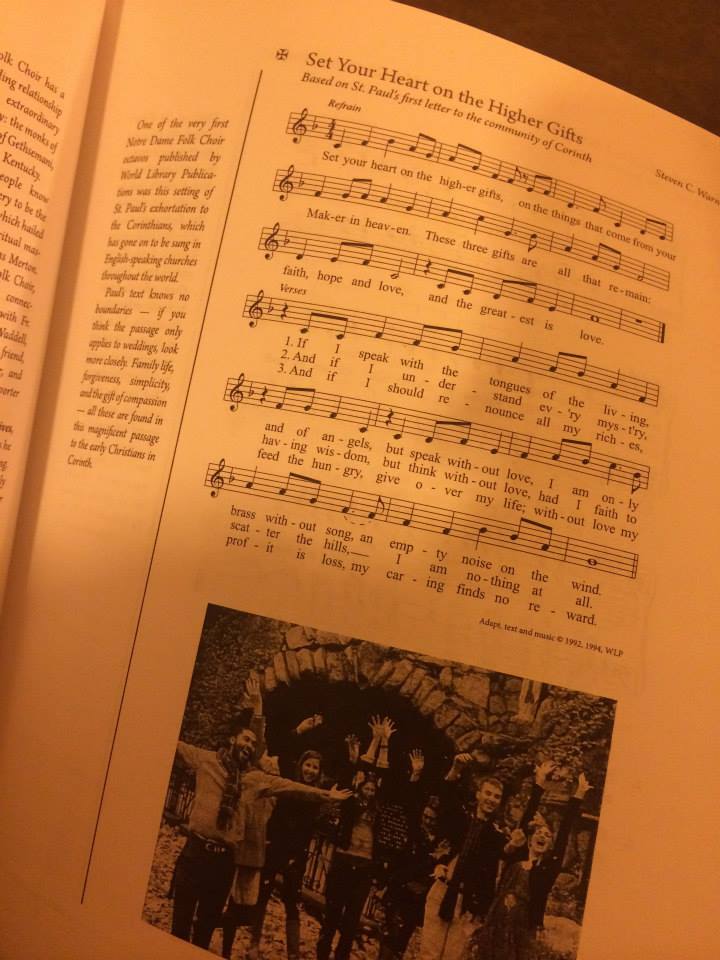 I wouldn't care to relive the hectic schedule of last week any time soon, but I'd relive all the good memories of the week at any time at all.