Last week, Teach Bhríde was delighted to join the Clonard parish pilgrimage to Knock in County Mayo.
          In August of 1879, fifteen people ranging in age from 5 to 75 were witnesses to a great and complex apparition that appeared beside the wall of the parish church in Knock, Mayo. The Blessed Virgin Mary, St Joseph, and St John the Evangelist appeared alongside a host of angels adoring an altar upon which rested a cross and lamb. Since that time, Knock has seen thousands of pilgrims from across the world step within its humble bounds including Blessed Teresa of Calcutta and Pope Saint John Paul II. Having visited three of the other main pilgrimage sites in Ireland in previous years (Glendalough, Croagh Patrick, and Our Lady's Island) I was thrilled to be up early Wednesday morning and starting the five hour long bus ride from Wexford to Mayo.
          We were blessed with glorious weather both days, and the Knock compound was beautiful in the Irish sunlight. The basilica was under construction so we were unable to attend a Mass inside, but even the outside was inspiring.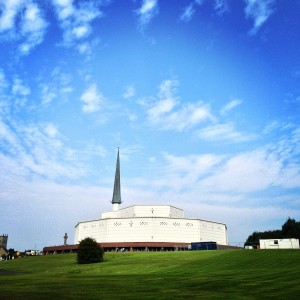 On Thursday morning, our group of about 40 pilgrims filled the first several pews in the Church of the Apparition. We enjoyed a wonderful Mass together, with several other visitors to the shrine. Father Dennis reflected upon the message of the apparition, pointing out that, where Our Lady appears, she often has a message to give. At Knock, however, Our Lady was silent. It is clear, Father Dennis said, that the message of the apparition then was to give all glory and praise to the Lord. The pilgrims who journey to see the shrine at Knock each year sense clearly this message as they visit the graves of the witnesses, or walk the Stations of the Cross along the hill, or attend daily Mass in the Apparition Chapel.  On the bus ride home we enjoyed some lovely singing from the ladies at the front of the bus as well as a beautiful sunset over the rolling green landscape.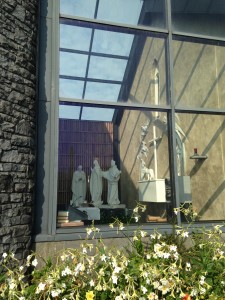 The next day we welcomed our first visitors to the Teach! Ben invited two friends from Marquette to stay with us for the weekend. They roamed all over Wexford town and Dublin before jetting off to Norway and Spain to continue their own European adventures. We also had a visit from Kurt of Teach Bhríde Season III! He spent a few days in town visiting with friends, and even joined us for a session on Friday. [insert photo of Ben, Ryan, and Luis, and photo of us with Kurt]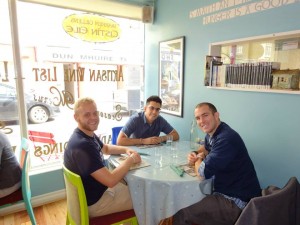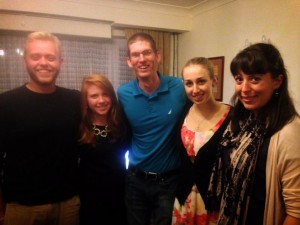 Although life in the Teach is still fairly new to us, it truly felt like home this week when we were hosting our guests. So thank you, Ryan, Luis, and Kurt for helping us settle in.
Slán go fóill!
Brigid