In addition to serving as a homecoming for Joy and the Teach in Wexford, the past two weeks have been a rousing welcome to your new home for Angie and me in the brand-new Teach Bhride Dublin community. While Teach Bhride Dublin and Teach Bhride Wexford still share a mission and purpose in revitalizing our little corners of the Irish Church, the landscape of our work in Dublin is pretty different than that of our Wexford counterparts. For our first Dublin blog post, then, we thought we'd start with a refresher on who we are and an introduction to the work that we do.
I'm Sarah. I graduated this May from Notre Dame, where I studied English and American Studies, sang in the Folk Choir (my entree into the world of Teach Bhride), lived in Howard Hall, wrote for Scholastic magazine, and once came in second in campus-wide pageant Miss ND.
The other half of TB Dublin is Angie, who graduated from St. Mary's in 2013 with a degree in music education. She directed Bellacapella during her time at SMC, spent the last year as an English teaching assistant in Savenay, France, and is passionate about cheese.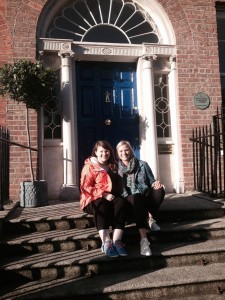 Together, we make up the first year of Teach Bhride-rs in Dublin – and the city's kept us plenty busy in our first two weeks! In Dublin, a ministry to the Notre Dame study abroad program in the city supplements our parish work at Our Lady of the Rosary in Harold's Cross. Half our week is spent, like the Wexfordites, working in our parish – singing at mass, visiting schools, and assisting in preparation for First Communion and Confirmation. The other half of our week goes to Notre Dame. We serve as the Campus Ministry staff for the 45 ND students studying abroad in Dublin, planning masses and other events for the group, helping to supervise the community-based learning partnerships that many of the students do, and providing two extra sets of hands for the staff and moral supports for the students. So far, our work has included, among other things:
Learning the unabridged history of our HQ/home, the O'Connell House, to help play tour guide to dozens of visitors during the Merrion Square Open Day. (The nails in the door are original. The tiles in the foyer are not.)
Making cheese trays for a Notre Dame vs. Rice game watch
Singing "Servant Song" at our second-ever mass at Harold's Cross (hey, Folk Choir)
Leading a walking tour of the city after living here for precisely one week
Taking 30 ND students out to mass and for ice cream
Directing the choir at Harold's Cross 12:00 mass
Attending the All-Ireland Hurling Final at Croke Park
Listening to a classroom full of twelve-year-olds recite the Our Father in Irish
Leading a parents' meeting for Harold's Cross First Communion participants
And sitting down for tea at the O'Connell House with Kurt from Teach Bhride III!
Next up on our schedule is accompanying the students this weekend on a field trip to Sligo, which promises nature walks (Sarah's…uh…thrilled?), up-close-and-personal facetime with eagles, mass in our hotel conference room, and plenty of adventure. Until next time, as the kids have taught us, slán!