…and we're back!  Teach Bhríde VI landed safely in Dublin a little over a week ago, and I think it's been full steam ahead since then!  Our plane was slightly delayed, forcing us to take a later bus to Wexford.  However, that proved to be for the best, seeing as we got to sit and enjoy a nice cuppa with Eimear from the O'Connell House before parting ways with Angie and Sarah.
Our first week included a two-day orientation at Ballyvaloo Retreat and Conference Centre, which our Dublin Duo was able to join us for the first day of.  The weather was absolutely gorgeous, (as apparently it was all summer,) and we were able to sneak off to the beach to snap a few photos.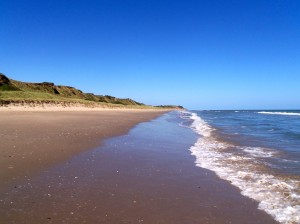 It really isn't a first week in Wexford to me unless I go to Our Lady's Island for Clonard's night on the pilgrimage!  This year, I had the honor of helping lead the Rosary Procession, which actually meant sitting up in this "Glass Box" and hearing my voice be amplified over speakers scattered around the Island!  Along with four regular Daily Mass goers, we led three Mysteries each over fifteen decades of the Rosary.  In-between certain Mysteries, I led short refrains of Marian hymns, which proved to be very effective.  The view from the "Glass Box" looking out over the lake and the church was absolutely breathtaking.  In the hour I was up there, I saw more colors in the sky than I think I've ever seen before.  Unfortunately, I wasn't able to catch a picture of that particular view, but I did get one over the lake when I arrived.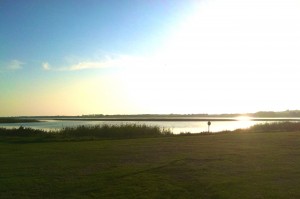 After the Rosary Procession, I made a mad dash for the church in order not to miss the opening hymn of the evening's mass, being led musically by Clonard's Folk Group.  Poor Laura, Brigid, and Ben got thrown in the deep end when it came to starting out with Folk Group, seeing as we only had a brief rehearsal the night before on music that was somewhat new to them.  They rose to the occasion, though, and I think some of the songs have stuck with them over the week.  (If Brigid randomly singing John D. Becker's "Lead Me, Lord" is any indication, at least!)  After mass, we enjoyed a nice cuppa and a treat over in the Coffee House, where the others were able to get to know Ruairi, a standard fixture in Teach Bhríde's circle of friends.
Our first ACE Mass of the year fell on Friday, and all four of us made the journey up to Dublin for it.  It was wonderful to see Angie and Sarah and hear all about their first week in Dublin serving at the O'Connell House and at Harold's Cross.  We were also able to celebrate Laura's 24th birthday as a full Community of six, which was very special for all of us!
This past weekend marked Teach Bhríde's first time ministering at the 6pm Vigil mass.  I introduced Laura, Brigid, and Ben before mass began, and Fr. Denis gave us all a warm welcome at the end.  Everyone quickly adapted to their "roles" for the mass, including "Powerpoint Master," accompanist, and cantor.  I was so delighted to see the new Community take to their parts so effortlessly.
On a personal note, it really has been an amazing homecoming to Wexford.  (And I don't use the word "homecoming" lightly!)  If I thought the Clonard parishioners were welcoming last year, that's nothing to the welcoming I received this year.  From starting back up the regular routine of tea with the ladies after Daily Mass to randomly bumping into Kennedy Park students in town, so many people have expressed their delight at seeing me again.  I'm not going to think about the inevitable end to this service year quite yet, but it really is nice to know that I seem to mean as much to the people here as they mean to me.
As Season III & IV's Molly would say, "We are so lucky to have homes, plural."  It's true.  Whether I originally intended it to happen or not, Wexford has become my home.  I take comfort in knowing that there will always be a place for me here, no matter what road I choose to take after this year or how long it might take for me to come back.  For now, though, I'm going to enjoy the present and make extra sure I always take the cuppa with someone!
Peace,
–Joy.