It's not exactly a secret that I really dislike the color yellow.  I mean, come on, yellow is just so…cheerful.  All. The. Time.  I mean, I'd like to think that I'm a pretty peppy person most days.  However, I need a good cuppa or two in me before that's the case.  Yellow is like that perpetual, spritely, fun-loving morning person.  (I really dislike them, too.)
However, yellow's been growing on me lately.  (Someone check on my mother, because after reading this sentence, she'll have fainted on the floor.)  I mean, for one, Teach Bhríde is yellow, and I really like our house.  The curtains in my bedroom here are yellow, too, and it's a pretty nice bedroom.  Yellow is even one of County Wexford's colors.  (Purple being the other.)  But, none of these reasons really could make me like yellow any more than I did before this year.
Except for one.  After spending a snowy February back in the States, and only hearing about more snowfall and cold once I arrived back in Ireland, I was ready for springtime.  Cue the daffodils!  Yes, you heard right, Americans, daffodils!  We have flowers blooming everywhere here!  It seems that the daffodils, in particular, are really in season right now.  Besides that, there are other types of yellow wildflowers springing up all over the place.  Set these cheery floral images in front of the lush green Irish landscape, and you have one of the most welcome color combinations after a wet, dreary winter.  (Don't forget the bright blue sky and fluffy white clouds, either!)
So, needless to say, yellow has been a very welcome color in my world recently.  This was never more evident to me than on the Feast of St. Patrick, which we were lucky enough to celebrate with the Notre Dame community in Dublin.  Pair the Kelly green that most people associate with St. Patrick along with festooned altars of daffodils, and you'll have a pretty good picture of what St. Patrick's feast day looks like in Ireland.
On Sunday, we were able to enjoy a scrumptious dinner at the Stackallen House, home of Dr. and Mrs. Martin Naughton.  The family was so gracious to all of their guests that afternoon, and we ended the evening with a little pre-arranged sing-song.  Teach Bhríde sang an arrangement of "Stand By Me," expertly crafted by Cameron, which went fairly well.  We're excited to now have a solid party piece that the four of us can pull out at our next Irish get-together!
The next morning, we celebrated the Feast of St. Patrick with the Notre Dame study abroad students and other Irish guests at O'Connell House.  Mary and Cameron planned a really beautiful service that included some Irish mass parts and plenty of hymns to St. Paddy himself!  Fr. Sean McGraw presided, giving an outstanding homily.  (As always!)  He even took a moment after we sang "The Deer's Cry," a setting of St. Patrick's breastplate, and told the congregation, "Teach Bhríde deserves a round of applause for that!"  We were humbled at his kind gesture.
The bus ride home that day was one I actually stayed awake the entire time for.  Watching the Irish landscape pass by me brought more flashes of the beautiful yellow daffodils and wildflowers that have sprung up around the country.  It was a poignant reminder of the country I'm blessed to be spending these two years in.  (And on its patron saint's feast day, too!)  The beauty we're surrounded by here is unreal, and I'm promising myself to make more of a conscious effort to enjoy it every day I'm here.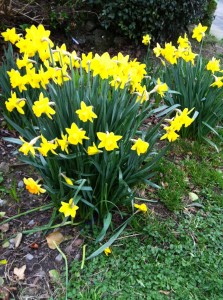 Hopefully, by my next blog post, there will be even more springtime wonder to boast about!
Peace,
–Joy.