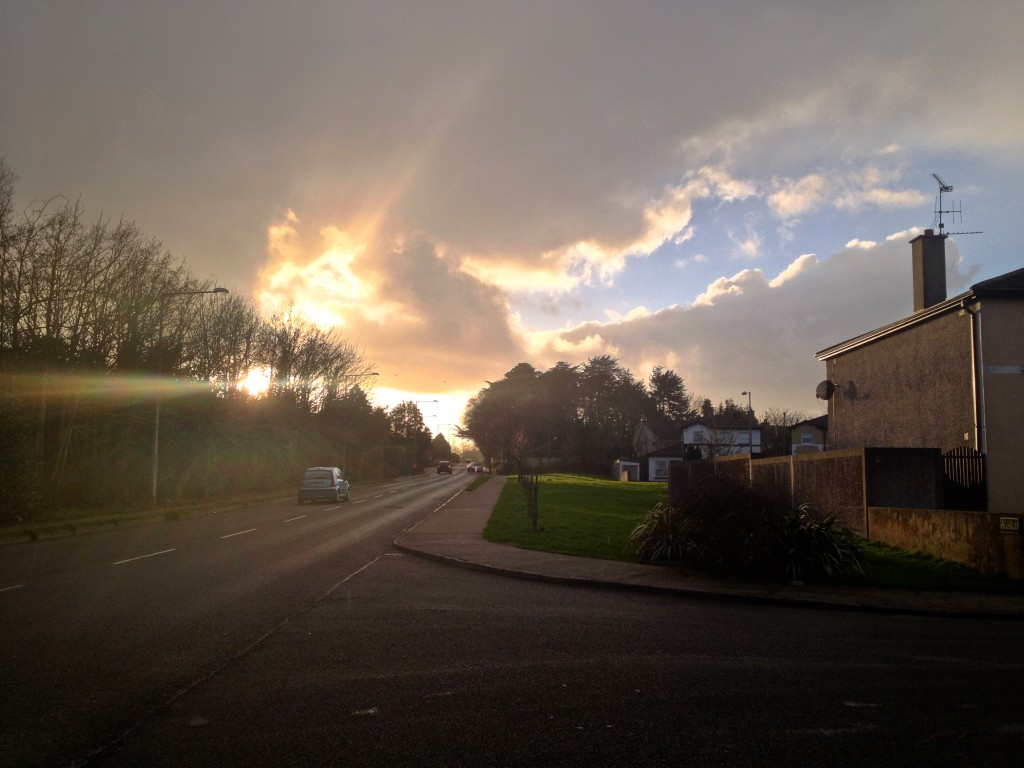 For years, I've gotten accustomed to finding joy in the most unexpected of places and mundane of moments, but I can safely say that I never could have predicted the pure and unbridled delight I would feel today upon hearing the perfectly ordinary sound of a lawnmower. It seems a strange sound to prompt a moment of joy, doesn't it? But after a long, cold, dark, and rainy winter, that familiar buzz reached my ears like the first jubilant herald of Spring. Hearing the steady purr of the lawnmower, I could see the hope of sunshine, warmth, and new life unfolding before me; as the sun comes forth to dry the damp wintry Earth, families can head back into their gardens – children to play and parents to mow and sow once more.
This week, we had our second of three class masses for the fourth class students of Scoil Mhuire. This semester, all three fourth classes have been preparing masses around the same theme: Christ, our light in the darkness. As we've taught the children about the promise of Our Lord's light – a light so powerful that even the darkness of the tomb could not dim its radiance – I have found myself catching countless hopeful glimpses of light in the midst of the winter gloom.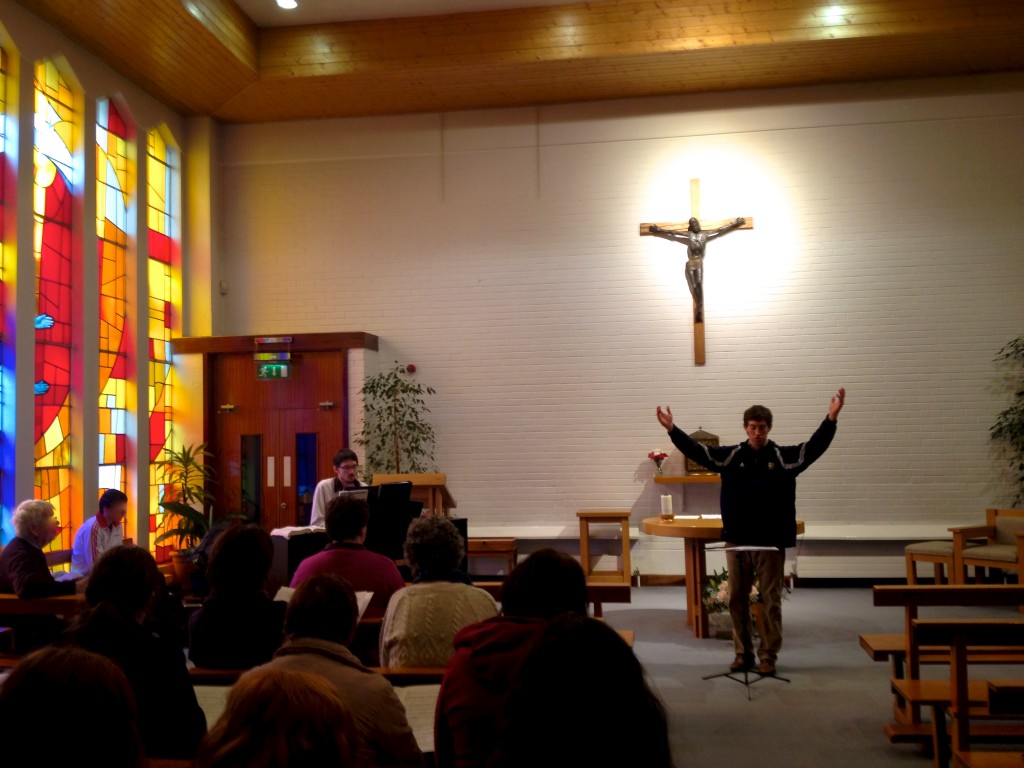 There was our diocesan music workshop a few weeks ago. As liturgical musicians from twelve different parishes from around the diocese gathered in the beautiful day chapel of Clonard, the sun made a rare appearance from behind the clouds to flood the sacred space through the exquisite stained glass window depicting the Annunciation. And as the musicians' voices soared in perfect harmony, I caught just a glimpse of the radiant Heavenly chorus that continuously praises the Lamb on the throne.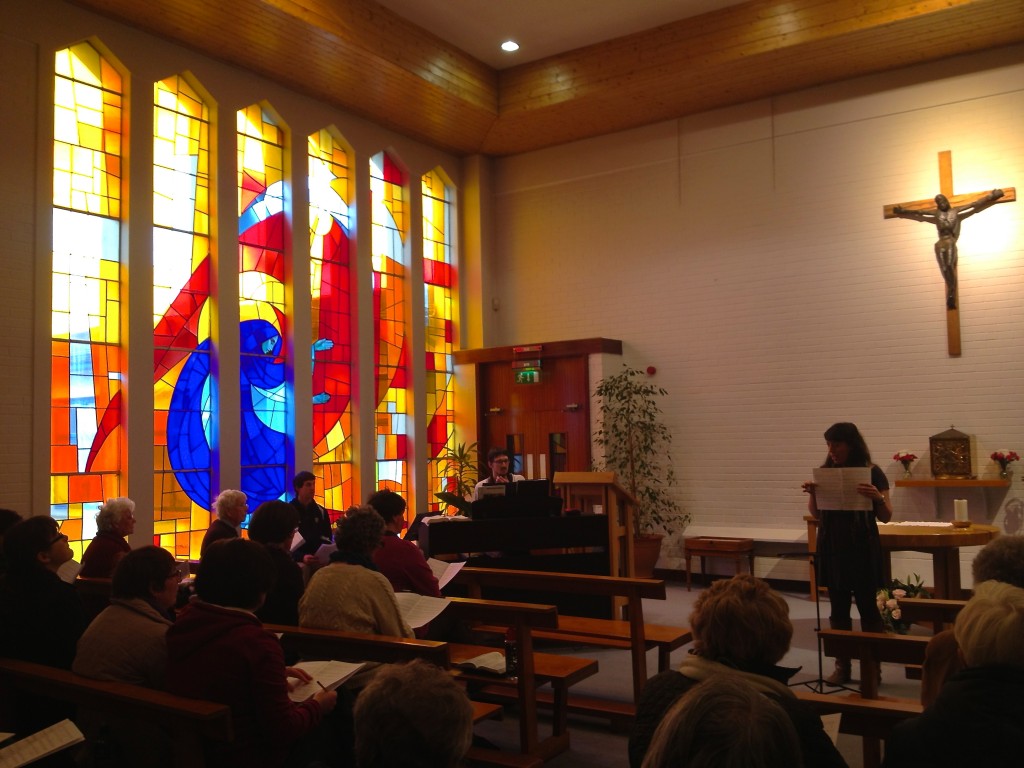 There were the auditions for the upcoming Resurrection Play, "To See You," written and to-be-directed by our very own Joy Viceroy. After a spectacularly wet morning and a slow start to auditions, the early hours of the afternoon brought both a glimpse of sunshine and a sudden influx of auditionees, leading to a spontaneous tea break and joyful intermingling of rehearsing scenes from the play and rehashing fond memories from last year's Passion Play. It was pure joy to see the way members of our choirs and cast members from last year's play settled with immediate ease into playful banter and delight in each other's company. After weeks of preparation (months, on Joy's part!) seeing the new cast finally come to life was like a ray of radiant light, filling all of us with excitement for the work and fun ahead in the next two months of rehearsals.
And, of course, there were those two class masses. If there's anything I've taken from this year, vocationally, it's the certainty that I have never felt more alive in my professional life than I do when I'm working with children. Our students at Scoil Mhuire are a credit to their school and their families, and I can scarcely contain my pride when I think of how eagerly they embrace any lesson we throw at them and how responsibly they handle any ministry we give them to lead. As I watched them cantor, lector, present gifts at the altar, and help guide the congregation as altar servers, I was blown away by the faith, the joy, and the reverence with which they served in God's holy temple. For their closing hymn, they sang a beloved classic of many a Notre Dame mass: Siyahamba, translated, "We are marching in the light of God." Watching the unbridled joy that lit their faces as they sang their hearts out, I was reminded of the words of the 34th psalm: "They looked unto Him and were radiant." I give thanks today for the gift of those children, little beacons of light illuminated by the One Light that shines in the deepest of darkness. May we, like them, look to Him in this Lenten season, and be radiant with hope and love of Our Lord.