These past several weeks, I have grown closer to St. Brigid then I ever had been before. During the first half of our term here in Wexford, I may have offered the occasional prayer for her spiritual help, and I certainly feel that she is always watching over us, especially when spending time in the sitting room opposite the beautiful portrait of her which rests upon our mantle-piece (which is where I am now!).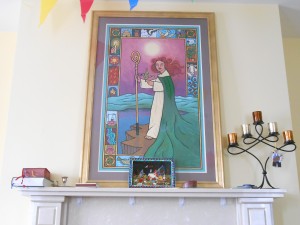 Still it has been in the preparation for and the celebration of her feast day that I have grown so much closer to this Holy woman from Ireland's first days of Christianity. Though her feast day was on Saturday 1 February, this year we held the service celebrating her on the following Sunday night, and then did another shorter version of it the following Tuesday for the school children from Scoil Mhuire and Kennedy Park.
This year, it was a privilege for me personally to step into this wonderful tradition by taking on the role of Script-master for the liturgy. I say liturgy, but perhaps quasi-liturgy is more appropriate. It is not a mass or celebration of any sacraments, but rather a prayer service, that incorporates Irish music and poetry and visual representations of the beauty of nature, which decorate the Church's sanctuary. It is at once a spectacle and a prayer.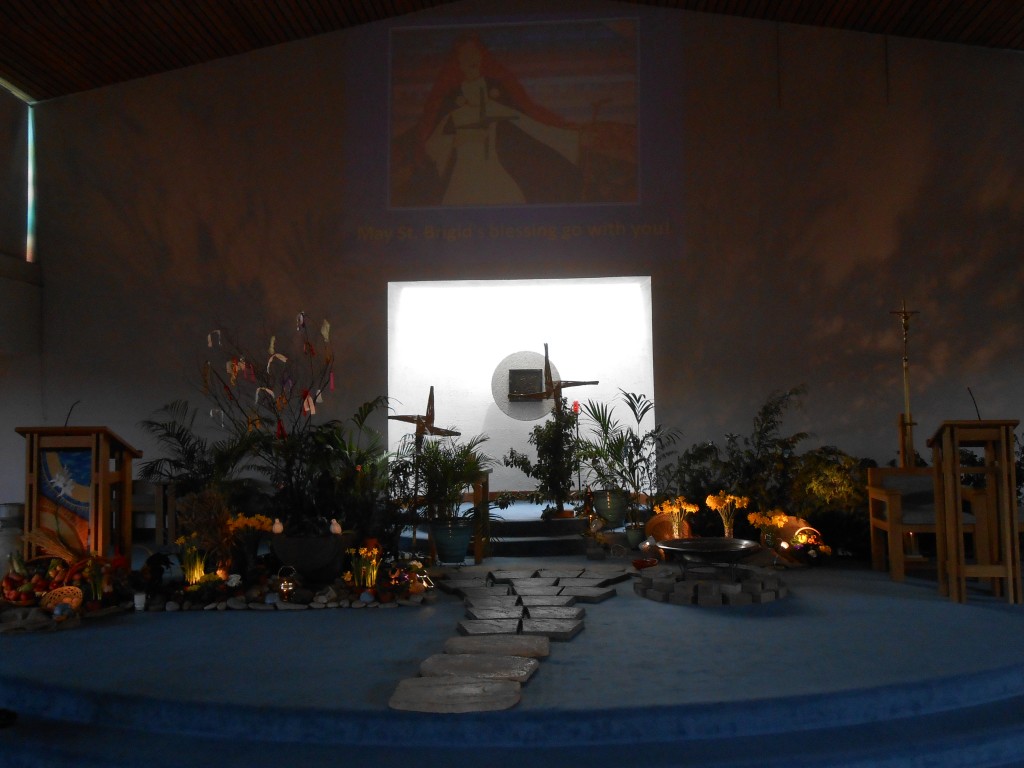 One of my contributions to this year's script that changed it up a bit from last year's was a dramatization of a story about one of the many miraculous healings attributed to St. Brigid. Ben and myself played the parts of two lepers who sought Brigid's intercession for healing. Brigid (played by Mary) responded by bidding the two lepers to wash one another with water. The first leper did so, and his companion was healed instantly, but when the second refused to do the same for his brother, his own disease returned to him, and Brigid herself washed clean the the first leper. I loved this simple story because it does not just highlight the miraculous, even magical, powers that draw so much fascination to St. Brigid, but depicts her encouraging and empowering those that come to her, to servants and ministers of healing to one another. And in the meantime it reminds us somewhat harshly that we can't totally receive the healing grace of God unless we compassionately will and work for the mediation of that same grace to our fellow human beings in need.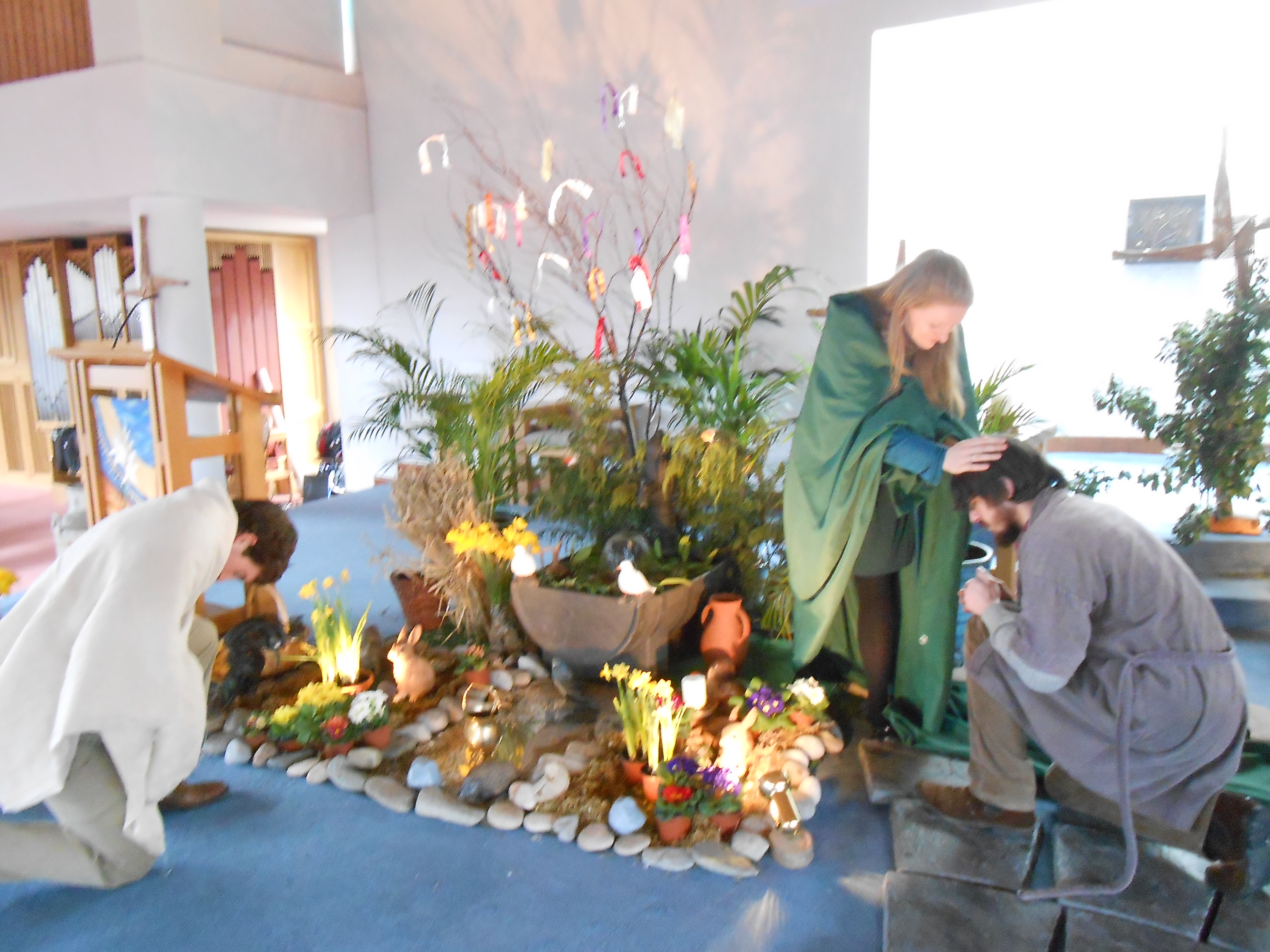 In all of this lead up to this great celebration, I've come to appreciate that a special veneration for St. Brigid is by no means unique to our little community of expatriates who work in her name. In fact, Clonard's tradition of an annual devotional service to honor the 5 th century abbess and usher in the springtime existed for about a decade before Teach Bhríde did. And it was incredible to see the way that so many people in the parish brought their own gifts and efforts to make this a truly special event.
To name just a few:
Sr. Mary O'Dwyer of the Mercy sisters convent offered great guidance along every step of the way. She and many of the other religious sisters in the Clonard community have been celebrating this ceremony from Day 1 in the parish, and they all helped to keep the spirit of the ceremony true to its tradition.
Sr. Mary Rowsome and Fr. Denis Lennon also had a great hand in planning the ceremony and bringing together all the necessary materials for our sacred space. Sr. Mary also supplied an abundance of holy water from one of St. Brigid's blessed wells.
Stasia Redmond, our beloved floutist from the Clonard Church folk group, assembled a troupe of talented musicians and a gorgeous selection of traditional Irish instrumental airs and reels, which at times conferred upon the ceremony a boisterous festivity and at other times gave it a tone of peaceful meditation.
So many people answered my invitation to join us at Teach Bhríde to make as many Brigid Crosses as we possibly could in two hours. Some of them came without even having met any of us before but with such an enthusiasm for helping out and learning a new craft in the process. There were also a couple of brave souls who went out to traverse Wexford's swamps to collect the rushes from which these crosses were made. We made near 250 crosses to be blessed and distributed at the ceremony, and this task could not have been accomplished at all without so many helping hands.
Jim Nolan wrote up an article for the local paper about the Service to get the word out beforehand. He also ran the power-point for the children's Brigid service when we were in need of an extra helper.
Finally, each of the readers and gift-bearers who played a part in the ceremony enhanced the overall prayerful aura of the whole celebration in the way they executed their role.
The credits could continue to roll on, and that's to say nothing in the way of all who congregated at Clonard that night for Brigid's celebration. However, I feel I should be wrapping things up now, as I am in danger of overflowing with delight at recalling these recent memories.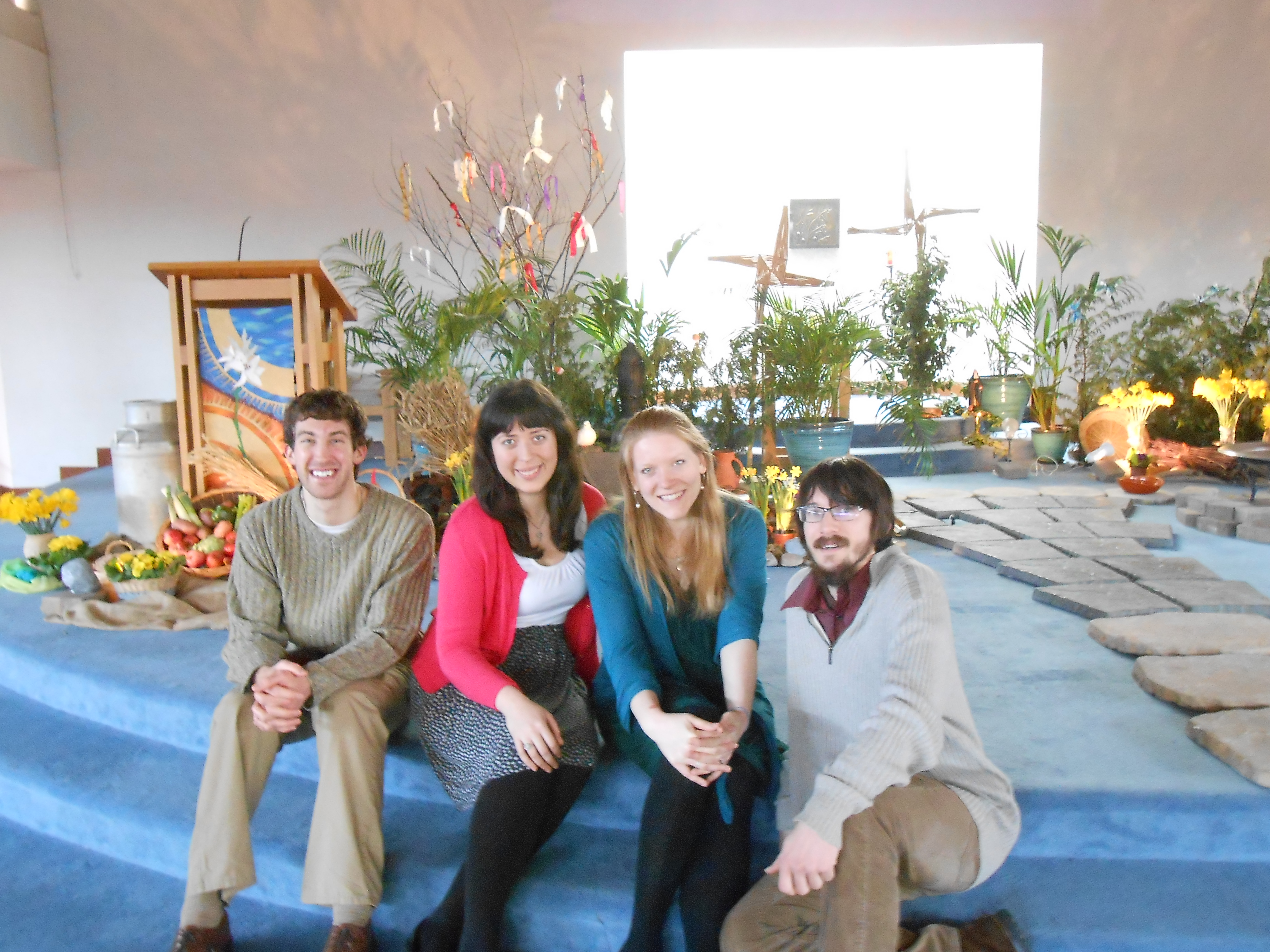 But before I finish, I will mention one more source of great joy that I carry from these last couple of weeks. On January 24th , my entire family came to visit Wexford, and it was the first time I got to see them since leaving home last August. They joined in on the cross-making session I mentioned earlier, though sadly their trip didn't coincide with the Brigid service itself. We did, however, have a wonderful time on a weekend afternoon driving out to see some of the sights in the southwest of Wexford County that I'd never gotten the chance to experience before–namely Hook Head peninsula and Tintern Abbey. Here are a couple photos from the trip!
The lighthouse at Hook Head: What majesty!

Tintern Abbey: At first the home of Cistercian monks in the 13th c., it later became a castle for the progeny of one of Henry VIII's soldiers.

Reunions with my three beloved sisters always in-spire me.