When we were preparing to come to Ireland five months ago, we were warned that January might be a bit of a "down" time in Wexford. Thanks to shorter days, grayer weather, post-Christmas blues, and – supposedly – not too much work to do, this was supposed to be a month of warding off homesickness and trying to find ways to keep busy. Much to our surprise and delight, January in Wexford brought temperatures in the fifties, sun more often than rain (though the weather these past few days has vacillated madly between the two), visits aplenty from friends and family, and more than enough work to keep us on our toes! It has been a joyful kind of busyness, though: preparations for the Resurrection Play, the feast of St. Brigid, and the start of our You Shall Be My Witnesses Confirmation program have filled our days with new and rewarding kinds of work. Joy highlighted the excitement of writing the script to the Resurrection Play last week, and Cameron will share all the details from our weekend-long celebration of the feast of our patroness, St. Brigid, later this week. In the midst of all this joyful hubbub, I've been trying to keep my eyes open to those little and unexpected moments of beauty and sanctity in our everyday life. One of those moments occurs every Monday morning, and never fails to strike me profoundly.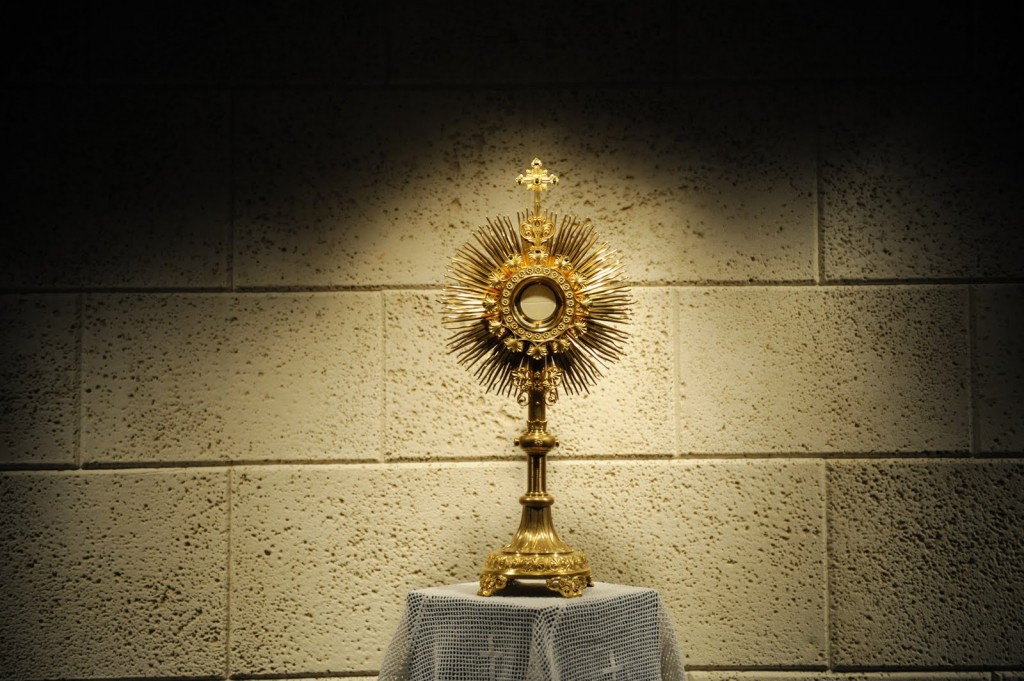 Every Monday at Clonard, the 10 am mass ends with exposition of the Blessed Sacrament, followed by Eucharistic Adoration until 9 pm. I have had a life-long love affair with Adoration of the Blessed Sacrament, and consider myself tremendously blessed to get to work in a parish, where I can stop into the chapel at any time during the day just to spend a few minutes sitting with our Eucharistic Lord. I can think of no better start to the week than kneeling for a few minutes before the Blessed Sacrament after mass on Monday mornings.
During that time in the chapel on Mondays, though, the beauty of the Eucharist isn't the only thing that catches my eye. In Clonard, we have two exceptionally hard-working sacristans. Michael and Noel work day and night to help keep things running smoothly at Clonard, and can often be found finally getting ready to go home around 9 pm after a long day at the parish, still smiling and ready to share a joke or a story with anyone who stops into the sacristy. I see Christ's love, Christ's joy, Christ's selflessness shine through them daily in their readiness to help; in their cheerfulness and friendliness to all; and in their abiding devotion to serving Christ's Church. And, every Monday morning, I am struck mute by the power of a simple gesture Noel performs at the start of Eucharistic Adoration. After the priest has exposed the Blessed Sacrament and processed out of the chapel, many parishioners linger to pray before our Eucharistic Lord. Moments later, Noel appears, carrying a small spotlight. Genuflecting deeply, he quietly kneels in front of the Blessed Sacrament to plug the lamp into the outlet beneath the altar. He then adjusts the angle of the light so it shines directly on the monstrance wherein dwells the body, blood, soul, and divinity of the Saviour of the world. There, in that one action, can be found a simple directive for a life of Christian discipleship: get on your knees, and shine a light on Christ. Noel does this in literal fashion every Monday morning, shining the light that will illuminate the Blessed Sacrament through rainy skies by day and cloudy ones by night. But all of us are called to do so in myriad ways throughout our lives. We are called to offer our lives in service of others; to be the arms that hold the grieving and the hands that feed the hungry; to speak words of hope and consolation to the despairing; to make room at our hearths and in our hearts to welcome the lost and lonely of humanity. We are called to humble ourselves, to get off of our high horses and onto our knees, and to let our faces be radiant, not so that people will look to us for illumination, but so that by our light they may better see the Source and Giver of all light. As we go about our work throughout these busy times, I pray that all of us in Teach Bhride might be given the grace and the strength to embrace humility in tasks great and small, to get on our knees, and to shine the brightest light we can on the One who longs to be made visible through us.