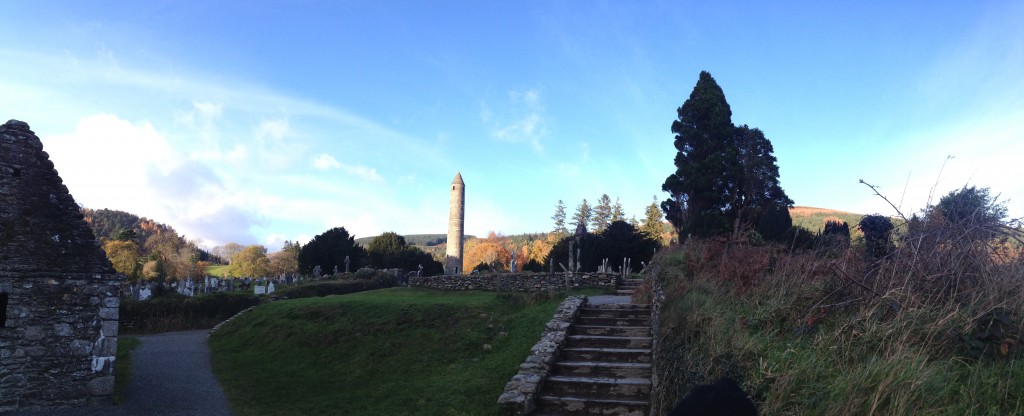 Some of you, dear readers, may have noticed that it's been over a week since our last blog post. The fault lies entirely with me, but I hope I may somewhat excuse myself by explaining that I have recently been gloriously and overwhelmingly surprised by joy.
Throughout the past month, I have been time and again surprised by joy in my work. Ben and I have been in and out of Scoil Mhuire, our beloved primary school, nearly every day for the past two weeks, preparing the students for four big upcoming events: a Service of Remembrance for all the relatives and friends of the school community who have died; an Advent Service of Reconciliation; the final class mass of the semester; and the annual Scoil Mhuire Christmas Carol Service. The preparations for these liturgies have been fast and furious, since they all fall within two of the busiest weeks of the school year, and of our liturgical year at Clonard. Ben and I are working the hardest we ever have, but the rewards have been truly astounding! Last Thursday, we held a rehearsal to teach the 6th class students "Betelehemu," the Nigerian Christmas carol they will be singing at the carol service. This carol is upbeat, engaging, and unbelievably catchy, but it's not exactly a piece of cake to learn. Learning it involves taking on two-part harmony, changing time signatures, complex rhythms, and several verses of lyrics in the Yoruba language. Suffice it to say, it's an ambitious piece for a bunch of 11-year-olds to tackle!
Thankfully, our students had already gotten a chance to sing this carol as part of their concert last year, and Molly and Nick spent a great deal of time last November teaching it to them. So, as Ben set up the powerpoint we'd be using to teach them the lyrics, I asked the students who remembered singing "Betelehemu" at last year's carol concert. Every single hand in the room went up. The students bounced up and down excitedly and several called out, "I do, I do!" Delighted by the enthusiasm they seemed to feel for the song, I decided on a whim to see whether they still remembered any of the words. So, I asked whether they'd like to try singing it through once to see how much they remembered, suspecting that we'd most likely crash and burn after the first few lines and have to relearn the song line by line. Exchanging knowing smiles with each other, they good-naturedly agreed to give it a try and watched carefully as I counted them in. Well, nothing could have prepared me for the surprise I got next. Sixty eleven-year-old children – none of them native Yoruba speakers – proceeded to sing the entire song flawlessly. Every note. Every word. Many of them barely glanced at the lyrics. Somehow, an entire year since the last time they'd sung this Christmas carol, they carried within them a nearly perfect collective memory of how to sing it. Here I was, thinking I was coming in to spend a laborious hour slogging through nuances of pronunciation and rhythm, line by line and measure by measure. But they not only remembered every word and every note, they sang them with passion, joy, and infectious spirit. All Ben and I could do was looked at each other with dropped jaws and hearts full of joyful surprise.
 (Check out Betelehemu here, if you're curious!)
In each of the successive Christmas carol rehearsals we've held with the 1st, 2nd, 3rd, 4th, and 5th class students, we have been surprised again and again by how marvelously quickly the students learn the music – and by the tremendous joy and energy with which they sing it. People who complain that the youth just don't care about faith should come spend a day in Scoil Mhuire. The same goes for those who lament the lack of congregational singing at most churches today. In the students of Scoil Mhuire, there is enough genuine faith and unbridled joy at expressing it through song to melt even the stoniest of hearts and give hope to even the most beleaguered of Catholics in a time when joyful, vibrant faith is all too hard to find. Day in and day out, in the shining faces of these students, in their piercingly insightful theological questions, in their exuberantly friendly greetings shouted to Ben and me from across the street whenever we walk through the neighborhoods around Scoil Mhuire, and in their contagious delight for singing with us, I am wonderfully and overwhelmingly surprised by joy.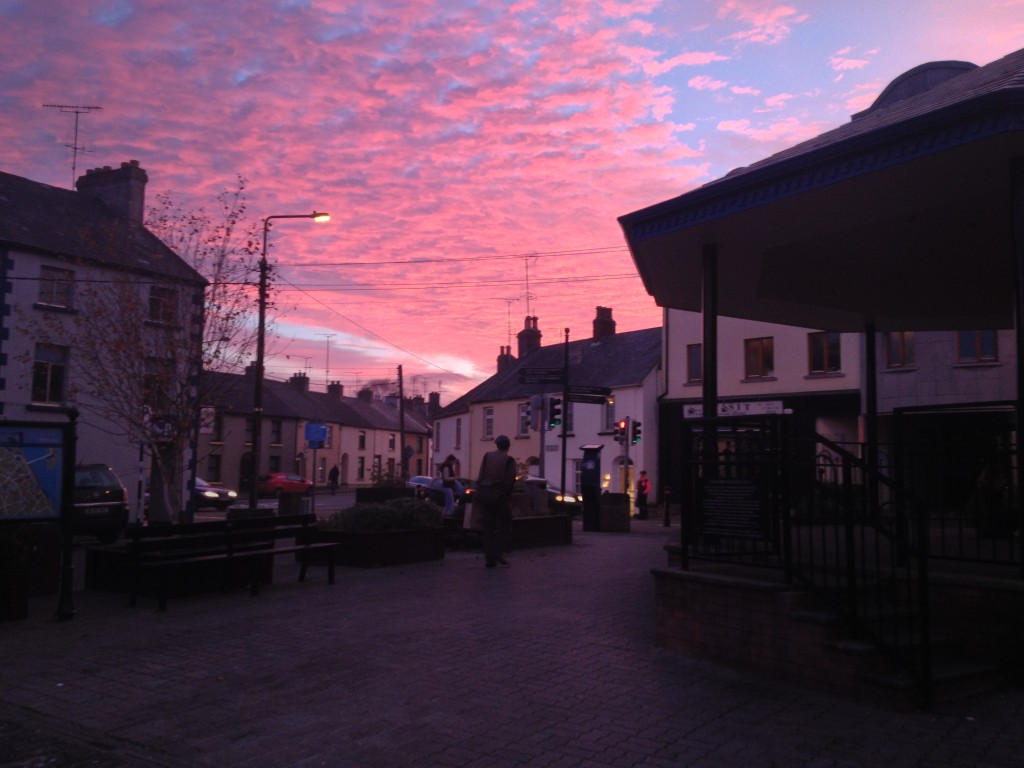 I have a joyful postscript to add to these stories about the delightful surprises we've encountered in Scoil Mhuire. In the days since starting the above blog post, my community and I got the surprise of a lifetime when Steve and Michele Warner – our beloved friends, mentors, biggest cheerleaders for the House of Brigid, and honorary parents – strolled nonchalantly into the dining room of the Whitford House Hotel, where we were seated with Msgr. Denis Lennon, allegedly for a quiet supper with him and Sr. Mary Rowsome. Unbeknownst to us, Steve and Michele have been plotting since early September to come and surprise the four of us for Thanksgiving. The parish team of Clonard, dozens of our friends here in Wexford and up in Dublin, and the entire Folk Choir back at Notre Dame have all been in on the secret, and somehow Steve and Michele made it through three months of plotting and all the way across the Atlantic without our ever catching on! Steve has already described our reactions here, so I'll just put it this way: I was speechless with delight and overcome with tears of joy. Having two people who mean so much to us and believe so much in us here during the busiest week of our year – and during a time when we're missing our families back home more than usual – meant more than I can possibly put into words. Surprised by joy, indeed!
As if their presence weren't enough, there is one more big surprise Steve and Michele shared with Teach Bhride this week, and some of you may have been in on this one as well: after five years of prayer, work, uncertainty, and growth, Teach Bhride is expanding! Our little community has been embraced by Our Lady's University in a new and wonderful way under the patronage of Fr. Bill Lies, C.S.C. and with its newly expanded family of supporters and benefactors, has the potential for adding a few new members and a whole new chance to spread the Good News in a second Teach Bhride community to be launched somewhere on the Emerald Isle in the not-too-distant future! Specific locations and timeline are still very much in development still, but we're thrilled to be able to share the tremendously exciting news that our Teach Bhride family is growing! Please keep our whole community of ministers, advisers, benefactors, and friends in prayer as we work to further the mission of Teach Bhride and allow the Holy Spirit to work ever more fully through us as we branch out in new and exciting ways. May St. Brigid continue to envelop all we do within the folds of her sheltering mantle, and may we continue to be delightedly overwhelmed by the joyful surprises our good God showers upon us!
With joyful gratitude,
Mary