I was reflecting a couple days ago on the importance of memory to a person of faith. The theme is given a lot of attention throughout the Old testament in discussing the relationship the people of Israel ought to have to God. For instance, Deuteronomy says, "watch yourselves closely so that you do not forget the things your eyes have seen or let them fade from your heart as long as you live. Teach them to our children and to their children after them." (4:9) Many among the psalms exhort us not to forget God's wondrous deeds. It is clear that the main emphasis is on passing on the knowledge of God's works to future generations of Israelites, so that the people as a whole does not lose its memory of them through time, but there is also a concern of these events 'fading from the hearts' of the very people that witnessed them.
Our Lord continued this theme when he became man by instituting a tradition of liturgy with the words, "Do this in remembrance of me." It struck me when I learned recently that the prayer of remembrance is traditionally referred to under the term anamnesis. Instead of selecting a Greek word that had the positive connotation of actively remembering, the Church chose anamnesis, the negation of amnesis. Apparently, amnesis is not itself a real word, but it most readily brings to mind our English word amnesia, which denotes a condition in which one drastically forgets whole portions of one's life, and so tacking the negating suffix an- onto the front we get a word that translates literally to something like 'anti-forgetting,' or maybe even 'un-forgetting.' (Linguists reading will have to forgive the clunkiness of this deduction. Just trust me; this is going somewhere.)
Now, the actual condition of amnesia usually only comes about as a result of some tragic brain accident or a severe emotional trauma, so most of us are unlikely to forget a whole significant segment of our day-to-day lives, barring the occurrence of such an incident. Yet the danger of forgetting, and on a massive scale, is so much more imminent in the spiritual life. A person who has experienced the love of God in a powerful way– and perhaps what seemed like such a clear and certain way at the time– may forget the entire course of his relationship with God after the passage of time.
Why is it possible to forget a whole dimension of our human experience, as seems to be the case for many who fall out of faith, either in belief or in practice? People forget things all the time… what I had for breakfast yesterday, who I had a particular conversation with, and old friends' phone numbers. But major life events and phases– like getting asked on a date for the first time, or what it was like going to college– don't tend to elude the memory so easily. These tend to be the very significant, long-lasting, or life-impacting events in our lives. As for experiences like watching the Red Sea get temporarily split in half, hearing God's voice booming through a pillar of fire on a mountain, and seeing bread fallen from heaven covering the desert floor, I'd think to put these things closer to that end of the significance spectrum than the unused-phone-numbers side.
Yet still the authors of Scripture show great concern about the possibility of forgetting such events. Perhaps this is just the nature of the spiritual dimension of our existence to be hidden enough from clear sight that it can slip away from memory especially easily. And probably our free will factors into it as well: If we were forced to remember the glorious works of God in our lives, in the same way that other earthly events burn themselves utterly unforgettably into our memories, then perhaps we wouldn't the same degree of freedom to either accept or reject God's love. Freedom to forge our own path separate from God consists in freedom to forget.
This is why we must work hard to fight against the danger of spiritual amnesia. And why each week gathered around the Eucharistic table, we follow Christ's command to "do this in remembrance of me."
I'd like now to take a moment to exercise my heart's memory by recollecting a recent time where God made his presence deeply felt in my life. These are moments that it would do me well to record, so that I do not forget the wonders that God has worked in my own life, and allow their impact to fade from my heart. If it pleases God, they may do some good to a few readers as well.
On Mondays we have Eucharistic Adoration at Clonard. It lasts the entire day, beginning right after the 10am morning mass and continuing right up till 9pm in the evening, interrupted only for the evening mass from 7 to 7:30. Our regular habit has been to linger after mass for at least a few minutes in the presence of our Lord, and then to leave in time to share some tea and conversation with a few of the parishioners whom Teach Bhride has come to affectionately call 'The Tea Ladies.'
Last week though, I felt as though I could never leave the chapel. God had granted me the gift that day of feeling the wholeness of Christ's presence that our Faith teaches us to believe is always there within that consecrated host. My usual inner monologue of mental prayer was silenced as my heart was overwhelmed by the simple and pure joy of being in Christ's presence. And it became almost too much for me when I opened my eyes to see the sunlight that flooded through the large stained glass image of Mother Mary. Not only did it illuminate the golden monstrance upon the altar table with a brilliance about as close to that warm radiance I felt in my heart that any visual stimulation can get. But it also cast a benevolent glow upon the heads and shoulders of all the other people kneeling in the pews around me, allowing me to delight in the fact that Jesus was here to be just as close and intimate with all of them as he now was to me.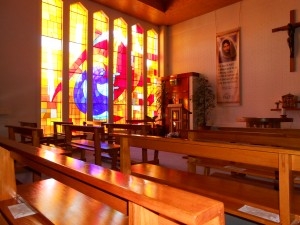 After an eternity that flew by far too quickly, I had to leave the chapel since a married couple in the parish had invited all of us over for a lunch at their home, and we had a little bit of work that needed to get done in the office before then. That afternoon was a splendid one. Our host and hostess greeted us with such kindness and a very carefully prepared meal. We spent a few hours in conversation that afternoon, as they took an interest in each one of our lives, shared stories from their own thirty years of married life, and asked for our thoughts on diverse questions pertaining to Catholic Faith and ministry in the Church. One question that came up in conversation pertained to the difficulty of believing in the mystery of the Real Presence in the Eucharist, a teaching utterly baffling to the senses and comprehension alike. It was a perfect question for me to return to, given what God's gift to me earlier that day. Throughout the afternoon, I was taken by how genuinely interested they were in learning of our opinions through dialogue and hearty debate. And it was humbling to think that in spite of being several decades my senior, they actually took me to possess some measure of wisdom from which they might glean something.
The next day, the Gospel reading at mass was the story of Martha and Mary, and that night Mary (Atwood) led a session of lectio divina for our community prayer based on that Gospel. Usually when this reading comes back to me and I'm trying imagine which character I see in myself most, I find myself to be some sort of a Martha-Mary hybrid– really wanting to be the one simply sitting at the feet of Jesus, but feeling the weight of too many practical worries preventing me from doing so with full attention. But this time round, I discovered with immense gratitude that I had been able to simply sit with Christ in awe and adoration as Mary did, and then turn around and play role of Christ the guest while Clonard's own Martha and Mary welcomed us into their home.
For me, something clicked that day about this elusive idea of ministry of presence that is at the heart of Teach Bhríde's charism. I saw clearly that only in allowing Christ to be fully present to me would I have the wherewithal to put into practice the command to be Christ's presence to others. It's moments like these, where I see God working through and around me so clearly, that I must take care to hold in my memory as something precious, and not to let them fade from my heart.