Jesus said, "Let the little children come to me, and do not hinder them, for the kingdom of heaven belongs to such as these." – Matthew 19:14
It's no secret that I absolutely love kids.  I have two nieces, aged 6 and 13, who are the lights of my life.  When I'm home in Cleveland, Ohio, I spend as much time as I can with them, usually by helping them with their homework or by going to one of their music recitals.  Unfortunately, because of my two-year commitment to Teach Bhríde, I will be missing the youngest's First Communion and the oldest's Confirmation.  As a result, I was eager to start working with the children of Clonard as a way of making up for the lost time with my nieces.
Cameron and I were warmly welcomed into the Kennedy Park National School family during our first week in the office.  Right away, we were invited into the fifth classes in order to start preparing the kids for their class masses.  Every class mass has its own theme, which the music, the readings, and the gifts all pertain to.  After much discussion and prayer, Cameron and I came up with "The Kingdom of God" for their theme.  From there, all of the pieces just seemed to fall into place.  Soon, we were ready to go into the school to start teaching the music to the children.
Our first day in the classroom was a tad bit intimidating.  Never before have I had sixty ten- and eleven-year-olds staring at me at once.  But, Cameron and I were well prepared, and the kids behaved wonderfully.  Cameron opened the day with a rather silly song about a moose that drinks juice and an elk that drinks milk.  Coupled with my frequent use of the (very American-sounding) words "awesome" and "great," we had their rapt attention.
One of my favorite images to use when teaching kids proper singing posture is the "pop bottle."  They imagine there's a glass bottle on top of their heads, and, if they slouch, the bottle falls off and shatters.  (I almost forgot to explain to them that "pop" is "fizzy drink"/"soft drink"/"Coke" to their Irish ears.)  Again, they ate it up.  Cameron even added an incentive for them – at the end of rehearsal, if they hadn't dropped their pop bottles, they got to take them off of their heads and drink them.
I also taught the children my favorite childhood choir game, "Echo Me!".  Growing up, my church choir director at home used this when teaching us new songs in a call and response fashion.  I let the kids have their very own "echo ears," which they turn on by flipping a switch, turning a dial, or pushing a button near one of their ears.  Everything I sing, they have to echo back.  It was another simple and effective image.  I loved seeing all of the varieties of "echo ears" they came up with, too!
What struck me about the fifth classes at Kennedy Park wasn't their dance moves during the moose song or even their personal favorite varieties of fizzy drinks on their heads.  Their willingness to learn these church songs, and their knowledge about the mass and scripture, absolutely blew me away.  We had so many questions from them about what some of the words in the songs meant, and even some very insightful thoughts about what they think happens at mass.  I saw God in the face of every child that day.  They do have much to learn yet before their class masses in October and November.  However, I think I will end up gaining much more from them in the end.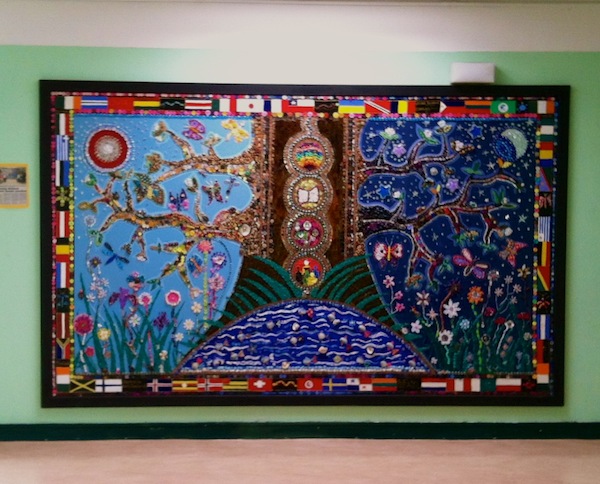 He took a little child whom he placed among them. Taking the child in his arms, he said to them, "Whoever welcomes one of these little children in my name welcomes me; and whoever welcomes me does not welcome me but the one who sent me." – Mark 9:36
One of my biggest roles this year is serving as the Youth Choir Director.  This endeavor, begun last year by Teach Bhríde IV's Nicole, is an opportunity for secondary school children to have their own choir to sing in at Clonard.  They rehearse weekly, but only sing mass monthly.  It's a much more feasible time commitment for many of them who are involved in sports and who are busy studying for their Junior Certificates.
I made a verbal request for new members at the Stepping Out to Secondary School ceremony held earlier in the month.  Rehearsal was only just beginning the next evening, but I was hoping to maybe attract a few new members to add to the ranks of those returning.  After the ceremony, a young man and his mom came up to me asking for more details.  This put me at ease – at least there would be one person showing up for rehearsal!  I couldn't help but worry, though.  What if no one else came?
But, to my utter joy, I had nine youths show up for choir the next night.  Nine!  I felt like my birthday, Christmas, and Easter had all come at once.  Never having directed a choir of my own before, I was absolutely terrified.  Once I was in front of the kids, though, I felt at peace.  I taught them the same "pop bottle" trick I used at Kennedy Park, and they, too, enjoyed all of the "Americanisms" in my speech.
I admitted to them at the end of the evening that it was my first time ever directing a choir before.  Much to my surprise, they gave me a round of applause and told me how they never would have guessed it!  I know, though, that there was no way I could have done it without their eagerness and willingness to be there.  Like at Kennedy Park, I glimpsed Christ in every face in the room that night.
We talk a lot about ministry of presence here in Teach Bhríde.  Since we touch so many lives with the various ministries we do, we don't often fully see the fruits of our labor come to harvest.  We know, though, that us being here and doing what we do is noticed, even if it's not always acknowledged.  However, it's dawned on me over the last few weeks that the children of Clonard are also quite powerful disciples of presence.  Their little faces, more than ours, offer such a strong image of hope to the parishioners who are struggling with the faith right now.  To see a child actively participating in the Church anywhere in the world is a mighty testament to the future.  Teach Bhríde's presence here is indeed powerful, but the presence of these children leaves an imprint unlike any other.  I am proud and humbled to say that I am helping bring these children into the Church, and I only pray that they are granted the courage to want to stay on their own.
Peace,
–Joy.
As a side note, while I've been typing this blog in the kitchen, I've been enjoying watching a little boy, no older than two, playing in the gravel outside of our house.  Children certainly do come to us in each and every way possible!