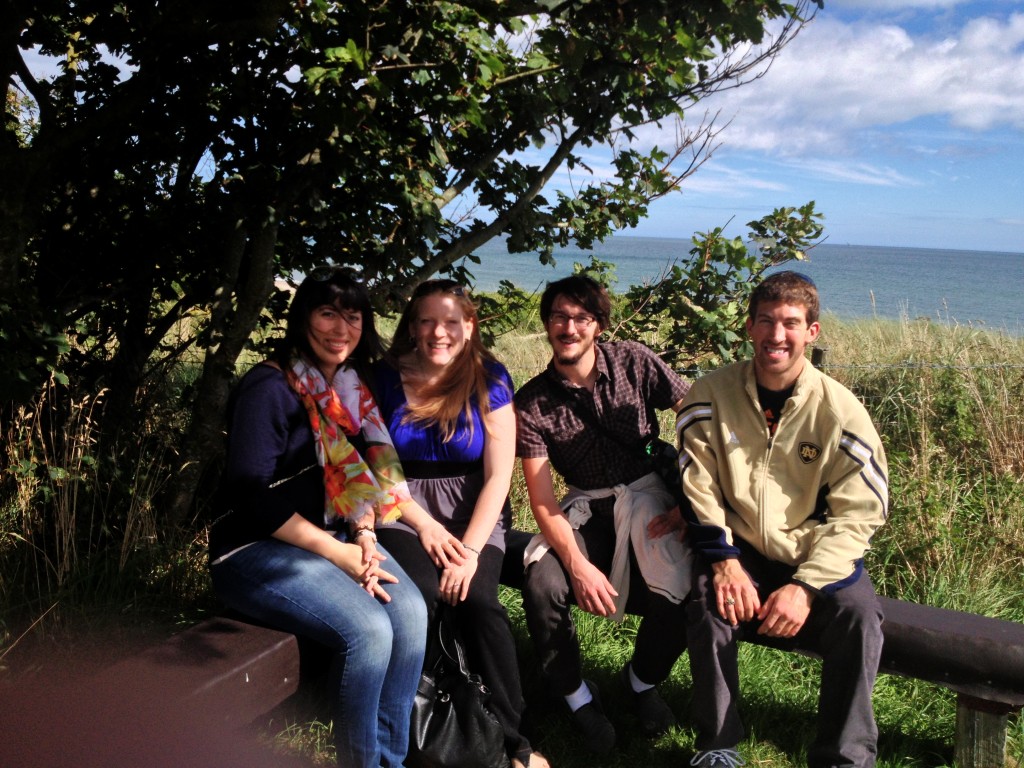 As music ministers, Ben, Cameron, Joy, and I are rarely caught without a song at the ready, words and melodies spilling out easily whenever we're asked to sing. Much of our work throughout this coming year in Clonard will call on us to use this gift, to share our voices readily and joyfully, and to be prepared to give an answer for the hope that is within us (1 Peter 3:15).
Even so, during our first ten days in Clonard, I have often found myself speechless.
First, there was our send-off mass at the University of Notre Dame, where dozens of our beloved brothers and sisters in Christ surrounded us with song and prayer as we were sent forth from the comforting embrace of the Notre Dame community into this new adventure in Ireland. As I sat between my father and my fiancé in the beautiful Basilica of the Sacred Heart and listened to the men and women of the Notre Dame Folk Choir lift their voices in exquisite song, I was moved to tears by the knowledge that I was being sent forth so surrounded by the love of those who have helped to mold me into the new creation I am becoming in Christ. Before such a deep and transformative community, I am speechless.
Then there was our first day in Ireland, when we were met at the bus stop by smiling faces and helping hands ready to load our eight (eight!) heavy suitcases into cars to drive up to the house. Arriving at our home for the next year, we found the floors sparkling clean, the trash taken out, and the kitchen cabinets and refrigerator well-stocked with enough food to last us several days until we'd settled in. The lawn was perfectly manicured, with close-cropped grass and nary a weed in sight. The wonderful members of the Clonard parish team all called in to check on us, bringing flowers, a helping hand with luggage, and words of welcome and encouragement for the year ahead. In the face of this wonderfully warm welcome, my repeated utterances of "thank you very much" just didn't feel like enough. As we attended mass for the first time in Clonard Church and were introduced to countless members of the parish community, the number of kind welcomes increased, my sense of belonging here continued to deepen, and I was struck that no words are eloquent enough to capture the pure gift of the love that the Teach Bhride community receives from Clonard parish. Before such a moving incarnation of Christ's love, I am speechless.

Once we'd gotten settled in our new home and began attending liturgies in Clonard, these moments of awestruck wonder and grateful speechlessness began to accumulate ever more swiftly: the morning mass when the daily mass-goers burst into song, no hymnals or worship aids necessary, as the lovely words to "Hail Queen of Heaven" were already etched deeply in their memories and hearts; the prayer vigil for peace in Syria, faithfully attended by dozens of men and women content to kneel for hours before the Blessed Sacrament for the sake of people halfway around the globe; the woman who pulled out an accordion at said prayer vigil to lead the congregation in singing "Sweet Heart of Jesus," proving that the members of Teach Bhride are far from the only people in Clonard who can sing; the parishioner who was kneeling before the Blessed Sacrament when I left mass one morning, was on his knees in the chapel again throughout the afternoon, and still returned to kneel in Adoration before our Lord once more at the close of the day; the retreat led by the members of the parish team for the Teach Bhride community, giving us a chance simply to listen and receive all the wisdom they had to share; the countless invitations we've already received to share a cup of tea, a meal, a friendly conversation, a lift up the hill, or a day trip out to the beach, from so many welcoming Wexford folks; the hundreds of people who packed the church for mass last weekend when the Loch Garman youth brass band was playing for the first time in public. Words are insufficient to express the wonderfully freeing and humbling reality revealed in these moments: the reality that Joy, Cameron, Ben, and I are entering a parish community already so full of life, joy, and faith. Before such depth of faith, such vibrancy of Christian community, such outpourings of love and devotion, I am full of joy, and blissfully speechless.
There will surely be many opportunities throughout the next year for us to add our voices to the chorus of the faithful of Clonard. We will direct choirs, teach children about their faith, help train parent volunteers to lead parish ministries, write blog posts, sing solos, give talks, make presentations, and enter into countless conversations about the love of Christ. But for right now, I am content – nay, overjoyed – to listen, to learn, and to be left in humbled speechlessness before the face of Christ made present to me every day here in Clonard.