This week we shall call "try-to-see-how-few-meals-we-can-eat-at-home" week. If anyone has read the book by Eric Carl and heard the song, "Today is Monday…Monday string beans, Tuesday spaghetti….", well, this week felt like we should star in the book's sequel.
Today is Monday….Monday Stasia's, Tuesday Farmer's Kitchen, Wednesday Cistin Eile, Thursday Fr. James barbecue,  Friday Fr. Denis's, Saturday eat on the moon, Sunday something else….all you hungry children come and eat it up! 
We've assembled at the gracious behest of many of our Wexford friends for some beautiful meals and time together this past week. But I assure you that we have taken part in more than just eating. Mind you, it's not a hefty schedule, but we aren't piddling our pinkies either.
One of the blessings of the week was the opportunity to dine and spend time together as a community and to have lunch at Cistin Eile, thanks to our good friend and opera guy, Albert Lacey. One of the surprises that followed the blessing was that, while we were dining, a certain scary-looking man with a black mullet, beard, and sunglasses was strolling down the street in a black cape carrying a guitar. He set up his stall, busking on a street corner. As we finished our dessert, we began to waltz down that same street toward a pub, to share a last community beverage. (You know, juice.) And as I looked to my left, I saw this man sitting in a storefront window, strumming away and my housemates heard me say, "oosh, that's scary" and continue walking quickly away. The others, however, paused and Nicole said, "Hey, listen, he's kinda good." I looked once more, and heard the words of "Total Eclipse of the Heart." And as I "turned around," I heard that I faintly recognized the voice of the mystery performer, and I recognized the song, and wait…I think I recognized the person under the black mullet and bushy beard. And yes! It turns out that Mr. Robert Toole had arrived, to my shock and surprise. That's probably that's the last time I'm ever pleasantly surprised by a bearded, mullet-donning man in a cape (at least I hope.)
Later Wednesday night, we had one of our final choir rehearsals, complete with many of our favorite songs (we get to do those since we're leaving soon). Thursday morning was a mass at the Franciscan friary downtown, in celebration of St. Anthony's feast day. We were asked to provide some music, so we happily sang and played as we were sprinkled with holy water, dusted with incense, and gifted beautiful white lilies, in honour of the special day. We were joined by several classes of students from the primary and secondary schools in the area, so we were tightly packed into the pews. Fr. Ciprian commented on how wonderful it is to see a full church! The mass concluded with a priest offering a reflection on the 9th day of a novena for life. He spoke about allowing the sacred heart of Jesus to mold our hearts and how when we let him enter in, that we should never expect to be the same. That we should dwell on the virtues of patience, humility, and a deep love for the sacred heart of Jesus. Oh! And how could I forget? Just before we sent the little ones back to their classrooms, you may recall a certain blog post around Halloween which celebrated St. Francis' feast day. Fr. Fritz, an elderly priest at the friary, led the congregation in a spooky song in which he told the tale of a boy venturing into a cemetery alongside some friends. Well, it made sense at the time, being near Halloween. However, when the microphone went to Fr. Fritz this time, he took a deep breath and began that same spooky song. Essentially, he "walks" us through the cemetery through memorable little phrases and then just ends with a "THE CORPSES WEREN'T DEAD" and screams into the microphone at which point all the children scream Note: I say "children" here, because anyone over the age of…say…12 should know what's coming. So if anyone thinks they heard me scream, I was just…erm…clearing my throat. Loudly.
Later on, we lunched with Fr. James with the two new arrivals, Mary and Joy, members of next year's Teach Bhride community. The last time we had a BBQ at Fr. James house, Nick was crouched sideways on Fr. James' back patio, blowing into a slightly smoking disposable grill, which was no bigger than the size of a dinner plate. So we were happy to see that Fr. James had invested in a slightly bigger, more permanent BBQ. We'll be back for lunch tomorrow, FJ.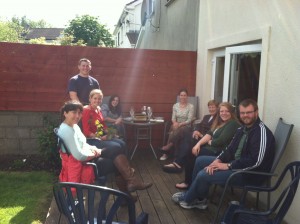 Friday was a pretty laid-back day, when we did some wandering around town for M & J's benefit, and some lunching with Fr. John Paul Sheridan, and some ever-entertaining Folk Group rehearsal. Don't tell Mary and Joy, but this has been the easy part. Starting next week, we'll gladly give over our dish duties, the bulk of our work, and we would love piggyback rides into work. Oh, and I'm rather fond of mint aero bars and petrol station cappuccinos. (Just kiddin.)
God bless!