While Nick, Emily, and Nicole have been busy in Wexford, I have had a short break with my family at home. This past weekend, I was in South Bend with Sr. Mary and Fr. Martin (and all our ND friends, including the Warners, my gracious hosts)! The main purpose of this trip is to discern the members of Teach Bhríde Season V, but you will hear more about that later. For now, I'd like to tell you about St. Brigid's activities in this area of the world. She's been visiting many friends!
On the way down to South Bend, St. Brigid and I stopped at World Library Publications in Franklin Park, IL. Our friends there have very generously donated the choral octavos for all of our diocesan and parish-based music workshops since 2009. They will never know how far their gifts go. At every workshop, someone finds a piece of music that speaks to them and brings it back to their parish to enable prayer within their community. I wasn't able to stay for long, but I'm sure St. Brigid will be back to visit!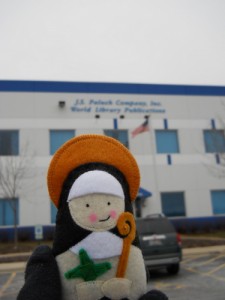 On Friday, Sr. Mary, Fr. Martin, and I were honored to meet Fr. Ted Hesburgh, president emeritus of the University of Notre Dame. His family has Wexford roots – imagine that! We were able to sit and chat with this remarkable man for a little while, and to offer some mementos of Wexford, including a Brigid cross from Clonard's St. Brigid celebration and two books about Wexford and the churches in the diocese of Ferns. And then, we met Carolyn Pirtle for a tour of her office and a cup of coffee. It was no surprise to see an icon of St. Brigid in her office as well!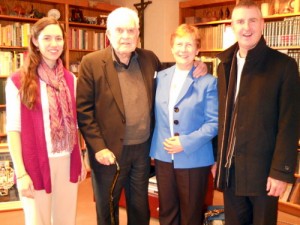 Sunday morning saw us at rehearsal with the Notre Dame Folk Choir. Fr. Martin announced the names of next year's House of Brigid volunteers, and there was much rejoicing! (I'll properly introduce the new volunteers here on the blog in a couple of weeks.) The choir also appreciated Fr. Martin's touching reflection on having the House of Brigid at Clonard, and on the relationship between Notre Dame and Clonard. One of his apt phrases has become the title of this post. After Mass, we shared a delicious meal with Carolyn, Chris, Patrick, Jessica, and Clarisa, and caught up on news with many within our growing Teach Bhríde family. I was lucky to be reminded of our "bond across the pond" in a very tangible way this past weekend!