Good morning! And Happy Feast of St. Hedwig!
http://en.wikipedia.org/wiki/Hedwig_of_Andechs
The last post was on Friday and we've had some great fun since then! We were up in Dublin for the ACE Mass on Friday night and had visitors from all over the globe! (actually just from the States) Our visitors included: Nancy and Don Gallinat from my home parish in Noblesville, Molly's aunt and uncle, the Wasserbachs, from Colorado, Robby Toole from Notre Dame, and Brigid Clary from Notre Dame, who is studying at UCD this semester.  It was so much fun to have so many friends from home praying with us! After the Mass, we ate pasta and garlic bread and got to know everyone a little bit better!
Robby came back with us to Wexford and joined us at our Vigil Mass on Saturday night.  His mad guitar skills and lovely voice were a great addition to our ensemble!
Sunday morning Nick, Molly, and I sang and played for the 9:20 radio Mass on Southeast Radio.  Fr. Dennis presided and the three of us, joined by two others whose names I didn't catch, made up the assembly.  It was a very intimate Mass in a tiny studio, and it was a great experience!  I felt such a strong sense of community with those few people! Afterwards we got "side-tracked." (We went to a restaurant called Sidetracks…hahahaha…get it!?!) Then we got to go to Mass again with Fr. Dennis at 11:15! We sang a few songs that were new to me, and the tea ladies told us that they loved the recessional song! It's always fun to learn new music and even more fun when other people enjoy it!
Later that day Robby, Emily, and I went to go see a hurling match at the GAA park down the road.  It was raining and it was cold, but fun!  It was so different to watch the sport live! It was terrifying! I'm going to have nightmares about getting hit with a hurl!  But some part of me still wants to try playing the sport, because of the famous Martin Storey, the captain of the 1996 Wexford team that won the All-Ireland!  I might be related, which means I might be a natural!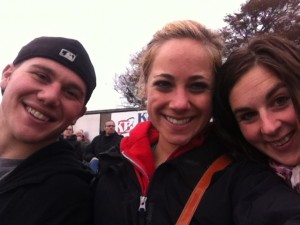 Yesterday Emily and I had our first rehearsal with the 60 third class students that will be participating in a rosary service next week.  I remember how much trouble my Mom had in making us all sit calmly and pray the rosary.  Now, doing this with 60 children, I wish I would've cooperated more for her! But this rosary is going to be one very powerful rosary!
We have another rehearsal to prepare for, so I'll leave you with that!  God Bless you all!