Well, we're back at the office after an amazing reunion with our Notre Dame family. I don't know if you heard…but Notre Dame came to Dublin and played a little game of American football just for us! (AND DOMINATED!)
Friday morning we headed up to Dublin on the Wexford bus and had a few hours in the afternoon to walk around the city before meeting up with the folk choir. We stopped in Starbucks to get a little taste of home. It was delicious and it was nice to be somewhere so familiar, but the cappuccino art was seriously lacking. Here's an example of some of the beautiful cappuccinos we had at other establishments in Ireland.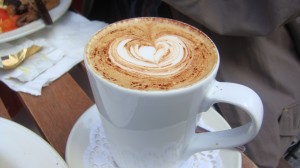 The Welcome Home concert and pep rally took place at the O2 arena. We got there early to meet the folk choir for dinner and ended up running into the band as soon as we got there. It was so good to hear them running through their warm-ups. It made me feel like I was right back on campus on a football Saturday! We had a lovely dinner at the Gibson Hotel with the folk choir and then it was off to the O2 concert.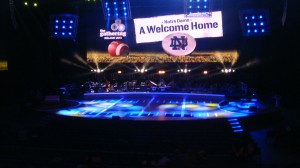 Every single act in the show blew my mind. There was so much wonderful music and I could talk about it all day, but you should just watch it for yourself on RTE's youtube channel. http://www.youtube.com/watch?v=8qqpvC2hWSk The pep rally aspect of the night really pumped us up for the game and included the marching band performing some of its repertoire and the cheerleaders leading the crowd in cheers! But the concert aspect was truly amazing. The folk choir sang with the famous Irish choir Anúna and were so magnificent. The choirs had such a beautifully blended sound and the execution was so precise and it was all performed with excellent musicality! Another highlight was Anthony Kearns (one of the Irish Tenors) singing "You Raise Me Up" with an orchestra, brass members from the band, and the folk choir. It was one of the most memorable musical moments of my life. I'm telling you…watch the program! My other favorite part was a sort of friendly competition between Colin Dunne (a lead from Riverdance), Alyth McCormack on vocals, and members of the drumline. The piece included each musician taking turns on their respective instruments and increasing in intensity until they were all playing and singing together at the finale. The piece that they performed was a wonderful way to show the coming together of Irish and American music and is a must-see! All of the music was so impressive and then you add Martin Short's story about colonoscopy parties and the prime minister of Ireland talking about the strong historical ties between Ireland and America…what an incredible event!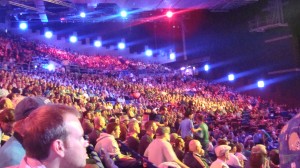 But wait! There's more! Saturday morning we sang a Mass of Thanksgiving at Dublin Castle and this was the highlight of the weekend. Teach Bhríde sang with the folk choir and had a beautiful view of the 6,000 people filling the beautiful and sunny courtyard at Dublin Castle. The Archbishop of Dublin, Archbishop Diarmuid Martin, was the presider and homilist and was joined by numerous priests from Ireland and America. It was such a beautiful Mass for so many reasons. In the homily Archbishop Martin spoke about our common bond as Catholics and our unique experiences of the Church in Ireland and America. He spoke about the concept of new evangelization: "understood as a profound renewal in faith and in a coherent and authentic witness to that faith in the world and in the culture in which we live." You can find the text of the homily here… http://www.dublindiocese.ie/content/homily-mass-notre-damenavy-visitors Please read it! It's very good and very important! More reasons that the Mass was the highlight: the music that was chosen for the Mass was perfect and beautiful, the choir and instrumentalists (including Skip Cleavinger on uilleann pipes) were excellent, and I have never seen a more efficient communion procession for over 6,000 people.
After the Mass we got our tickets and headed to Temple Bar.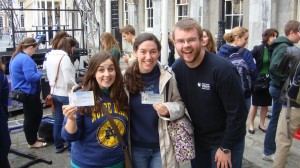 This was truly something special! A section of the district was transformed into an Irish village with thatch-roofed cottages burning peat, donkeys and cows roaming around (including walking through pubs), school children playing jigs and reels on traditional Irish instruments, more experienced musicians accompanying sean-nós dancers, an Irish storyteller, and two huge Irish wolfhounds!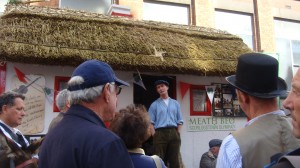 After walking through this area, we headed down the street and passed through a food market selling some of Ireland's finest…cheese from cows, goats, and sheep; lots of fresh seafood; and lots of delicious brown breads and scones! Then we got to the real party! Pub after pub after pub with thousands of Notre Dame fans having fun and getting excited for the game. Each pub had a different Irish musical act inside and some of them even had a path for livestock to pass through. We went to the Quay's Bar and had a pint while listening to two Irish fellas playing guitar and accordion and singing some wonderfully lively music. After listening to a mash-up of Old McDonald's Farm and Galway Girl, we decided it was time to get to the game.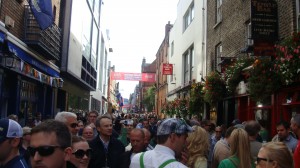 After a short trip on a shuttle bus, we were there. Aviva stadium, in all its glory. I'm not sure what the actual ratio of Irish to Navy fans was, but it was pretty overwhelming seeing how many Notre Dame supporters were there.  It was also nice to hear some Irish accents in the stadium! Teach Bhríde is excited learn more about Irish sport this year, but it was nice to be able to share our traditions as well. Even though we did see spectators from Ireland and Navy, we were directly surrounded with mostly Notre Dame fans. We were sitting with the folk choir and were right in front of the band. We were a small but mighty student section and had a blast singing and cheering along with the band. Although after the fourth or fifth touchdown we had to start finding children to lift for the crowd pushups. What a game! The Irish looked good! Theo Riddick and George Atkinson III, nice work! My favorite part was when Stephon Tuitt picked up a loose ball and came barreling down the field for a 77-yard touchdown run! 6-6 and 303 pounds running right towards us! It was so cool! Oh, and another perk was that they sold Guinness at the game. Booyah! 50-10! I am sorry for the Navy fans who didn't get to celebrate as much as we did, but of course I'm glad that we won!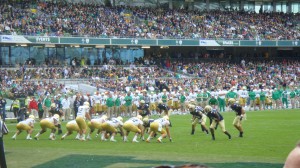 After the game Teach Bhríde headed to the Merrion Hotel to sing a Vigil Mass for those staying at the hotel. This was a very intimate setting and a lovely Mass. And the streets of Dublin were still full of excitement by the time we were done!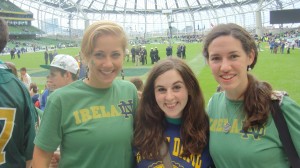 The next morning we checked out of our rooms and went to St. Mary's Church on Haddington Road. This Church was packed three times over. It's a beautiful space and it was wonderful to see every inch of it full! The folk choir (joined by Teach Bhríde) provided music for the Mass and we were all thankful for the opportunity to pray together and give thanks to God for a great weekend!
What a beautiful, blessed weekend! Thank you so much to those who provided us with tickets to the O2 concert, amazing seats at the game, and the invitation to sing some beautiful liturgy! We all had an incredible weekend and it was so nice to have this time to celebrate all of our Irish heritage at Notre Dame and in America! And to celebrate Notre Dame football! And most importantly to celebrate the faith that we share!
God Bless! Go Irish!
Nicole