Last night we returned from a pilgrimage most epic.
Before our pilgrimage proper began, we took an evening in Galway to see my favorite singer/songwriter (and now book-writer) Josh Ritter do a solo acoustic show (and I mean acoustic: he even turned off the amp and stopped using the microphone at one point) with some readings from his new book. It was a blast – we were 10 feet from the stage in a room of about 100 people, singing, laughing, and listening. The pilgrimage part? Josh's book is about a WW I vet who is followed by angel who inhabits his horse. But I'd say the whole thing, capped off by meeting, hugging, and chatting with Josh, was a spiritual experience.
We continued on into Mayo, which quickly became the most beautiful place I've been in Ireland. We stayed at a B&B around the corner from Our Lady of Knock Shrine for two nights on either end of a full day on the campus there. We spent time together and apart, going to our own confessions in the Chapel of Reconciliation, mass together in the Old Parish Church, quiet prayer in the apparition chapel, Adoration of the Blessed Sacrament, learning the story and context of Knock at its museum, patronizing the superb bookstore, and finding peace throughout this place of Marian devotion.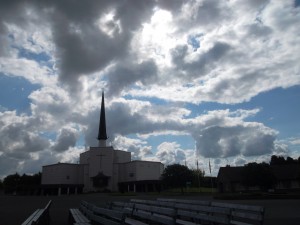 We pushed our Croagh Patrick climb to Wednesday, hoping it would bring better weather, and instead improvised a day of sightseeing and auxillary pilgrimage. We began by going to Jess' new favorite place, the Foxford Woollen Mills, where we explored the store and took the info-tour, complete with talking animatrons and dioramas to tell the story of this mill, started by a precocious nun with stubborn faith in Providence. From there, we gravitated toward our Holy Cross roots to Attymass, where the Fr. Peyton Memorial Centre resides. We were greeted there by Fr. Melody, an Attymass native and CSC priest and Notre Dame resident, and Fr. Steve, a Midwesterner who Holy Cross has stationed there to be chaplain. They showed us around and gave us great comfort as fellow Domers, sharing with us the story of "the Rosary Priest" (Fr. Peyton is a Servant of God at this point in his sainthood cause) and the work done at the centre that bears his name. We made one last stop at Ballintubber Abbey to walk the grounds of that medieval holy place before ending our day in Westport, our home base for the last two nights.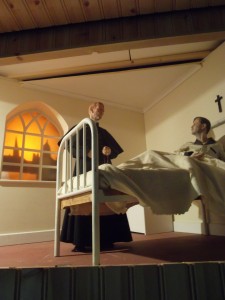 Wednesday morning, we made our way to the foot of Croagh Patrick. We said our daily morning prayer at the statue of St. Patrick at the base of the trail before beginning to make the climb at our own paces. The skies went from clear to foggy to clouded-over as we ascended on to the upper reaches. We all made it to the top in our ways, bringing four distinct pilgrimage hikes together as we met on the summit. It was an amazing morning, and we even got back inside for our lunch just as the rain came in earnest. We laid low for the afternoon (I fell asleep rock solid for almost three hours as my body embraced horizontality) before cooking some dinner ourselves in the hostel's kitchen.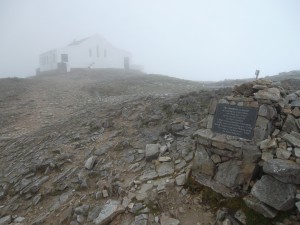 Since we had one last night in Mayo, a rented car at our disposal with plenty of gas petrol, and a well-detailed map (thanks to Kurt), we wanted to discover one last adventure. Kurt and I scoured the lands of Connacht looking for a plan and settled on Achill Island, one of the westernmost points of the Irish mainland.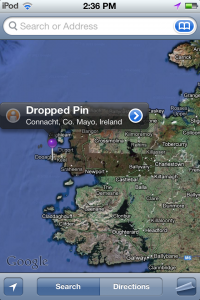 So off we went, driving on increasingly narrow roads, onto the island, through its few villages (including a bagpipe band practicing outside), all the way to the end of the world.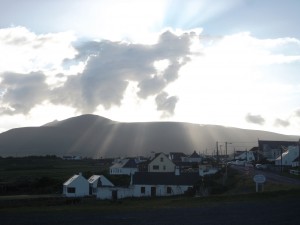 We said our final evening prayer and shared one last sign of peace at a picnic table near the beach of one of the island's bays. Then, we climbed one last hill in search of one last view; and, boy, did we find one. This last ascent gave us the perspective all at once of open sea, the entire bay, and the nearby village, all in the growing shadows from a setting sun and the surrounding calls of mountain sheep.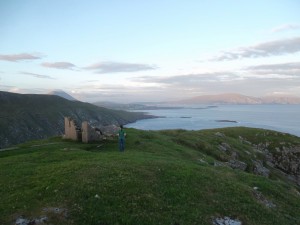 I'm sure more pictures will appear soon in our galleries. In the meantime, tune in to Southeast Radio's online stream this Sunday at 3:30pm eastern/2:30pm central time for Molly's reflections, through word and music, on finding God in unexpected places.