This week, we'll kick off our very busy schedule of Confirmation retreats for primary schools from all over the diocese. We currently have 15 of these scheduled, and I'll be surprised if we don't have another few added before all is said and done. Since this will be such a big part of how we'll spend our time over the coming months, I thought I'd walk you, our lovely blog audience, through what many of our upcoming days will look like.
The retreat starts with an introduction to the house rules and the agenda of the day, which is displayed on several posters around the room: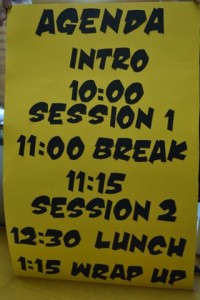 We then organize all of the kiddos into an icebreaker and then calm them back down as best we can to give them their first talk. This one deals with gifts, and explains that the gifts of the Holy Spirit, which we receive at Confirmation, will work with the gifts we already have. After a movie clip (from School of Rock) that demonstrates that everyone's gifts are different, we divide the participants into small groups. There, we help them complete this worksheet, which enables them to name some of their gifts. We encourage them to brainstorm ways that they could use these gifts to live their lives as Christians.
After a short break, we gather everyone back together for another talk, this one about the connectedness of every life. We try to emphasize to the kids that by being confirmed, they are undertaking a responsibility to offer their gifts to the wider community. This talk leads into another movie clip, this year from Prince of Egypt. We then re-gather with our small groups to talk about how we're all connected, and we demonstrate this by passing a ball of yarn across our circles, affirming each other as we go, and watching an intricate network form as each person holds the yarn and passes it along.
We bring the large group back together for another icebreaker-type game that involves listening to directions from an outside source. We return to small groups to learn to do "weaving wheels," a craft activity that leaves everyone with a bracelet (in Wexford colors!) to take home. We teach the kids how to make these, and then let them continue working on them over their lunch break.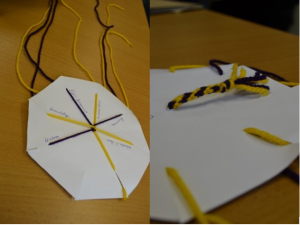 When we return from lunch, we've darkened the room and invite the participants to enter a quiet space for a few moments. We teach a song about the Holy Spirit and lead a meditation on the gifts of the Holy Spirit, giving the children a chance to think about what it is they'll be receiving at their Confirmation. The prayer time concludes with a slideshow showing the lyrics to Danielle Rose's "Be God's" (that's not our slideshow; I just wanted to share the song with those who might not know it). If all goes well, and our hands weren't too full during the day, our slideshow includes pictures of the children from the retreat, reminding them that they are supposed to go be God's love. After this prayer time, we have them fill out evaluations, hand them prayer cards as a souvenir of the day, and send them on their way!
So as you can see, we've got lots of work ahead to prepare for nearly 500 11- and 12-year olds over the next 3 months. Come, Holy Spirit!