This week was the culmination of our latest round of work with the primary schools. On Monday, Kurt and Jess had their fifth-class over from Scoil Mhuire to celebrate a mass to the saints. In gratitude for their help, Jess and Kurt got a whole pile of thank you cards AND chocolates, which Jess shared generously with Kurt.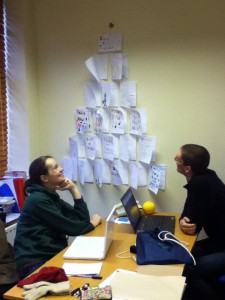 Molly and I had our fifth-class over on Thursday morning to celebrate a mass for the Body and Blood of Jesus Christ. Our class had great suggestions for our prayers and the faithful, and their ideas for gifts to share in the preparation of the altar evolved into a dressing of the altar. I directed traffic in the back as our dozen gift-bearers brought up everything – cloth and corporal, candles, missal, water bowl and finger towel, chalice with paten and purificator, wine, water, bread, and tabernacle key. Molly and the kids' teacher, Orla, waited with our class' altar server (little) Orla to receive the gifts and set the table. It was fantastic.
Personally, I've been keeping up with the Clonard conference of the St. Vincent de Paul group. I went this week's meeting like usual – though I did miss last week's meeting to go to a different meeting with Sr. Mary about our day with Eucharistic Congress Bell in January – and had the chance to go out for visits for my second time. My friend Seamus and I visited a handful of homes to talk with the people who asked for help and figure out the ways to help them. The visits are a great way to get around town a bit into different neighborhoods and meet the people who are part of our parish.
Last night, Kurt made it over to visit with the youth group in the community centre, so we may have some new connections to begin making there. Also, tomorrow my friends Katie and Linda are coming down from UCD to visit for the weekend. Plus, my parents and older brother have their tickets booked to make their visit to us in late March. Hooray!
Finally, on the eve of our observance of Thanksgiving (or as we call it, Fakesgiving) through a reception tomorrow night in the parish hall, the applications for Teach Bhride Season 4 are on their way out, so please keep in mind those people who are considering the call to continue the work over here.